DJI Phantom 2 Vision+ Review
Update: This version of the DJI Phantom line is now outdated. Since the release of the Phantom 2 Vision+, DJI has released newer versions of this quadcopter in the Phantom 3 and the Phantom 4. 
Although it carries a relatively hefty price tag of about $1000, the Phantom 2 Vision+ sets the industry standard in many different categories. Most notably, live HD video streams right from the camera straight to your smart phone. Other drones are capable of this same type of video streaming, but they require complicated set up procedures. Nothing compares to the ease-of-use, reliability, and high quality camera system of the DJI Phantom 2 Vision+. Every DJI competitor is desperately trying to replicate what DJI has accomplished here.
Yes, learning how to fly on the Hubsan X4 107D was a formative experience that will always be cherished. And earning our high-altitude wings on the Parrot.AR Drone 2.0 was a blast. But there comes a point in every droner's life when it's time for  to hang up the training wheels and run with big dogs. Drone big or go home.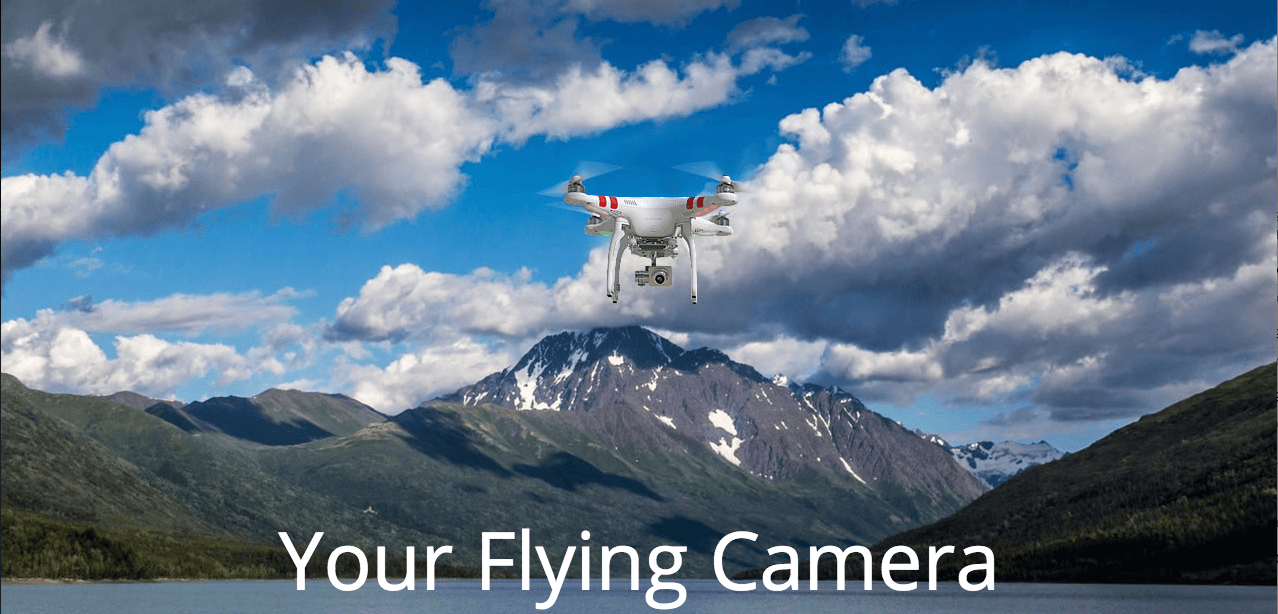 Here at Drone Lifestyle, we like to refer to the Phantom 2 Vision+ as the Cadillac of Drones. With unparalleled flight time, handling, and filming capabilities, it is hard to beat the Phantom 2 Vision+. RTF (Ready-to-Fly) and easy to set up, this quadcopter is very simple to get up in the air. As soon as you beat the traffic on the way home from work and rip through the shipping packaging, you can be up and flying in just a few simple steps, capturing breathtaking footage you thought was limited to only the pros.
Caution: if you have never flown before, train on the Hubsan X4 107D first!
| DJI Phantom 2 Vision+ Specs | |
| --- | --- |
| Flight Time |         20-25min |
| Communication Distance |         1000-1500ft |
| HD Video Recording |         1080/p30 or 1080/60i |
| Still Frame Definition  |         14 MegaPixel |
| Battery Type |         5200mAh LiPo |
| Max Flight Speed |         33.5 m.p.h |
| Max Ascent Speed  |         13.4 m.p.h |
| Gimbal Type  |         3-Axis |
| Price   |         $622 |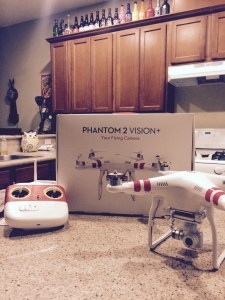 For those of you who have already purchased this quadcopter, and are looking for information on how to quickly get in the air, check out our quick start guide at the bottom of this article. DJI's manual is a little all over the place so we simplified it down into a few easy steps, although we recommend still familiarizing yourself with DJI's documentation. Once you do get in the air, drop a comment below letting us know how you're liking it. We would love to hear how it's going. For those of you here for the full DJI Phantom 2 Vision Plus review, keep reading…
Handling
This is the nicest handling quadcopter we have yet to fly. It simply listens to you: it doesn't jerk, it isn't sporadic, it just glides…. forward, backward, left, right. It's like a symphony up there and you're the conductor. Move the controller quickly and it responds quickly, but all in a controlled and orderly fashion… beautiful.
Altitude & Speed
Grab your binoculars kids, the the DJI Phantom 2 Vision+ will be out-of-sight and in the clouds before you know it. If you are within city limits, the Phantom's navigation system will put a ceiling at 400 ft (the FAA designated height limit), but in other places it can fly as high as a thousand feet.
The Phantom flies so high so fast that we highly recommend enabling the 'Auto-Return Home' feature which tells the Phantom 2 Vision+ to return to the launch point before it runs out of battery. The fact that this is actually a concern is insane…
Camera & Gimbal System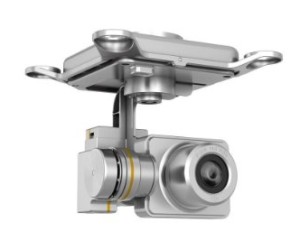 The DJI manufactured camera that comes standard with the Phantom 2 Vision+ is comparable to a Go Pro Hero 3+, capable of HD video (1080/p30 or 1080/60i) and 14 MegaPixel still shots. This high quality camera is attached to a 3 axis gimbal which enables you to get perfectly stabilized footage. The seamless gimbal and camera integration delivers next level footage.
Here we are testing out the camera with a quick golf course 'dronie.' This was our first flight with our Phantom 2 Vision+.
>> Ready to fly? Purchase the Phantom 2 Vision+ on sale here <<
Superior GPS Features of the DJI Phantom 2 Vision+
Many quadcopters rely on radio waves and WiFi signals to transmit directions from the controller to the quadcopter itself. That's all well and good, but we live in the 21st century, so we may as well start flying like it. We are an advanced civilization with advanced tools like GPS. And with the DJI Phantom 2 Vision+ being an ahead-of-the-curve quadcopter, it's only natural that the Phantom 2 Vision+ uses GPS, unlocking capabilities that other pilots could only dream of…
Auto-Return Home: when you are up flying high in the air with your new set of wings, things are bound to get tricky. Fear not. At any point you find yourself out of your comfort zone, all you have to do is toggle a few switches and the Phantom 2 Vision+ will automatically return to where it took off from. Come home, boy! Sit. Stay. It's as easy as that.
Autonomous Flight: some situations call for routes that require a high degree of precision. If you find yourself in such a situation then you would be wise to take advantage of the Phantom 2's autopilot feature. With DJI's Ground Station application, you are able to map specific routes and waypoints for the Phantom to fly even before taking off. There's no shame in autopilot. Even Han Solo used it from time to time!
Hover Mode: no matter where the Phantom is, when you let go of the joysticks the Phantom will lock at its current altitude and hold its position. There are countless reason why the ability to hover on command is useful, but the most obvious is the ability to grab video and photos while the Phantom stays perfectly still. Even in windy conditions the Phantom constantly fights to get back to the GPS recorded position you left it at. Pretty amazing!
What's included?
The beauty of the Phantom 2 Vision+ is in its simplicity. The box doesn't include as much as other quadcopter kits, but it doesn't need to. When opening the box you will first see the Phantom and the transmitter (4AA batteries included). Slide the quadcopter out of the box and you will notice the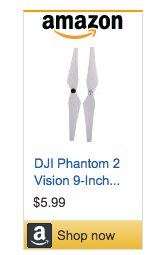 gimbal and camera are set up and all ready to go. The kit also includes a Lithium Polymer battery, a battery charger, two sets of propellers (8), a few extra parts for the gimbal attachment, a tool kit, and a range extender with a mini USB charger. This mini USB charger also doubles as a connector from your gimbal to your computer allowing you to upload your footage with no hassle at all.
We highly recommend purchasing an extra battery. A 20 minute flight time may sound long, but it's not! We used to drive out to Red Rock Canyon, which took us about an hour roundtrip. Adventures like these make a 20 minute limit incredibly frustrating. Luckily, there are some great deals on Amazon that include an additional battery.
What don't we like?
It's hard to badmouth the DJI Phantom 2 Vision+ because it's probably the most user friendly quadcopter that you are going to find right now. However, consumer drones and quadcopters are still in their infancy, and even with this elite drone we've run into a few problems. The first issue came across concerned the gimbal. In between flying, and uploading some video, something went wrong with the very sensitive machinery. No crashes or anything, and the gimbal began throwing malfunctioning errors! After many hours of digging through DJI forums, we found the answer… a tiny screw needed to be tightened behind a protective housing of the gimbal. So simple, yet so frustrating to find! Be prepared to tinker and perform minor fixes on your new toy, as waiting for DJI repairs can take a few weeks. And we find it hard to wait that long! We'd rather be flying!
And yes, even though the DJI Phantom 2 Vision+ is equipped with an incredible range extender and GPS capabilities, we routinely find ourselves running into connectivity issues. A lost connection isn't the end of the world in Phantom land because it simply returns to home, but it is a pain. One minute you could be sailing through the air grabbing the footage of a lifetime, and the next a lost connection will have you on your way home. This really only becomes an issue at higher altitudes and the upper boundaries of the communication field, but it does happen from time to time.
Wrap Up of the DJI Phantom 2 Vision+ Review
The DJI Phantom 2 Vision+ quadcopter gives you the capability to grab professional photos and videos with very little previous experience. The incredible camera and gimbal setup unique to the DJI Phantom 2 Vision+ is truly an elite combination. For something so easy to set up, you will be pressed to find anything that comes close comparing. The DJI Phantom 2 Vision+ quadcopter has become an integral part of our daily lives, and we couldn't imagine not owning one. It is just way too much fun not to have.
DJI Phantom 2 Vision+ Review Continued:
Manual and Setup
The DJI Phantom is a beautiful piece of technology. It's easily our favorite quadcopter on the market. The only thing is the manual is terrible! I think DJI would even agree with us on this one. It's hard to understand and the writers did not go into enough detail, so we decided to create one for you! This will allow you get your quadcopter up in the air as soon as possible with little frustration.
(Looking for a great training aid? The Hubsan X4 is a cheap quad that handles much like the Phantom 2. If you can handle this thing indoors then, you will be a much more prepared pilot when it comes to flying the Phantom 2 for real.)
Getting Started: DJI Phantom 2 Vision+ Manual
The standard  DJI Phantom 2 Vision+ kit includes the quadcopter, two sets of propellers, a lens cap (make sure to hold onto this), a rechargeable battery and a charger, usb connector, spare parts for the gimbal, a tool set, and a transmitter. A range extender and phone clip come attached to the transmitter.
First things first: get the battery and range extender on a charger! It takes about an hour to an hour and a half to get a full battery charge. You can setup everything else in the meantime.

 Next, open two pairs of propellers. Two should be marked black and the other two should be marked silver. Attach them to the motors accordingly. The propellers with the black caps will go on the motors with a black dot and the propellers with the silver caps will go on the motors with no mark at all. All you have to do it place the propeller on the motor and spin it in the direction of the lock symbol. This label can be found on top of the propeller.
Next, carefully remove the plastic clip attached to the camera and gimbal. You may want to hold onto this for extra protection, but we decided to toss it. Be careful when handling the camera and gimbal. You want to touch them as little as possible.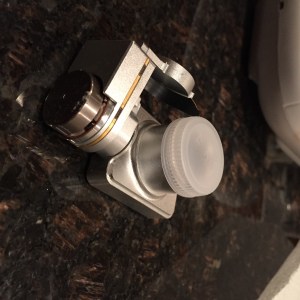 Whenever you are not flying make sure you keep the lens cap on the camera. One little scratch could affect the video quality. If you ever lose the cap for any reason, don't freak out. We came up with a simple household remedy! Just dry off a water bottle cap and put it over the camera lens. Then just use a little tape to keep it in place, and voilà!
Charging Battery

While your battery and range extender charge you should take care of a few things:
Phone Setup for the DJI Phantom 2 Vision+
Download DJI Vision App through the iTunes or Android store
Create an account by entering in an email and password.
Turn on remote, range extender, and Phantom –
Wait 30 seconds
Go to WiFi settings on your phone and connect to Phantom (You will need to do this before every flight)
Go back to your application – tap the Camera icon
Changing Range Extender SSID
If you want to make your range extender SSID easier to remember you can change the name. When you go to setup the wifi you will see its named something like Phantom_108563. You can change it to whatever you want, such as "Mike's Phantom 2 Vison+". This part is totally optional.

Open your DJI Application – go to settings
Select 'Rename SSID Of Range Extender
Enter new SSID
Enter last six characters of your MAC address which can be found on the sticker on your Range Extender. For example, if your MAC address reads 90:90:1F:90:17:F2 then enter '9017F2'
Tap OK and the Range Extender will automatically restart and the app will return to the settings page
The new name will be found in your WiFi list about 30 seconds later
Capturing Footage with the DJI Phantom 2 Vision+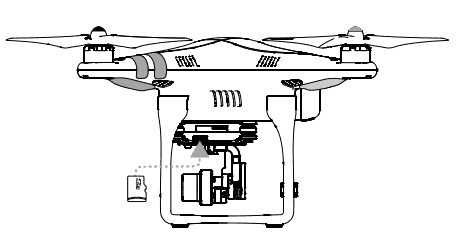 In order to save your video and photos you need to insert the mini SD card into the card slot located on the gimbal. Make sure it clicks into place. You need to remove the lens cap as well.
Now that you have a full battery charge and everything is set up on your phone, you're ready to take flight! It's important to pick a good location, so avoid areas heavily populated with people, trees, light posts, etc.
Turning on the DJI Phantom 2 Vision+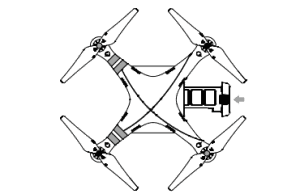 Slide the battery into place. You should hear it lock in. Press the button once, let go, and then hold the button down for 2 seconds. The Phantom should give off a heavily noise and perform its mini light show. This display will send chills down your spine.
Calibration
Make sure Phantom, transmitter, and range extender are all powered on
Flip the S1 switch all the way up and then all the way down no less than 5 times – LED will turn yellow
Rotate the Phantom horizontally 360 degrees – LED will turn green
Facing nose down, rotate the Phantom vertically 360 degrees, nose down
If calibration is successful, the LED indicators will flash green
If calibration fails, the LED indicators will flash yellow and red
If calibration fails, redo steps 1-3
If at any point you don't see the correct lighting listed above… simply turn off your Phantom, range extender, and transmitter. Then start from the beginning. Never start flying if the LED light indicates a fail!
Once you see the normal LED light you are ready to fly. Finally!
DJI's Preflight Checklist
Phantom, Smartphone, and Range Extender are all fully charged
Propellers are locked into place
Gimbal clamp has been removed
Damping absorbers (found on the bottom of the "legs") aren't worn out
Anti-drop kit is mounted correctly
Lens cap has been removed
SD card has been inserted
Gimbal is functioning normally
Motors start and are running normally
DJI Application is connected to camera
Taking Flight/Landing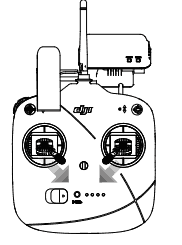 Make sure battery and range extender are fully charged
Turn on Controller, Range Extender, Phantom
Place Phantom on a flat surface
Connect to WiFi and open the DJI Vision Application (found in steps above)
Calibrate (Found in steps above)
Push both sticks down and towards each other (as seen in the figure above) – motors will turn on
Push up on the left stick to increase altitude
Landing
This part may seem a little nerve wracking at first, but don't panic. Yes, you do have to be very careful during this step because you want to avoid tipping your Phantom 2 Vision+. Just take it easy and slow. You'll be fine!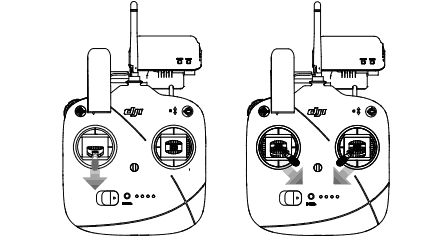 Find a flat surface to land on
Slowly bring the aircraft down and hover about 3 feet above the ground
Gently bring the Phantom down – take your time, do not rush!
Once the aircraft has touched the ground, push down on the left stick all the way
The propellers will continue to spin, but there will be no throttle
Push both sticks down and towards each other into the corners – motors will stop
Turn off controller, range extender, and Phantom
LED Indications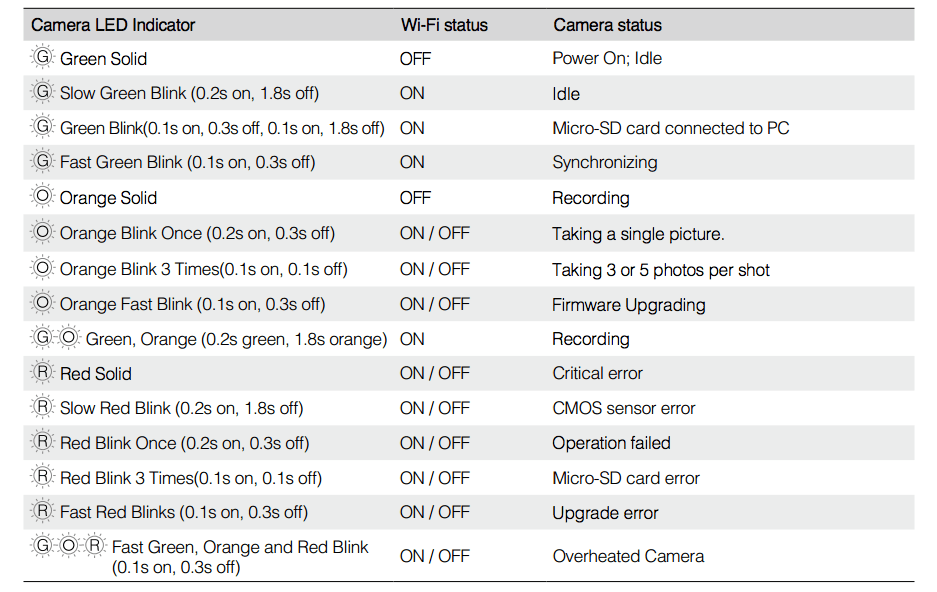 You may also be interested in…
For more information on the DJI Phantom 2 Vision+, the New York Times gives an easy to understand explanation of the DJI Phantom 2's unique gimbal system. Have questions about our DJI Phantom 2 Vision+ review? Drop us a comment below and we will try to answer any questions you may have about the DJI Phantom 2 Vision+ review.