DJI Spark Quadcopter Drone Review
Some people say that capitalism breeds competition, and competition thus fuels innovation. However, the Chinese don't seem to care about any of that. DJI, the world's leading drone manufacturer, is so far ahead of the pack that "competition" doesn't really apply to them and the quadcopter revolution they're leading.
A huge subset of potential customers have always been intrigued by the idea of drones, but thought "I want a filmmaking tool, not a toy. And high-quality drones are too big and too expensive." Insert DJI's Mavic – the Mavic's compact design (literally throw it in your backpack and go) and unreal camera capabilities have solved that issue… the only problem for some was the $1000 sticker price.
So what happens when you cut the price of the Mavic in half, load it up with smart features (think Jedi mind-control steering), make the design even more compact, and all at the cost of only a few minutes of flight time and a tiny bit of footage quality? You get the DJI Spark for $500. Game over.
It's incredible — and honestly somewhat frightening — how much value DJI has packed into the handheld DJI Spark quadcopter at such a low price point. If you are in the market for a drone, especially if you are a beginner looking for your first quadcopter, or a Pro looking to fill in for your Inspire 2 when you need a more compact quad… the DJI Spark will leave you in awe as a truly satisfied customer.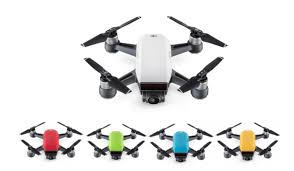 DJI Spark Quadcopter Drone Specifications
| | |
| --- | --- |
| Flight Time | 10 – 15 Minutes |
| Camera | Video: 1080p, 12MP |
| Flight Speed | Up to 12.4 mph |
| Range | 2km |
| Features | Tap Fly, Obstacle Avoidance, Active Trak, Precision Hovering |
| Controller | DJI Transmitter or Smart Phone Compatible |
DJI Spark Quadcopter Drone Review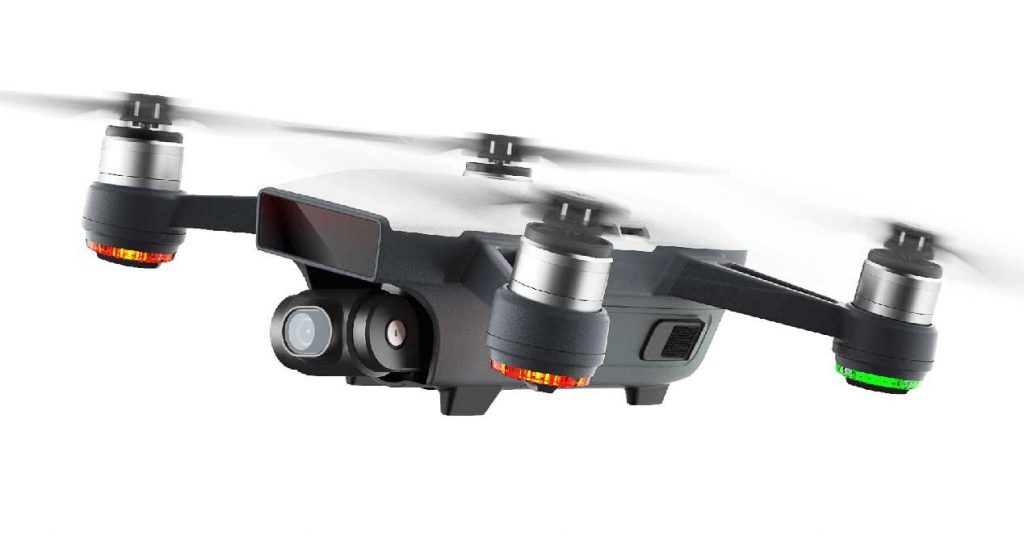 Performance
---
The Spark has an impressive range of 2km. If the battery is low, it will prompt you to return home. Otherwise it will land itself safely before the battery is run out. DJI advertises 16 minutes of flight time in calm weather. Due to the small size of the Spark, windless conditions are especially important to maintain control. With windless conditions flying at a constant speed of 20kmph (12.4mph), the actual flight time time will vary from 10-15 min. We've found it to typically last on the higher end of that range during our flights. Just like a phone or computer, the more features you select, or faster you fly the drone, the quicker the battery drains.
The camera in the Spark is an amazing feat on its own. It features a 12MP, 25mm f/2.6 fixed focal length camera lens fixed on a 2 axis mechanical gimbal which is great to see when most of the competition relies on electronic image stabilization that just isn't up to par. You will get very stable footage even when flying at high speeds (up to 50Km/h).
Creative Design
---
Any Color You'd Like
Choose one of five different colors – Meadow Green, Lava Red, Alpine White, Sky Blue, or Sunrise Yellow. Offering this many color options is a first for DJI. We really enjoy the clean look of our white one. Due to demand and availability the differences in pricing for each color can vary pretty drastically, you could snag a pretty good deal simply by price checking the colors on Amazon.

Customizable
If you are having a hard time choosing one color specifically, just know that you can always purchase interchangeable 'skins' later on if desired. In fact, there are a lot of accessories you can find online that will allow you to essentially customize your Spark top to bottom. For example, you can choose from a variety of landing gears, motor cap protectors, lenses, protective film for lens, etc.
Convenient to Take on the Go!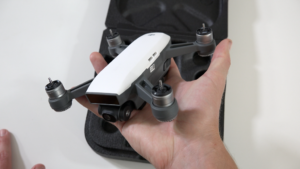 The Spark comes with a convenient and compact carrying case which fits everything including the drone and the propellers. This drone fits in the palm of your hand, which is very impressive considering the number of innovative technologies that DJI has packed into it. It's lightweight, only 300g with propellers and the battery installed. It's even more surprising seeing the build quality of the drone. Even at this price point, DJI has not skimped on build quality and materials. It feels very premium resting in your palm.
Innovative Features
---
Quick Launch
The 'Quick Launch' feature enables the drone to identify your face and take off from the palm of your hand. Once in the air, the Spark sets itself in place using facial recognition to make sure the spotlight stays on you! From there, you can use your hand to control the drone. No we're not kidding… These hand movements are what DJI calls 'Gestures.'
From personal experience we've found the 'Quick Launch' feature to be amazing and work extremely well. Sometimes it's easier to just take off and fly using your palm as a launch pad! You can also land your Spark by holding out your palm under the drone, although this feature doesn't seem to be as refined yet as the launching (a software update from DJI in the future could fix this). The Spark has some built in obstacle avoidance, if the Spark thinks your palm is an obstacle it can refuse to land in your hand. If this happens it can be frustrating, but you can still easily land manually of course — the good old fashioned way.
Hand Gestures
As you fly the Spark, use a number of different hand motions to control the quadcopter. Direct the palm of your hand to the Spark camera while slowly moving your hand back and forth to move the quadcopter side to side. Wave both hands at the camera to have it fly back and get a wider shot! The hand gesture controls are both fun and amazing.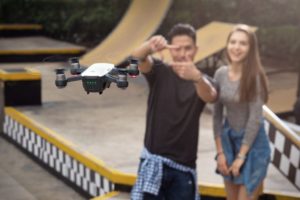 The sensors in front enable the Spark to detect and avoid all obstacles while flying forward enabling a worry free experience. It can track a target you select in front or from behind or at a fixed perspective and includes various flying modes such as fly straight up with camera pointed downwards, fly in a circle or spiral upwards, and also fly back and upwards with camera fixed on a subject.
Return to Home
Another awesome feature is "Return to Home" which allows the Spark to auto return to its launch site with a swipe of a button or if the connection is disconnected. When the battery falls to a certain percentage you can also have the Spark automatically return to home on its own to ensure enough battery power for a safe landing.
Fly More Combo
---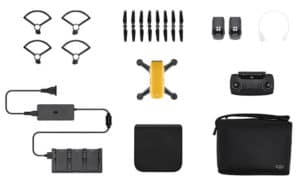 It is important to note that the standalone remote control is not included in the standard DJI Spark package. You can still fly the drone using the digital controls on DJI's app, but it is nowhere near as smooth as using the controller. For this reason we highly recommend the Fly More Combo. Included in this bundle is the remote controller, an extra battery (for two total), extra propellers along with propeller guards, a shoulder carrying case, and a charging hub allowing for simultaneously charging up to three batteries!
The Fly More Combo covers pretty much all of the essentials minus a microSD memory card that will be needed for saving 1080p HD video and 12MP pictures. With the Fly More Combo, you may also want to grab a third battery for the Spark to max out the capacity of the included charging hub to literally fly more. With these accessories you'll have everything you need to have some amazing flying experiences with the DJI Spark — one of our favorite drones of the year!
You may also be interested in…