DJI Mavic Pro Drone Review (Best Overall Drone 2017)
In this DJI Mavic Pro Drone Review, we will touch on all the latest and greatest tech features that differentiate the Mavic Pro from all other high-grad quadcopters.Slowly but surely, the drone world has become commoditized with drone companies mimicking one another and not producing much innovation to show for it.
A lot of new drones hitting the shelves today offer the same exact features and performance as its competitors, differentiated only slightly by the price tag and shape of the drone. However, the DJI Mavic Pro is a completely different animal… the Mavic is a work of ingenious engineering and over a decade's worth of experience packaged into one single product. For years drone pilots had dreamed of the day when they would be able to fold up their drone and throw it in their backpacks to capture whatever their adventure threw at them. Traditional sized drones were bulky and required special carrying cases… but thanks to the Mavic's foldable arms and lightweight frame, pilots can now have the freedom to travel light with a high quality drone ready to capture stunning 4K footage at a moment's notice.
Check out our favorite Cyber Monday drone deals in 2017 for the Mavic Pro!

While bigger may sometimes be better, when it comes to drones and specifically the Mavic Pro — this little guy can do most everything the Phantom 4 and other competitors are capable of. Smaller drones (also known as quadcopters) are more maneuverable, easier to travel with, and have longer flight times.
It's hard to build a drone that is both compact and also capable of professional drone photography. We aren't talking about mini-drones like the Holy Stone Predator or the UDI U818A, basically toys that can fit in your hand… we are talking about a high-end quadcopter that is capable of grabbing 4K video, 20+ minutes of flight time, and withstanding winds that you would guess should probably knock it out of the sky. Think of it like a cell phone. Once big and bulky in the earliest days of development, the race is on for the sleekest and most compact designs.
As quadcopter fans, we are lucky to find ourselves in such an awesome position with the DJI, Holy Stone, and Yuneeq were each able to make it to market this year with a compact drone of their own. So before going out to buy one of these drones, we highly recommend reading all three reviews. Each model has its own pros and cons. So let's get started! Now introducing… the DJI Mavic Pro Drone Review!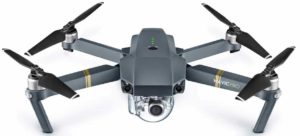 Last Updated: September 16, 2017
DJI Mavic Pro Drone Review Contents:

DJI Mavic Pro Drone Review Specifications
After much success with the Phantom and Inspire, DJI went on to release the Mavic Pro – the first drone of its kind. Powerful, creative, and worry free! DJI baked every fine quality into the Mavic Pro. It's one of the top selling quads on Amazon for a reason. It's so easy to fly and perfect for any situation!
| | |
| --- | --- |
| Flight Time | 27 Minutes |
| Camera | Video: 4K (30FPS), 2.7K (90FPS) |
| Flight Speed | Up to 40 mph in Sport Mode |
| Range | Up to 4.3 miles |
| Features | Tap Fly, Obstacle Avoidance, Active Trak, Precision Hovering |
| Controller | DJI Transmitter or Smart Phone Compatible |
Getting Started: DJI Mavic Pro Drone Review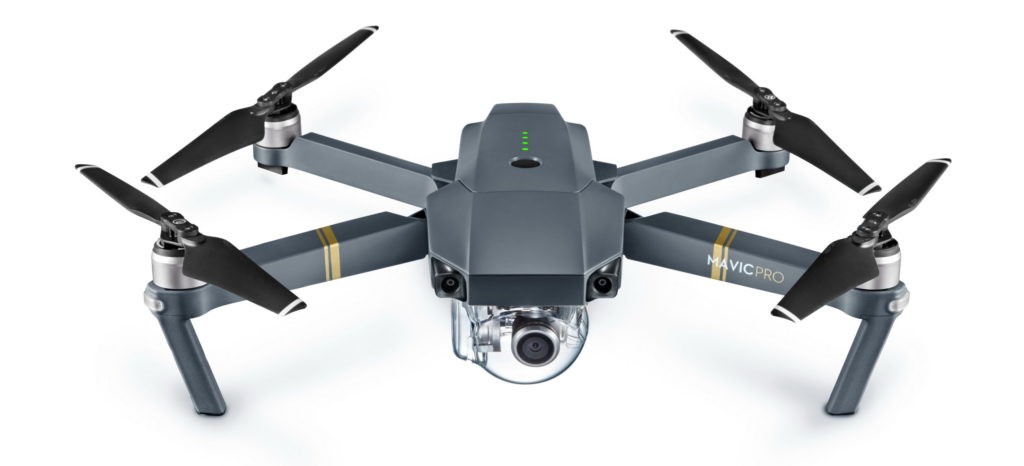 The DJI Mavic is a culmination of 10 years of technological development crammed into one of the the most convenient and powerful quads for its size on the market! There is no doubt about it, the Mavic Pro is a sleek and impressive quadcopter. It looks like a scientific gizmo you'd find in a high-tech lab. And funny enough, that's exactly what the Mavic is.
The DJI Mavic Pro is not a toy meant for learning and bashing around… this is a precise technical instrument meant for serious business. So if you're looking for a drone with training wheels head over to our Holy Stone F181 review for a good beginner's drone and save yourself around a cool $900. However, if you're looking for the top-of-the-line quadcopter, then this is your stop. The DJI Mavic Pro is cutting edge drone technology. It comes with all the bells and whistles! The DJI Mavic Pro clocks in at 4+ mile transmission range and a flight time of 27 minutes per battery, all giving wings to 4K video and the precision hovering technology from DJI that we have come to know and love. Whether you are looking to snap a dronie with your friends or build up a professional portfolio, the Mavic will serve you well!
DJI Mavic Pro Drone Review: Power
4K Ultra HD Video / 12-megapixel Still Image
The Mavic supports 4K video at 30fps and 12-megapixel image resolution. With those kind of specs, the opportunities to shoot incredible cinematic footage become endless… After reading through our DJI Mavic Pro Drone Review and a little bit of practice, you will become an expert pilot in no time!
Don't stress about finding a compatible camera, because this bad boy already has one built-in. Hanging below the front end of the quadcopter, the camera is attached to a 3-axis gimbal for stabilization. This allows for extremely smooth video and crystal clear snapshots while flying through the sky!
3-Axis Gimbal – Video Stabilizer
So we have a camera that can record video. Check. The camera supports 4K video. Check. So we should be good to go, right? Not quite! Don't forget about the gimbal… The footage will only turn out as good as the gimbal the camera sits on. Just think of taping a video camera to a sturdy stick of some kind. If you were to wave it around in the air, the video would will come out extremely shaky. So in order to get the full effect, we need something to hold the camera in place while moving the aircraft. Minor factors such as wind or even a slight change in direction from the quad can cause the camera to move around with it. This is exactly why we need a gimbal – to stabilize the camera for ultra smooth footage.
When you get ahold of a camera on a gimbal, gently maneuver the quad around. As you can see, no matter where the drone is headed, the gimbal keeps the camera from moving around. This is very important! When you receive your Mavic, grab the aircraft, unclip the gimbal stabilizer, and move the quad around in every which direction. Basically, just act like a kid playing with a toy airplane just like below. This is the perfect way to see the gimbal in action.
Innovative Technology
What is the our favorite part about flying the DJI Mavic Pro? In our opinion, it's the level of difficulty when flying, or should we say the lack there of? Yes, you must be aware of your surroundings. You should stay clear of "no fly zones" (especially in close proximity to airports) and avoid large crowds beneath. Piece of cake. However, there are still a number of factors causing pilots stress. It may sound cheesy or cliché, but it really is best to feel under control and relaxed while operating a quadcopter such as the DJI Mavic Pro.
As soon as the rotors begin to spin, it's game time! That's how we feel about it at least. During a recent flight, we were trying to get the aircraft up as high as possible. In San Diego, California, there are waves crashing on the shore and to the side sits a large beautiful city full of color. Without a doubt, we are going to push this baby to the limit and grab some breathtaking footage. The preparation, take-off, and first flight of the day can be a little nerve racking. You never know how truly windy it is higher up in the sky. The possibility of losing signal crosses your mind. The list goes on and on. The DJI Mavic Pro is a very nice quadcopter and the last thing we want to see is a nasty crash.
Unlike any quadcopter you've ever seen
Don't worry… Take a long deep breathe, because DJI helps prevent that. They brought in the Mavic Pro to help! For starters, the Mavic has built in sensors located in front and under the aircraft. We will get into more detail surrounding the sensors, but these essentially make the Mavic Pro impossible to crash. When flying, the quadcopter will sit in place until you decide where to move it. When purchasing a quadcopter, it's not always guaranteed that they will hover in place. This is extremely important for so many reasons. All of these state of the art features will allow you to learn at a reasonable pace, stress-free when airborne, to gather some jaw dropping footage.
Yes, we have experience flying other quadcopters, but the Mavic is definitely one of the easiest quads we have ever flown! DJI really outdid theirselves this time, including so much innovative tech and so many awesome features – OcuSync, FlightAutonomy, Visual Positioning System, ActiveTrak, TapFly, Ultrasonic Sensors, , Tripod Mode, Gesture Mode, VR capability, and more!
Check out our first flight with the DJI Mavic Pro: 
OcuSync – Advanced Transmission
The Mavic Pro uses DJI's new OcuSync transmutation system. Part of the Lightbridge family, the newly developed OcuSync system outperforms Wi-Fi transmission in all transmission speeds. Many Wi-Fi based systems are implemented across a lot of well known quadcopters that we would recommend buying. However, Wi-Fi is mean to connect local electronic devices. Designed for short range, it works better when trying to connect nearby devices. These systems suffer from "weak data links." Wi-Fi cannot detect signal interference or weak signals. OcuSync is completely different! It uses state of the art communication industry technologies. OcuSync is far superior in terms of flying speed, sensitivity, anti-interference, and anti-fading compared to Wi-Fi connection.
OcuSync transmits HD video reliably no matter the environment, using transmission technologies and a more effective digital compression. So, don't worry about a strong radio interference, color cast, static interference, flickering, or any other problems you can think of associated with transmission signal. Nothing can stand in your way!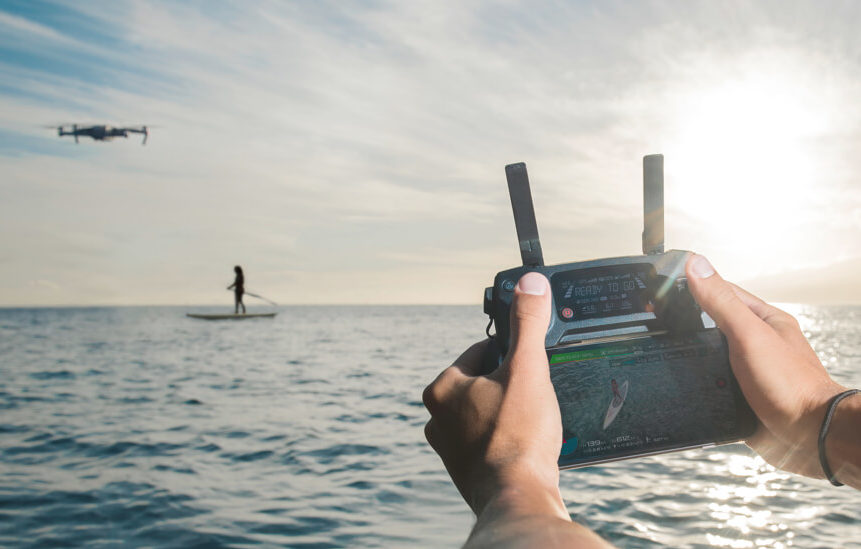 Transmission Quality
When taking off, OcuSync will automatically choose the frequency band with the lowest interference. As a result, you'll get even more video transmission stability. Also, during flight, key flight parameters are sent back for viewing on the DJI GO 4 app, supporting a max download speed of 40Mb/s for photos and video! When using the same radio transmission power as a traditional analog system, OcuSync transmits further with a range of 4.3 mi (7km).
Also, the Mavic Pro's transmission system will show up in HD quality in real time. OcuSync can transmit 720p and 1080p to your phone (4-10x better than traditional).It's not quite 4K, but it's the next best thing! With this kind of range, video stability, and transmission quality, the possibilities are ridiculous. Instead of blindly filming and praying the footage turns out great, you can see exactly what you're recording in real time with the Mavic Pro.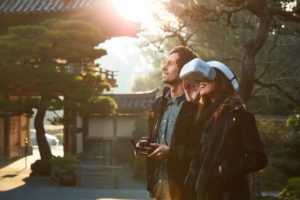 Connect to Multiple Devices
There will be more information on DJI goggles later, but we wanted to note that OcuSync can connect to multiple devices through wireless connection. This is actually really cool. If you want, you can wirelessly connect to DJI Goggles, remote controller, and Mavic to OcuSync at the same exact time! Lastly, the new system encourages sharing and collaboration. Interested in controlling the Mavic Pro with two remotes or sharing the first person view with your buddy? No problem. You can add an additional remote.
FlightAutonomy
According to DJI, sensor detection, or lack there of, is one of the main reasons pilots crash. This compelled DJI to do something about it. One word – FlightAutonomy (literally). This feature gives the Mavic Pro longer sensing range, higher precision obstacle sensing, and 3D scanning before taking off. So what does that mean? Well, the Mavic can precisely detect obstacles that may interfere with takeoff.
As mentioned earlier, FlightAutonomy is made up of 7 components. There are five cameras in total – four dual vision sensors and one main camera found on the front and bottom of quad. DJI strategically placed two of each dual vision key sensor in case one fails to work. By including two of each, DJI continues to prove itself as one of the most innovative drone brands! Just imagine if a sensor stopped working out of the blue. You'll be thanking DJI when the other is there to support it!
FlightAutonomy is also made up of "dual-band satellite positioning (GPS and GLONASS), 2 ultrasonic rangefinders, redundant sensors, and a group of 24 powerful, specialized computing cores." Using an aluminum bracket, the cameras on the left and right side of the camera (located in the front of the Mavic Pro) are fixed in place to make sure the vision sensors are optimally aligned during flight.
Obstacle Avoidance
Earlier in the DJI Mavic Drone Review, we already talked about the sensors detecting objects during takeoff, but wait, it get's better. It's similar to a backup camera on a car, the Mavic Pro will notify you if an object is too close during takeoff or landing. It gets even better! The Mavic Pro sensors stay active while in the air. Even during flight, the dual forward and downward vision sensors take photos from all four cameras and create a 3D map. It's a great feature for taking off and landing, but having this during flight is even more incredible!
Unlike some of the other methods mentioned above, the dual forward and downward vision sensors require visible light to function. In an environment with bright light, the sensors can see as far as 49ft (15m) out in front. This obstacle avoidance system is always active, and for good reason.
Plus, it enhances a lot of features! Use it in Intelligent Flight Mode which includes all ActiveTrack modes, TapFly, Terrain Follow and automatic Return to Home. The Mavic Pro will easily make its way back without bumping into an in its path! This really comes in handy when manually selecting the Mavic's flight path when using features like TapFly and ActiveTrack.
Precision Hovering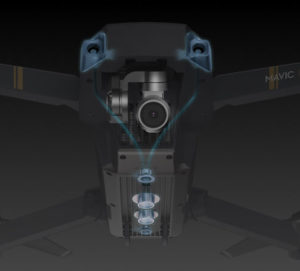 Unfortunately, we've experienced an issue with satellite positioning using a different quadcopter. It tends to happen. According to DJI, signal loss is common, and they've bucketed the situations into different categories – indoor and outdoor. In one situation, the connection may go out when you're flying in your living room. The second occurs during an outdoor flight that began indoors, like a balcony. The loss of satellite positioning makes these scenarios dangerous for all pilots, especially new ones. Not going to lie, we've done it before (DO NOT fly on a balcony) and it was the scariest thing ever!
Location and flying speed are required when the quad uses satellites to position itself. If the quad wants to use GPS, the location and flight status are recorded using a different method. Drones equipped with vision positioning more than likely using an optical flow visual positioning system. Vision positioning drones use an Optical flow system made up of ultrasonic sensors and single camera. The sensor record altitude measuring the distance between the ground and aircraft. At the same time, the camera is calculating positioning information by capturing images below the aircraft. Essentially, it's only as a means of measuring height. The ultrasonic sensors are strong, but everything has a limit. The higher the aircraft flies, the less precise the data becomes, so accurate height positioning is limited to 3 meters or less. That's not even 10 feet! DJI overcame this problem by implementing a new and improved system…
Height Positioning Accuracy
Again, don't worry, DJI's new system uses more than just a single camera. They implemented dual forward vision sensors. The setup allows the Mavic Pro to detect objects in 3D and up to 15m in front of the quadcopter which increases position accuracy by 2-3x that of an Optical Flow system. Dual forward vision sensors allow for precise hovering at up to 10m without satellite positioning. The sensors calculate the current location and speed of the quad through observing the scene in front. This increases the position accuracy as well! The DJI Mavic Pro has precise hovering technology.
Why do we need this technology?
Well, most quads requires more than just a single camera and an optical flow system to improve height positioning accuracy, or limit the quad to areas with "clear and definable features." If you want to get creative and record amazing footage, weak height positioning could put you at risk when flying near or over "undefinable surfaces" such as water.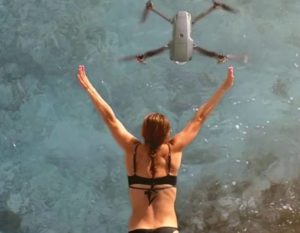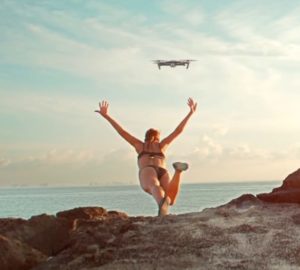 For example, when flying on a beach, there may opportunity to hover over water. It's great for action shots! However, for the quad, there are a lot of confusing factors in play. It could be as simple as waves crashing along shore or the sun shining down at a certain angle. The movement in or color of water alone could cause a quadcopter confusion. Without accurate height positioning, the drone could end up drifting into the water. Especially if you originally took off at a lower point, hiked up on a rock, and brought the quad with you. Think about it, the drone may think you are lower than you actually are, not detect the water, and drown 🙁
Fun Fact – every time you take off with the DJI Mavic Pro, two downward facing vision sensors located on the belly of the aircraft record a burst of video of the ground. After, it will then pair with satellite coordinates! Tell the Mavic to Fly home and it will return to the coordinate of your choosing, match the video, and land all by itself!
DJI Mavic Pro Drone Review: Creativity
DJI invested a lot in research and development, and then some… Now it's time for the fun stuff! We've covered off on a lot of specifications, giving you numbers and tech advancements. Don't get us wrong, everything we've covered off on has been amazing and should not be overlooked. Without those advancements, none of this would be possible. That being said, usually it's the different features and modes that get people excited. As we continue on through the DJI Mavic Pro Drone Review, we will now talk about some of the new jaw dropping features and modes. You ready?
ActiveTrack

Honestly, ActiveTrack is probably our favorite feature included in the DJI Mavic Pro Drone. It makes it easy for anyone to take unbelievable, fun, and creative footage. Become a professional photographer with the push of a button. It's seriously that easy. There's no GPS bracelet or transmitter required, making it a completely autonomous flight. Instead of following a chip inside of a transmitter (usual method), DJI utilizes FlightAutonomy to scan and 3D map the environment. The pilot can select an object to focus on and then the fun begins!
Curious how ActiveTrak system works?
Using deep learning, advanced autonomous flight, and computer vision, a user can mark (select) a subject. For example, the DJI Mavic Pro can detect a person jogging, a person riding a bike, vehicles, and more! DJI's system can even detect animals. Once a subject has been registered, you'll be given a variety of modes to choose from. The Mavic Pro will do as you say automatically. However, you can still manually control the quad. The Mavic does all the heavy lifting, yet you still have control!
What happens after the subject has been marked? After 'marking' (selecting) a subject, choose from one of three flying options – Trace, Profile, or Spotlight Mode. During the DJI Mavic Pro Drone Review, we tested out all three ActiveTrak modes to see first hand how well they actually worked. Let's take a look.
DJI Mavic Pro Drone Review: ActiveTrak Modes
Trace Mode

Have the Mavic Pro the camera literally trace behind or in front of the subject. The Mavic Pro seamlessly moves and adjusts the camera to ensure focus on the subject at a fixed distance. You also have the option to circle around a subject. Video example coming soon! 🙂
Profile Mode

Allow the Mavic Pro to follow alongside the marked subject as it moves. Profile mode gave an "up close and personal" perspective. Video example coming soon! 🙂
Spotlight Mode

The subject is the center of attention. No matter where the subject goes, the Mavic will be sure to stay focused while staying at a distance. Manually control the quad as the camera remains focused on the subject. This makes for a perfect dronie. Video example coming soon! 🙂
ActiveTrak Opens Up a World of Possibilities
We feel that this DJI Mavic Pro Drone Review has proven that DJI is ahead of the game! They really did their homework to make sure it was as easy to fly and operate as possible. We've seen moments where pilots feel uncomfortable or can't quite get what they are aiming for when flying manually. It can be tough to maneuver a quad in the perfect motion to get optimal footage. These are just a couple of potential issues the Mavic Pro's ActiveTrak system can help overcome. That being said, this can also just be used for fun! We've had a drone follow us down a hill while riding skateboards. It makes for a fun video. Get ready to impress your friends and family on social media!
Gesture Mode
One of the latest and greatest DJI features, provided in the DJI Mavic Pro and DJI Spark, is Gesture Mode. The Mavic Pro's Vision System digitally scan to recognize your face and follow your commands through simple hand movements!

Wave For a "Dronie"
After you get the Mavic in the air, make sure the camera is pointing at you, double check that you've selected "Gesture Mode" and just like that, a simple gesture will signal the quad to snap a photo. Using DJI Mavic Pro's Gesture Mode, you will be able to take selfies like you've never seen.
If you're like us, and enjoy pushing things to the limit, there endless ways to get amazing drone photography. Remember, it's always nice to see the world from another perspective!
Just like the image above, form a rectangle with your two hands. As the camera begins to lock into it's target (you), the LED lights will flash, and in exactly 4 seconds, the Mavic will take a picture. This gives you or the group you are with the opportunity to get ready for the picture.
Tripod Mode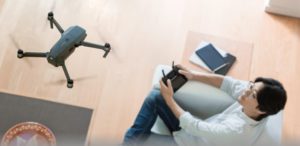 Bringing the Mavic Pro to Tripod Mode drops the max speed to 2.2mph (3.6kph). The control stick sensitivity is dulled a bit to give you the precision needed to accurately grame. This makes it great for flying in tight spaces, even indoors, where the Mavic's speed may make it more of a challenge to fly in.The flight controller needs the speed of the aircraft and the "current location" in order to position itself using satellites. So if you're not using GPS, the drone will need to collect flight status and location another way.
TapFly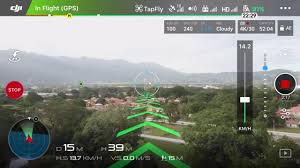 Combine obstacle avoidance with a pre-determined flight path, and you are in for a real treat. Simply determine the drone's path with the touch of a finger. Using the DJI GO smartphone/tablet app, you can select different touch points on a map. Once activated by the pilot, the Mavic Pro will fly straight from point A to point B at a preset height.
Let's use use an example of when obstacle avoidance and TapFly may come in handy. If you happen to select a direction pointing towards a mountain, and set the drone to fly low, it will cruise at a steady altitude until it senses the change in altitude height. It will then cruise over the mountain and continue avoiding any trees and large rocks. So if the mountain inevitably raises/lowers in height, the mavic will pop up before running into the side of the mountain or descend back into the original altitude height.
DJI Mavic Pro Drone Review: Convenience

Foldable Legs and Propellers
The Mavic Pro comes equipped with two front arms that swing back and a rear limb that turns down towards the body. Even though it has the ability to essentially shape shift, it's made with quality parts. It feels so sturdy. It takes some force to move everything around, but that's a good thing. That's what makes it feel so solid.
Fold the back legs up and push both front rotors towards the body of the quadcopter. Just like that, it's ready to take it on the go with you. Slide the transforming aircraft into your backpack or a carrying case. We prefer a carrying case like the one included in the official Fly More Bundle by DJI, which additionally includes two extra batteries with a charging hub as well as some other bonuses. We like to carry everything on us at once. However, we have taken it out by hand. The body is very light and conveniently sized to fit within your hand's grip.
Small but Durable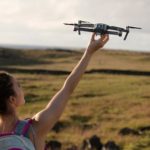 Don't let its size fool you! DJI is bringing you the most intelligent quadcopter for its size. Think of the DJI Mavic Pro as a MacBook Air. You can fold that sucker into a water bottle sized box. At the same time, it's fully capable of much more than some quadcopters two to three times it's size. For instance, the Phantom 4 is 2x bigger in mass and 2x heavier in weight. So you can now just throw the Mavic in a backpack or gym bag. Large boxes filled with padding are becoming a thing of the past!
Foldable Transmitter (controller)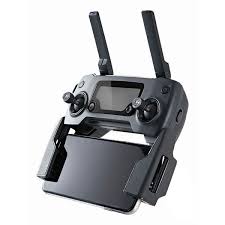 You can use the app like all other DJI drones, but they also offer an optional foldable controller making it simpler to control and pocket-friendly. It's great to have because some people are literally always on the go. It folds open revealing a smartphone clamp while two antennas flip up on top. There is a built in screen that displays data such as altitude and speed, but in order to fly in first person view mode, you must connect to a smartphone.
---
DJI Mavic Pro Drone Review: Pros & Cons
Pros
We think it's fair to say that a lot of people would expect a smaller drone to cut features. That's a fair assumption to make, but DJI had other plans. They equipped the DJI Mavic Pro with some of the most important features a pilot could ask for:
Object tracking
Obstacle avoidance
4K Video, 14MP Pictures
GeoFencing (help stay out of restricted air zones)
Flight time – 27 minutes
Distance from drone – 4.3 miles
Can fly steadily in winds up to 24 mph or 39kph
Cons
Not recommended to fly indoors
Must manually adjust propellers before every flight
Some pieces of the aircraft are a bit fragile
The DJI Mavic Pro Drone Review shows you why the DJI Mavic Pro is typically priced at $999. However, if you're lucky, you can find it on sale for less on Amazon! It's a fair price seeing how powerful, creative, and fun the DJI Mavic Pro really is! The Phantom 4 is currently going for around $1,199. So when you compare the two, it makes total sense.
DJI Mavic Pro Drone Review: Frequently Asked Questions
What is the difference between the DJI's Mavic Pro and the Phantom 4?
The Mavic Pro is built for convenience, as it's much smaller in size, lighter in weight, and easier to take on the go with the slick foldable design. Also, the new OcuSync transmission gives the Mavic Pro a longer range of transmission (1080p). The Phantom 4 is meant for a different people/situations. Since it's larger, the Phantom 4 can reach higher speeds and withstand strong weather – specifically wind.
Is the Mavic Pro waterproof?
No, unfortunately the Mavic Pro is not waterproof. Be careful when taking off and flying near water. You want to find an area that is flat and free of puddles to take off and land.
---
Did we miss something? Let us know what you think in the comments below of our DJI Mavic Pro Drone Review!
Is the DJI Mavic Pro not quite what you were looking for? Click here for more drone reviews.
You may also be interested in…