GoPro's Karma vs. DJI's Mavic (Different Drones for Different People)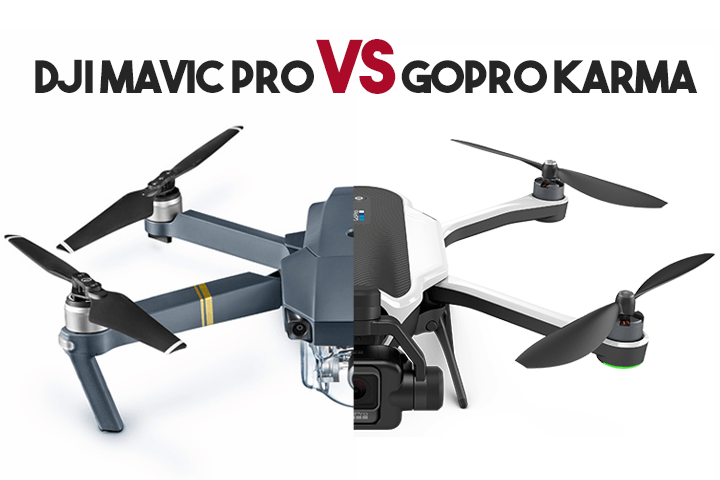 It's the cool kids vs. the nerds, David vs. Goliath, the Americans vs. the Chinese. No matter how you set the stage between GoPro and DJI, it's an epic contest and the battle for 2017's holiday drone shopping season is on.
How does the GoPro Karma compare to the DJI Mavic? Quick Snapshot: 
GoPro Karma
Price: $799 (no camera) or $1100 (w/ HERO5)
GoPro's Karma is cutting edge, yet classic. Although it doesn't sport all the newest bells and whistles such as obstacle avoidance and Follow Me mode (we're still not 100% sold on these sporadic technologies anyway), it has been reported flying extremely reliably, capturing shots just as advertised.
Pros:
Works with both the new HERO 5 line and older GoPro models like the HERO 4 and HERO 3s.
Both the camera and gimbal can be detached for use on their own. Basically three products in one that can be used in tons of combinations.
Sleek controller that doesn't rely on a smartphone. Comes with a built-in video screen for first-person viewing.
Cons:
Still a very new product for a company who has never released a drone before.
Doesn't have obstacle avoidance or Follow Me mode.
Not the best flight time (20 minutes).
DJI Mavic
Price: $799 (no controller) or $1100 (w/ controller)
Well, DJI has done it again: the company out of Shenzen, China has released an extremely high quality product with best-in-class performance. But there's something off about the Mavic… maybe it's that Mavic was released just one week after Karma and looks nearly identical, giving a feel that this copycat product is only in production to block GoPro's run at the industry, and really wasn't developed with the user in mind. Although impressive in every technical sense, Mavic is lacking the authenticity and ingenuity of Karma.
Pros:
Slightly faster and slightly longer flight time (40 mph vs. 35 mph and 25 minutes vs. 20 minutes)
Obstacle avoidance and Follow Me mode.
Cons:
One solid drone unit. Can't detach the camera or gimbal for other uses, and you'll never be able to upgrade the camera.
Controller costs $300 extra.
We thought that DJI may have its run of the market this holiday season after former-players such as Parrot and 3DR failed to bring new products to market this season. And in the high-end hobbyist drone world, if your drone is over a year old then you might as well just go fly by yourself because your aircraft is ancient.
Thankfully though, GoPro decided to make this year interesting. Just when we were about to write off their long-hyped drone venture, GoPro nearly made us eat our words and came out with a seriously competitive drone of its own, Karma, with basically everything you'd hope for in a drone from GoPro.
Even though these drones look pretty similar at first glance, both GoPro's Karma and DJI's Mavic have enough defining features to make them appealing to different audiences.
Some people will love that you can break down Karma into different types of camera equipment, and some people will prefer the one solid unit that the Mavic offers. Some people wouldn't be able to live without the Follow Me mode while others couldn't care less and just want to fly onward. Either way, the technology and advances that each of these drones bring to the table should be more than enough to make these ventures worthwhile for both companies, encouraging and inspiring the next generation of drones.
Reviews from people who have gotten their hands on these:
Hype Videos: