Getting Started with Drone Real Estate Photography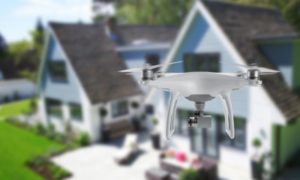 Over the past few years it's been the Wild West for commercial drone operators – specifically real estate agents. For a while, there were hardly any rules enforced by the FAA, and many people were left confused about who could commercially operate a drone and what/ if a certificate was required. The rules and regulations of flying a quadcopters for real estate purposes needed to be more transparent! 
Story after story began popping up in the news about the use of quadcopters. Pilots were running into trouble. Individuals were taken to court or given a fine. In this video, cops surround a pilot, handcuffs ready, as they all wait for the Phantom to return to the takeoff point. Needless to say, things got messy. Stuck in the middle of all of it, realtors were looking to utilize drones for commercial use. Legally of course!  With all of these fines and court cases, it seemed extremely risky for a realtor to fly and post photos on listings. The legality was very unclear. However, it caught on like wildfire, and for good reason.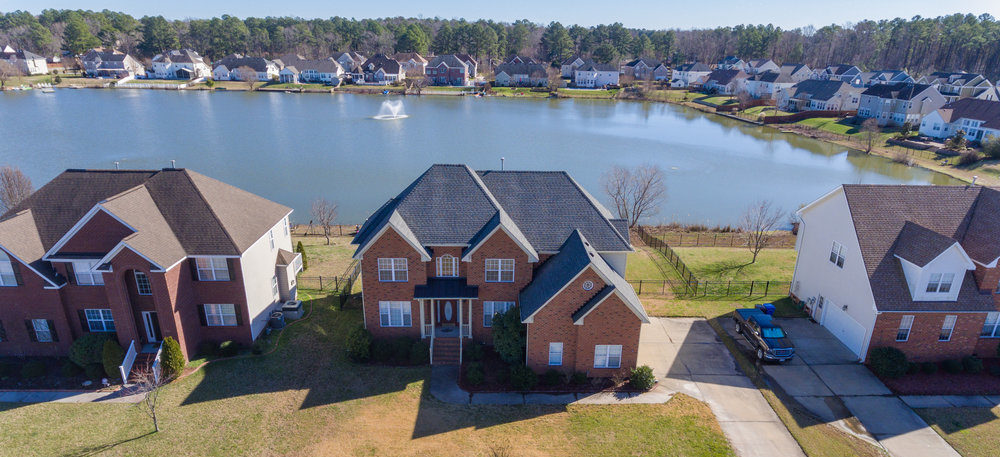 Sometimes, standard photography just doesn't do the listing justice. Take the example above for instance. Not only does drone photography give an aerial perspective of the home, showing the entire property in one shot, but it also displays the entire plot of land! Without a drone, you may not be able to see the beautiful community. For realtors, this can be extremely beneficial when selling large plots of land or shocking the buyer with amazing images and video. It makes them feel as if they are actually there! Try pulling out the VR Goggles and see how they react! 🙂

It all started, with what we like to call, the 'quadcopter revolution!' Pilots begin rapidly crowding skies, the FAA put in place tight regulations that required commercial drone pilots to have a full-fledged pilot's license. This was an impossible ask for most perspective drone pilots since a pilot's license can cost up to ten thousand dollars. Not to mention, the amount of flight hours you would have to put in…
Given a little time, and after realizing that flying a 5lb drone compared to an actual airplane are very different things, the FAA came up with a sound solution to put together a training and certification course specifically for small quadcopters called Part 107. This new legislation deemed it legal for hobbyists to fly small quadcopters with no certification at all (just need to register your drone), and legal for commercial operators to fly drones if they complete some basic training.
It is easier than ever to get your commercial drone license!
Now that the FAA has clarified the rules and made it easy for commercial pilots to abide by the rules, real-estate agents and anyone interested in drone real estate photography are in a prime position to begin taking advantage of all the benefits that drones (aka quadcopters) have for the real estate industry.  
So are you ready to soar above the competition?
Steps to get started with 'Drone Real Estate Photography'
1. We're going to start off with a no brainer: buy a drone. Check out our article on the best drones for real estate agents are our more in-depth drone buying guide for more information. Here are some key things to look for when buying a drone for drone real estate photography:
4K video quality

– if you plan on posting your videos on the internet and plan on impressing people, then you'll need high-quality HD footage.

Autopilot functionality

– this will help you consistently get the professional looking footage time after time. When you're first learning to fly you'll need to rely on computer assisted flight paths to get smooth shots. However, most mid to high end drones come equipped standard with this functionality.
As part of the new regulations put in place in June 2016, all drones are now required to be registered with the FAA if you plan on flying commercially in the United States.
It is easier than ever to get the certification and training you need to operate a drone commercially and begin taking drone real estate photography. Here's a rough outline of what the certification process looks like:
Schedule an appointment with a Knowledge Testing Center (KTC), which administer initial and recurrent FAA knowledge exams:

View the list of Knowledge Testing Centers (PDF)

to find one near you.

Applicants must bring government-issued photo ID to their test

Next pass the initial aeronautical knowledge test.

Complete FAA Form 8710-13 for a remote pilot certificate (FAA Airman Certificate) using the electronic FAA Integrated Airman Certificate.*

Register using the

FAA IACRA system
4. Start flying!
A lot of the drones out there like the Phantom 4 or the Typhoon H come with automatic modes that will make your footage look professional right from day 1. These automatic modes allow you to plan missions and flight paths that the computer will automatically fly for you. Dream up the shot and direct the drone's autopilot to automatically begin taking professional drone real estate photography for you.
5. Dominate the local real estate competition with your new drone footage.
Post it on social. Then email your friends and have their friends email their friends. People love to watch drone videos! So let the viral marketing begin!
We hope this gets you started on the right foot. However, if you have any questions about this process or how to get started with drone real estate photography, just leave us a comment below! We will be happy to answer any questions.
Happy flying!
– The DroneLifestyle Team