UDI U818A Quadcopter Review

Updated: November 25, 2016
UDI U818A reviewed by: Chris Ortwein

UDI U818A Review: Contents
For your first drone (also known as a quadcopter), we highly recommend the UDI U818A. This drone is perfect for beginners and those looking to practice before taking on a more expensive aircraft. Although this drone can take quite the beating (you will probably crash several times when starting out), we don't recommend flying above concrete or asphalt! This UDI U818A Quadcopter Review will help you with everything from setting up your quadcopter to actually flying the aircraft. The UDI U818A is currently #24 on the list of 'Best Selling Toys and Games' on Amazon.
Check out our favorite Cyber Monday drone deals in 2017 for the UDI UI818A!
Specifications
The UDI U818A is electric powered, radio controlled, and equipped with 6 gyroscopes for stabilization.
| | |
| --- | --- |
| Rating | 4/5 Stars |
| Flight Time | 7min-9min |
| Battery Type | 3.7V LiPo |
| Charging Time | 60min |
| Communication Distance | 300ft |
| AA Battery | 4 Required |
| Camera | 640×480 pixels |
| Skill Level | Beginner |
| Price | $45 |
Getting Started: UDI U818A Quadcopter Review
The UDI U818A comes ready to fly. All you have to do is charge up the LiPo battery and insert AA batteries into the controller and you're good to go. We've heard from multiple sources that it takes about 2 hours to get a full charge, but we've found that it takes no longer than an hour. The light will turn green when it's ready. If you take a look at your transmitter you can see that it displays the mode you are in (mode 1 and mode 2), camera settings, throttle settings, and battery life.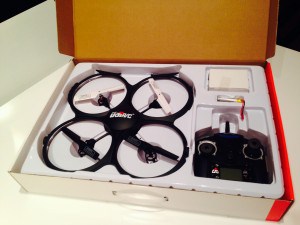 Set Up
The drone comes fully equipped with a 3.7V 500mAh LiPo battery, a transmitter, and a mini camera (640×480 pixels). The box also includes 4 backup propellers, a mini screwdriver, a battery charger, and a USB connector (camera to computer) to upload your footage. We highly recommend buying extra batteries since the standard one only gives you a flight time of about 7 minutes. This can be frustrating if you want to drive to a far location or if you're sharing the drone with multiple people. We bought this 2-pack of 600mAh batteries from Amazon that add 18 minutes each to your flight time, giving us a total of 43 minutes in the air with the three fully charged batteries.

Once you have the battery charged up and the transmitter working, you might want to read through the manual to fully understand the operations. Next, you will want to find a good location to take flight. When we first started we practiced inside my apartment to avoid wind. The room had carpet and a bed so we didn't have to worry about damaging the drone. We recommend practicing hovering and landing until you get a grasp on flying the machine. Make sure you clear anything out of the way you wouldn't want the drone running into (TV, computer, glass vases, etc.). You will find that it is much easier to fly in a big open space cause you won't have to worry about these things.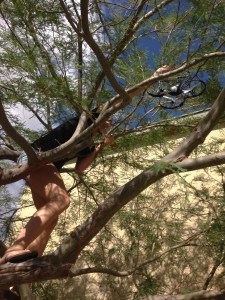 First Flight
We strongly recommend finding a large grass park or an open field of some kind when taking your drone out for the first time. Do not fly outside if there is wind! This is a lightweight vehicle so the wind will cause it to lose stability easily. We've learned this the hard way a couple of times. Fortunately, the first time we were able to climb the tree to get it out. We weren't so lucky the second time. Despite our first mishap, we still decided to fly with a light breeze. The sun was also beaming down, and this caused us to lose sight. The wind took control of our U818A and blew it away. We were looking for a while until my girlfriend finally noticed it up in a tree. After getting two shoes stuck with it, and tossing pine cones for an hour, we decided to drive to my buddy's house to grab a two story tall ladder. It was 110° out that day…needless to say it was a pain.
Taking Photos
After you understand how to fly the UDI U818 you can start practicing your photography. Press the button with the little video camera image next to it before taking off. Then press the button again whenever you are done recording. Keep in mind this camera only records video, not audio. You can also take pictures by pressing the button with the camera image next to it. It's extremely easy to view your photos and videos. You just plug the camera into any computer through the provided USB cord.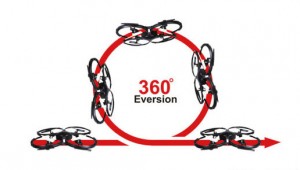 Advanced Flight Features
Another cool feature of the UDI U818A is its 360° eversion maneuver. Whenever your drone is about 10 feet or higher in the air you can hit the 360° button and the quadcopter will automatically do a flip in the air. Be ready to throttle up right after, otherwise it will run itself into the ground.
It will take a little bit of time to get used to the UDI U818A. Don't get frustrated. Make sure you are aware of the laws and regulations before flying. Most importantly, have fun with your new drone!
Here is our first flight with the UDI U818A! It got windy and knocked the UDI off balance but the UDI floated harmlessly to the ground!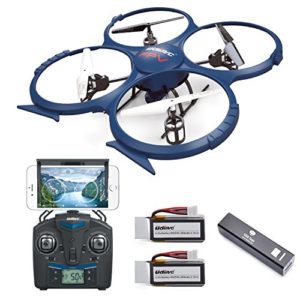 There is now an FPV model available. Over the past couple years, UDI worked on perfecting this quadcopter and adding new features to keep up with the big dogs, such as DJI. Now you can use the provided FPV goggles to view what the quads camera is focused on. It's almost as if you are playing a video game.. We highly recommend considering the FPV before buying the original. It's still the perfect beginner quadcopter (easy to fly and extremely durable). As we mentioned earlier, it can withstand a pretty good beating and still fly just fine. The FPV Wifi edition would be perfect if you're trying to get into FPV drone racing, or if you're a VR enthusiast.
Did we miss something? Let us know what you think of our UDI U818A Quadcopter review!
You may also be interested in…
Is the UDI U818A not quite what you were looking for? Click here for more drone reviews.