DJI Phantom 4 Drone Review
Over the years DJI has pushed out four generations of the wondrous Phantom. You have to admit it's been very similar to the iPhone. Each time it becomes sleeker, the camera quality slightly improves, and a few new minor features get thrown in. Yet, you still expect more. Pilots have been patiently waiting for autonomous flying and more advanced crash prevention. This time, DJI answered the call. Get ready for our DJI Phantom 4 Drone Review.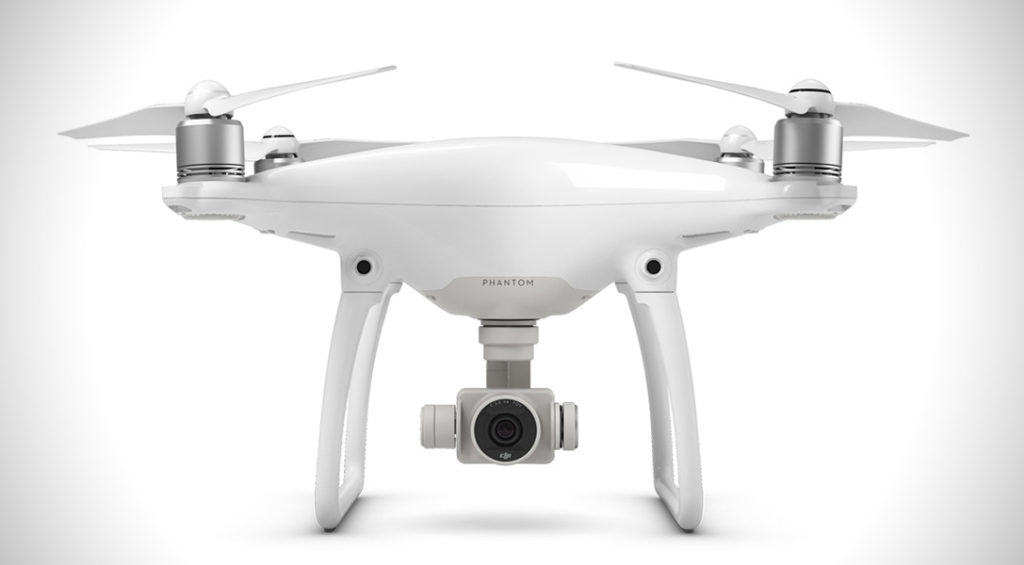 Things that haven't changed:
Remote and app required
4K video
3 axis gimbal
4 props
Built-in camera
New Features:
Overall design
Gimbal design
Flight time – 28 min (5 min more)
Speed – 45 mph (10 mph faster)
Obstacle avoidance sensors
Signal range – 3 miles
4K Ultra HD
Tap Fly
ActiveTrak
DJI Phantom 4 Drone Review
Autonomous Flight
The camera is just as amazing as the Phantom 3. You can shoot 4K video and take 12MP still shots from your mobile device or tablet. This time they designed a new gimbal to allow for smoother video. That's great and all, but what else?? Drum roll please. Active Trak and Tap Fly!
Active Trak
With the Phantom 4, you will now be able to track an object both following and filming. Traditional image tracking only utilizes two dimensional tracking data. Once the camera changes direction the system will confuse itself and lose site of whatever it is you're tracking. DJI's Phantom 4 uses different technology. It can essentially build a 3D representation of the object, learning what the object looks like from various angles. It's constantly learning what the object looks like. For instance, if you sit or take a breather from running, the drone will relearn what you're doing to continue focusing on your following movements.
Tap Fly
Almost all other drones out there rely on a GPS chip placed in the controller to follow. With the Phantom 4 you can tell it where to go with the tap of your finger. Tap on a point and the aircraft will fly in the direction of the point avoiding objects in the way. Tap Fly will give you the ability to capture smooth video shots without even touching the controller. If you decide to change directions (tapping on another point) it will gracefully transition paths. It will also avoid all objects in its path. Check out the video below:
Crash Prevention
The Phantom 4 had cameras installed in the front, preventing you from running into objects in the way. You won't have to worry about clipping a tree and spending the whole night crying. Kidding aside, this feature was much needed. Hopefully it will prevent you from sending it in for a repair. There are also downward facing cameras and sonar sensors on the bottom of the aircraft. This allows the drone to rely on the Visual Positioning System rather than completely relying on GPS. This isn't the newest feature as it was also on the Phantom 3, but it's great to see it back in action.
Light and Stable
The Phantom 4 is smaller than the younger generations, giving it long battery life and becoming more portable. A lot of people claim the battery lasts longer than the advertised 28 minutes. We all know you need to get the most out of a battery. Given the size, we highly recommend avoiding even the slightest breeze. It's not worth taking that kind of risk. The Phantom 4 also comes with an additional internal measurement unit (IMU) which makes it much more stable in flight. This beast on propellers was also given upgraded motors. When in sport mode you can do a number of amazing things. You can reach speeds of 45 miles per hour. Oh, and you can do flips. Be careful when flying in sport mode because once you turn it on object avoidance goes out the window.
Top Drone For Beginners
If you're going to buy a DJI Phantom, we highly recommend purchasing the 4. The difference between the Phantom 4 and the Phantom 3 is biggest jump of any previous generation to another. You'll see that the Phantom 3 is now selling for $800 on Amazon. With the addition of TapFly and ActiveTrak, the Phantom 4 is one of the top, if not the top, drones for beginners. It's much easier to fly with sensors located in front and on the bottom, or some cases it will just fly itself. With that said, be careful and safe when flying. Oh, and make sure you bring a smile. It's required as well. That wraps up our review of DJI's Phantom 4.