Holy Stone HS170 Predator Mini Drone Review
Are you looking for a great birthday gift? Want to bring some excitement into the office? Maybe you're a beginner who wants to learn before moving up to a larger, more expensive drone? Well, then check out our Holy Stone HS170 Predator Mini Drone review to get the details on this incredible nano drone specially made for flying enthusiasts who first need to learn the basics of drone flight. However, due to its versatility, it can be flown by anyone for any reason!
Updated: September 10, 2017
Holy Stone HS170 Predator Mini Drone: Contents


The Holy Stone HS170 Predator mini drone is an impressive start for those customers who want to give drone flying a try. Considering the small weight and short transmission control range, this drone is not regulated by the FAA. According to their drone regulations, you are not required to register this drone! At least not in the foreseeable future, unless the current requirements change.
Specifications
The Holy Stone HS170 Predator is the top selling nano drone on Amazon right now!
| | |
| --- | --- |
| Rating | 3.5/5 Stars |
| Flight Time | 6-8 min |
| Battery Type | 750mAh 3.7V |
| Charging Time | 1 – 1.5 hours |
| Range (Signal) | 30 – 50m |
| Transmitter | 2.4GHz |
| Camera | NONE |
| Skill Level | Beginner |
| Price | $39.99 |
Holy Stone HS170 Predator Mini Drone Review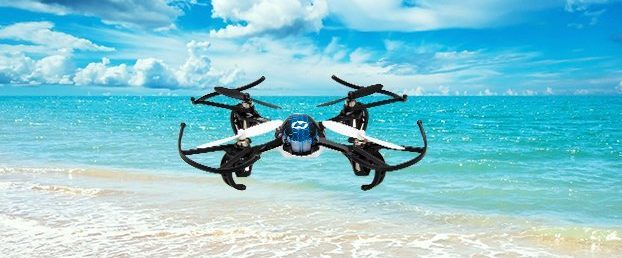 The Holy Stone Predator Mini drone is also suitable for both outdoor and indoor situations. Its shockproof and windproof design makes sure that you have a perfect experience regardless of the setting. Equipped with four high-powered motors (or engines), six-axis gyro stabilization, and the screw-attached propellers, this drone will stay steady all over in the air. Furthermore, the Holy Stone HS170 has a headless mode which allows the drone to be oriented in the direction of the controller or the person with the remote and not based on the direction the drone is facing, resulting in it being much easier to control for beginners in this mode. It is incredibly easy to keep this drone in the air and under control due to the 2.4 GHz remote control, which makes great use of the digital proportional radio control system.
Impressive Features of Holy Stone HS170 Predator Mini Drone

Design
The Holy Stone HS170 Predator is accompanied with a feature set that is aimed at a wide range of consumers, from the first-timers or newbies learning the basics to those who are experienced pilots and want to perform some tricky maneuvers at a very high speed.

Transmitter
Typical first impressions of this drone's transmitter will be that it appears to be more like a video game controller than a drone remote control. The ergonomics on this transmitter are pretty decent, and it fits into your hand's palm quite nicely. Upon taking out the remote control of this drone from the box, you will might be a bit confused as that what the various buttons do. In fact, there is no inscription on any of them, except for the ON & OFF inscription beside the black power switch. Luckily, the controls are pretty simple so this will not be much of a issue once you get some initial practice in.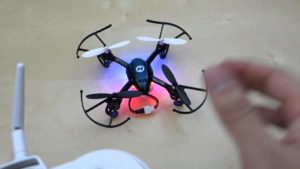 Size & Weight
It is a tiny drone that measures approximately 5.5-inches across and about 6-inches in diagonal, which is also light in weight. In fact, it weighs barely more than a couple of pregnant gnats at under a single pound… allowing it to be classified as a nano drone.
Flight Time
The Holy Stone HS170 Predator drone is also accompanied with a removable battery, which makes it easy to recharge the device. There is a wire that usually connects the battery to the aircraft, and it often hangs off to the side and appears a bit odd. However, this does not affect the performance of the flight of the drone. It takes approximately thirty minutes to charge the battery, and you will get about eight minutes of actual flight time. Per usual, we suggest grabbing an extra battery so that you don't have to wait too long to recharge the battery, especially before having another flight.
Flight Performance
The HS170 Predator drone model belongs to the RTF class of drones, and it comes with everything you require to power up and start flying. Except for the six AA batteries for the control unit. Also, the user manual usually offers some essential information, which was easy to understand. In fact, to get started, you are required to power on the controller unit first, connect the drone's power cable, and then pair the two by moving the throttle stick up and down. The drone has three adjustable sensitivity settings. These settings determine yaw and pitch responsiveness. Every time the RC is powered on automatically to the gentlest (least sensitive) setting in its default mode, which is indicated by a certain number of beeps from the RC unit.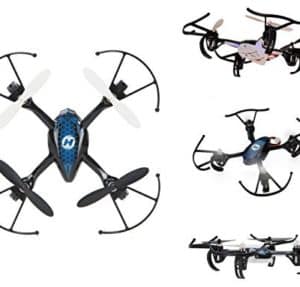 Also, it is important to note that unlike certain other types of drones that automatically maintain or hover altitude whenever you release the sticks, the Holy Stone HS170 Predator needs constant attention to hold its altitude. Controlling this quadcopter can take some getting used to, but once mastered makes flight on any other drone a breeze!
Pros
Flies both indoor and outdoor
Excellent response time to control
Impressive head start for beginners
No FAA registration needed
Can perform stunts
Shock and wind proofed
Cons
Poor battery life (solved by purchasing extra batteries)
Long recharge time
Conclusion
For its design, endurance, and good response time for control, the Holy Stone HS170 Predator mini drone is perfect for beginners. Therefore, if you are new to drones and you want to develop your flying skills, then you should definitely look into picking up this model on Amazon!
---
Did we miss something? Let us know below what you think of our
Holy Stone HS170 Predator RC Quadcopter Drone Review!
You may also be interested in…