7 Reasons Young People Should Learn About Drones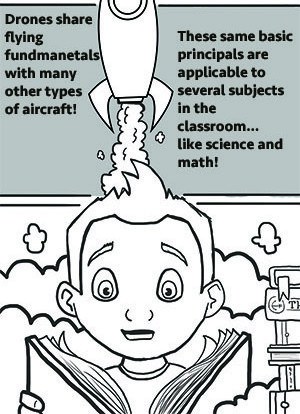 Artwork by Walker Design
Thanks to recent developments in mobile technology, drones have never been more accessible or affordable.  Everyone from local folks at the park to Secret Service agents on the White House lawn, have taken up this new obsession to see what all the buzz is about. Young people in particular are in a special position to not only have fun flying outdoors, but gain a ton of useful knowledge while doing it.
We highly recommended young people fly with adult supervision. Although fun and small, mini-drones and drones still require caution. Visit knowbeforeyoufly.org to learn more about drone safety.
Here are our favorite reasons why young people can benefit from flying and learning about drones:
1.) Youngsters will learn about technology
Gyroscopes, accelerometers, and data sensors are just a few pieces of equipment drones use to fly. These modern toys have come a long way from their radio-controlled predecessors, and it is these advancements that make drones so fun to learn about!
2.) They will gain hands on experience
Drones are like big ol' lego sets. You can take them apart, switch out pieces, and then add additional parts later. The great part is you can choose just how involved you want to get. Some drones can be ordered ready-to-fly and require almost no effort to set up, while the more technical DIY kits require varying degrees of involvement.
3.) It's the future
Now is the perfect time for young people to get involved in this growing industry! According to CNN drone pilot salaries starting at $100,000 and Business Insider is reporting the drone industry will grow from 11 billion to 140 billion over the next 10 years. Drone university programs are already starting to pop up all over the country to educate the next generation of pilots.
4.) Young pilots will master aerial photography
Most drones and quadcopters come attached with cameras. It is no easy task to properly set your camera settings and frame a shot from up in the air. But once this art is mastered, the results are stunning.
5.) Drones are more affordable than ever
Incredibly, some mini-drones can be had for as little as $30… these little guys are so small that they can fit in the palm of your hand! We recommend young people start off learning on something inexpensive and small so that they can get the basics down first without getting into trouble.
6.) The couch will look boring
Although a few of the smaller drones can be flown indoors, the vast majority require the great outdoors to truly spread their propellers. Remember to fly in wide open spaces and never above people.
7.) Parents get to be involved
No matter your age, drones are a blast to fly. It is crucial for parents learn about and teach their children best safety practices. Safe flying is the first and most important step of being a good pilot.
Best Drones to Learn On
At DroneLifestyle, we feel the best beginner quadcopter to learn to fly on is the UDI U818A. This drone is small, lightweight, and durable. You can crash the UDI in the grass over and over and cause little to no damage to the quadcopter.
Other suitable beginner drones include the Hubsan X4 (perfect for indoor flying) and the Syma X5C.
Happy flying!
– DroneLifestyle