Syma X5C RC Explorers Quadcopter Review
After enough hours flying one quadcopter, you can easily find yourself in love and temporarily ignoring some of the other fish in the sea. That was us with UDI U818A… almost to a fault. It just grabbed a hold of our hearts and wouldn't let go. I mean, there is a reason why it's the #1 selling beginner quadcopter on Amazon. But another quickly rising competitor shook us from our tunnel vision: the Syma X5C.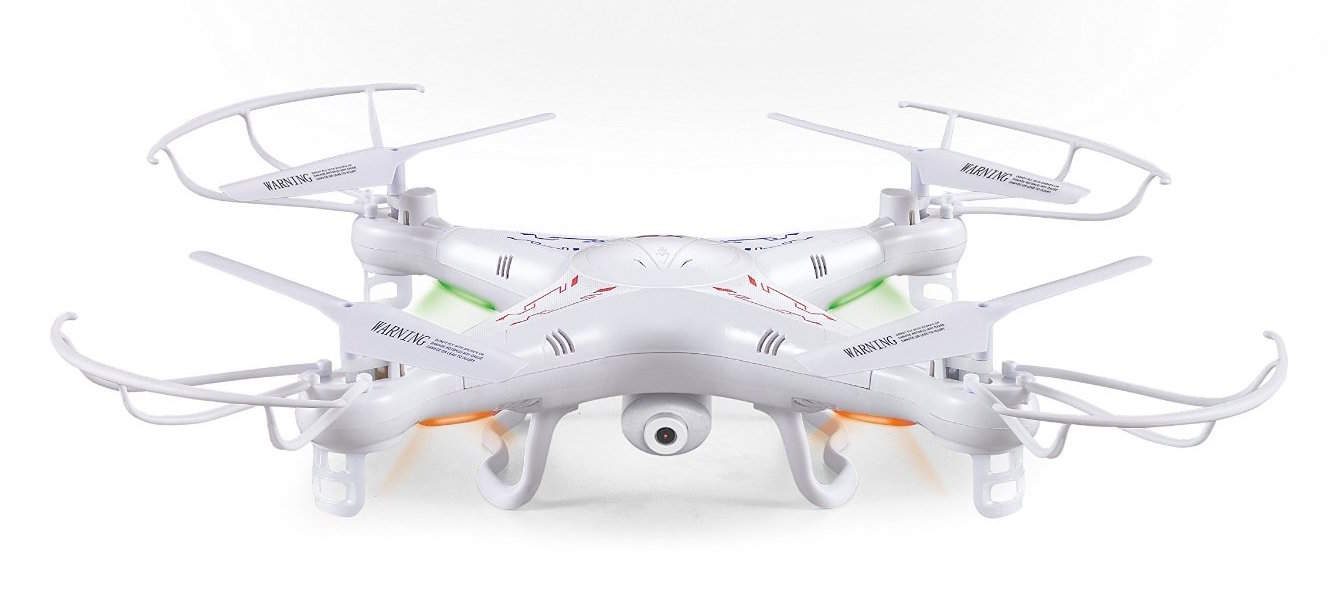 | | |
| --- | --- |
| Flight Time |         7 min |
| Communication Distance |         50m |
| HD Video Recording |         1280/720 |
| Still Frame Definition  |         2 MegaPixel |
| Battery Type |         3.7V 500 Mah Li-poly |
| Charging Time |         100 min (USB) |
| Experience Level |         Beginner |
| Price   |         $58 |
With an average Amazon user rating of 4.5 stars, we simply couldn't continue to ignore the Syma X5C. This quadcopter is hot on the tail of the UDI as the second best selling beginner drone on Amazon.
Getting Started: Syma X5C RC Explorers QuadCopter Review
The most striking aspect of the Syma X5C is its weight. For its size, it is an incredibly lightweight quadcopter compared to the likes of something like the Hubsan X4. It feels almost like a heavy duty paper airplane with propellers.  The Syma's size and weight make it a very suitable indoor quadcopter. Outdoors however, you will have a tough time controlling the Syma X5C in any kind of windy conditions.
If you do fly this quad outdoors on a calm day, you won't be disappointed. With a communication range of around 50m, you will be able to let the Syma spread its wings quite a bit.  It sports a nice amount of acceleration, and has the ability to perform flips and stunts like most other entry-level quads. Even though the Syma X5C comes with LED flashing lights, these are of little use during the day, and needless to say the white quadcopter quickly becomes hard to see. Without FPV (first person view) controls to navigate home without a remote visual, losing this guy in the distance can cause headaches. We recommend painting the quadcopter a different color or attaching additional lighting so you can keep the aircraft in sight.
Even though Syma claims that the X5C is equipped with HD recording capabilities, we find that statement a little far stretched. Yes the camera on the Syma X5C is adequate, but it is hardly something that you could classify as higher end. But at $58 how much can you really expect? It delivers perfectly fine footage for reviewing your flights and showing off a maneuver you are proud of. All we are saying is don't expect too much out of Syma's 'HD' description. Your handheld iPhone's camera could easily give this entry-level quadcopter a run for its money.
The Syma X5C is a great beginner quadcopter! You don't even have take our word for it… just look at how this beginner drone has flourished from word of mouth alone. People are unusually eager to share their excitement on places like Amazon and other community forums that our work is really cut out for us already.
If you enjoyed our 'Syma X5C RC Explorers Quadcopter Review' you may also like…