10 Best Drones Under $100 (Top Rated Quadcopters)
Updated: 9/8/2017
What are the best drones under $100? Often referred to as a "C-note," or a "Benjamin," or "100 bones." Whatever you prefer to call it, we guarantee you'll be surprised when you learn out how far 100 dollars will go when purchasing a new drone or quadcopter. Technology is continuing to grow at an exponential rate. You can find drones under $100 that are smartphone compatible, equipped with a camera, and/or with fun toy-like features such as a mini cannon. Here are some of the best drones under $100, which we will continue to update! 🙂
Want to cut right to the chase? Navigate through our table of contents to find some of our mini reviews on the drone you are looking for!
Table of Best Drones Under $100
10 Top Rated Quadcopters/
Drones Under $100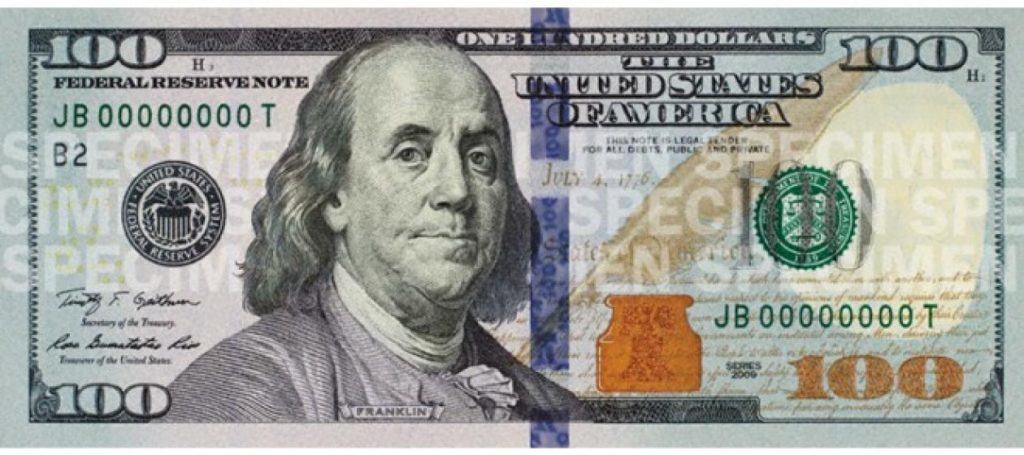 Although you may not be getting Hollywood quality action videos, there are handful of drones under $100 out there that will set you on the path to becoming an expert drone pilot .
In 2016 alone, the drone world made huge strides with FPV flying and VR integration for inexpensive drone models. These drones won't have the top-of-the-line specifications that more expensive drones have, but the technology is fundamentally the same and provide good training wheels for beginners looking to get into piloting drones or quadcopters.

---
1.) UDI U818A Quadcopter
Price:

$44 + FREE Shipping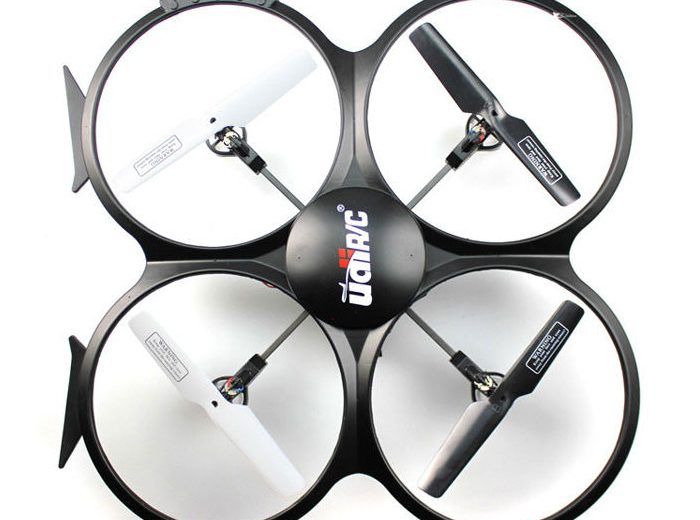 Skill Level: Beginner
The UDI U818A is a long time favorite of ours and is definitely one of the best drones under $100. It's what got us into flying quadcopters in the first place. In 2015, it was the top selling drone. At one point, it was the #1 toy on Amazon!
Whether you're a beginner or just a casual flyer, it's a great quadcopter to own. Our original UDI still operates just fine… and we purchased it over 3 years ago. The UDI's durable design and tough material makes the UDI pretty tough to damage. When we first flew over our street, we accidentally slammed into the ground and the UDI popped right back up. This baby is incredibly durable. The quad also comes equipped with a camera. You can easily export pictures and videos onto your computer with a mini SD card in order to show off your skills 😎.
The UDI U818A is the perfect drone to prepare yourself for a more advanced drone such as the Phantom or Yuneec 4K Q500.
2.) SYMA X5C-1 Explorers Quadcopter
Price:

$51 + Free Shipping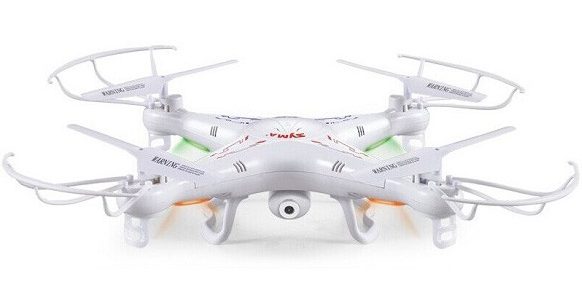 Skill Level: Beginner
The Syma X5C1 is right there with the UDI. It's a great beginner drone, but it's a little more expensive. That's because it has a little bit nicer camera and sleeker design. An elastic plastic protective circle is built in to prevent blades from wearing down. This Syma is equipped a 6-axis flight control system and can fly 7 minutes on one battery.
This quadcopter is perfect for flying indoors. It's a lot of fun filming yourself guide through the hallways. If it happens to crash, you can expect little to no damage (obviously don't fly near fragile expensive objects like a TV). It's also great to fly at night as well with built in LED lights.
Looking to get into drone photography? Check out the Top 10 Drone Photography Tips from industry experts themselves.
3.)

Hubsan X4 (H107L)
Price:

$31 + Free Shipping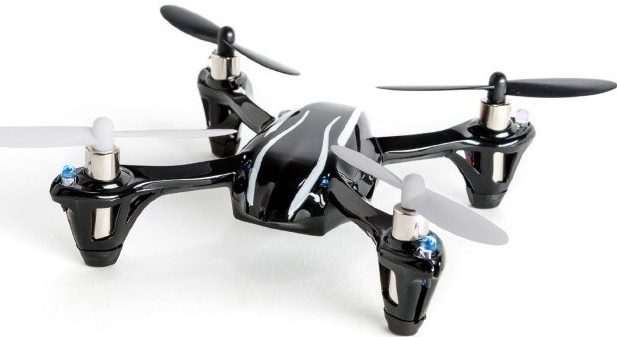 Skill Level: Beginner
The Hubsan X4 (107L) is one the cheapest drones under $100 on our list. It's a great drone for beginners! The Hubsan X4 (107L) comes with two different modes, which will come in handy as you progress. With a basic and advanced feature, you can work your way up and advance your piloting skills. This minidrone is perfect for beginners. Whether you're looking to grow and develop or just or fun, it's a great drone to own. Just a heads up – If you do decide to go ahead with the Hubsan x4 H107C minidrone, we always recommend grabbing grabbing a protection cover. It's inexpensive and will protect your quad from wearing down or breaking . With this cover, the Hubsan X4 H107C will simply bounce off any walls or obstacles. It's worth saving the time and money, because as we've seen, the propellers are a little sensitive.
4.) Hubsan X4 (H107D)
Price:

$55 + Free Shipping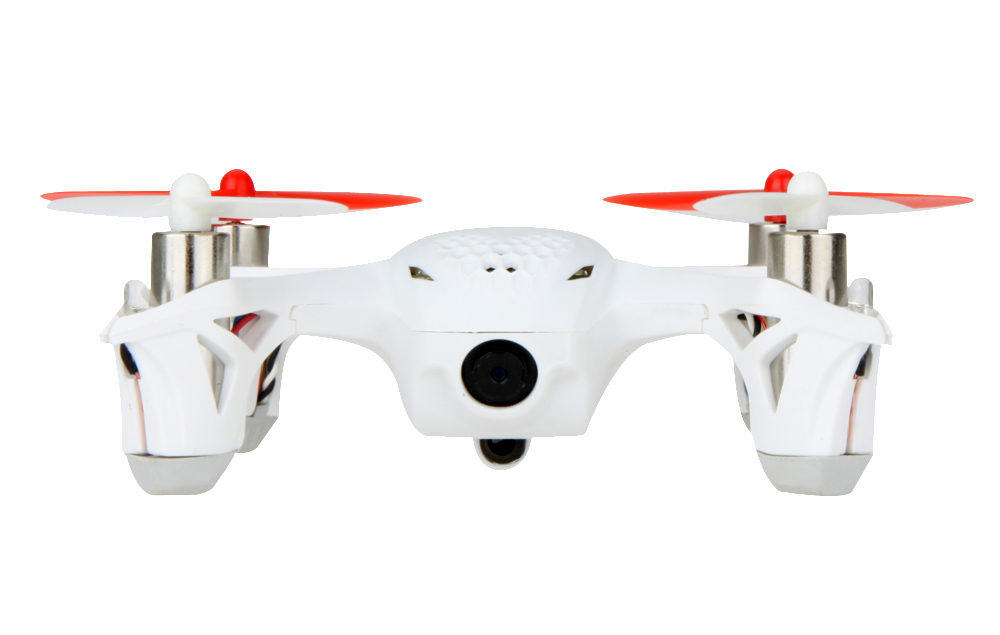 Skill Level: Beginner
The Hubsan X4 (107D) is among the best drones under $100 to prepare yourself for the DJI Phantom 4. In our opinion, it's without a doubt the best quadcopter under in this price range to get you ready for the Phantom 4.
Are you planning on purchasing the DJI Phantom 4? If so, we don't blame you… Although the Phantom 4 is worth the money, we know it's expensive, especially for someone flying for fun. But trust us when we say it's definitely worth it! Maybe you do or maybe you don't, but we had concerns about purchasing the Phantom 4. "Will I be able to fly the Phantom?" "What happens if I end up crashing?" Most importantly, "am I making a good investment?" The DJI Phantom 4 is already very user friendly and built for beginners, but it wouldn't be a bad idea to get a little preliminary training. Melt away any fears you have with your newfound piloting abilities. The Hubsan X5 107D will give you just that.
The Hubsan X5 107D is not only among the best drones under $100 to strengthen your flying skill in order to fly more advanced drones. It's an awesome quadcopter to fly around, film, and upload footage. The Hubsan is a good size, it's sturdy, and it's easy to pilot. The flight is so smooth and the camera quality is amazing for the price. If you want a quality drone under $100, the Hubsan X4 107D is the way to go.
5.)

JXD 509W (0.3MP Camera)
Price:

$58 + Free Shipping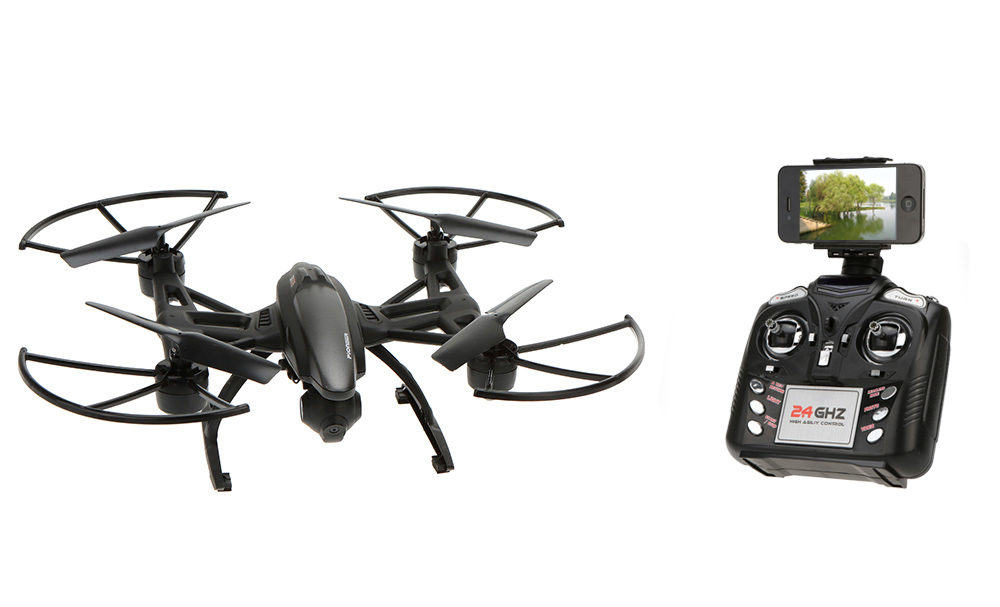 Skill Level: Beginner
The JXD 509W has more advanced features than most of the quadcopters you'll see on its list. Very similar to the Hubsan X4 107 D, it's will also supply you the experience to fly more advanced quadcopters like the DJI Phantom 4, 3DR Solo, and Yuneec Q500.
The JXD 509W is a high quality quadcopter – the propellers can bend 90 degrees without breaking, which makes it incredibly durable. With propellers like this, you will avoid damage if you ever crash.
Notable features – Automatic return to and land at take-off location, HD Wi-Fi camera, one key return, headless mode, altitude hold, real-time transmission, 360 degree tumbling (forward, backward, left, right), and fixed altitude function.
6.) Parrot Mambo MiniDrones
Price:

$119

$

92 + Free Shipping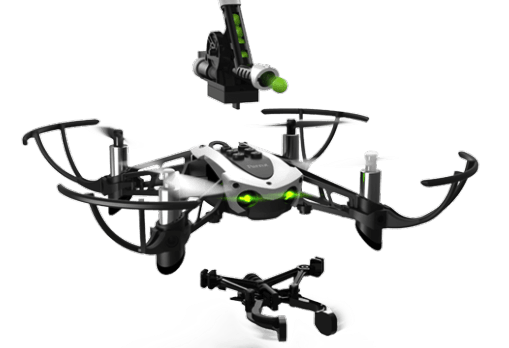 Skill Level: Beginner
With this current sale in place, the Parrot Mambo MiniDrone becomes one of the best drones under $100. It's the perfect example of a toy drone. However, it's much more advanced than a lot of quadcopters at this price. Some drones at this price differentiate themselves with different features, but the Parrot Mambo has it all! This toy drone is perfect for a child to play with. It is an accessory for any adventure! With the Parrot Mambo you can shoot miniature cannon balls using an attachable cannon on top of the aircraft. Also, you can catch, carry, and release cargo weighing 4 grams or less with the attachable "grabber" on the bottom.
It comes with high-tech sensors for optimal stability, allowing just about anyone to control it. The Parrot is capable of doing tricks such as flips and barrel rolls. Using a smartphone or tablet, you can pilot the quadcopter using the "FreeFlight Mini App" or you can us the new Flypad controller. The Flypad controller gives you a range of about 200 feet.
7.) Parrot – Airborne Cargo Mars Drone
Price:

$99

$84 + Free Shipping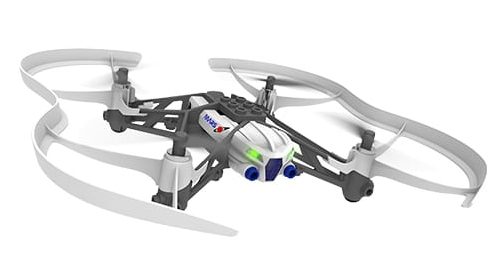 Skill Level: Beginner
The Parrot Airborne Cargo Mars does NOT have to be registered through the FAA. Its light weight puts it under the requirement. Even though it's easy to register a quad, this just makes things a lot easier!
The cargo ready MiniDrone is made of hardside metal, which will help keep the quad in tact if you crash. Also, it comes with compartments for holding small objects and the a base is designed to attach small items. Agile and shock resistant, it can perform acrobatic flips and stunts at the touch of a button.
The Parrot Airborne is also embedded with a VGA mini camera (480×460). The detachable battery lasts about nine minutes and it only takes 25 minutes to fully recharge with the charger! All of this can be controlled using your smartphone or tablet using the Free Flight 3 app.
8.) Traxxas 6608 LaTrax Alias Quad-Rotor RTF Heli
Price:

$95 + Free Shipping

Skill Level: Beginner
If you're planning on spending the full $100, then you should go with the the Traxxas 6608. It's currently the number one selling name in RTR. Its innovative design and engineering allows for a smooth ride.
Check out how aerodynamic this guy looks, so you know it's going to fly smooth! With an auto-leveling 6-axis flight system, the quadcopter hovers gracefully. Just like the Syma, it's integrated with bright, colorful LEDs making it easy to fly at night. You won't lose track of it or fly it into the ground.
9.) Sky Viper Nano Drone M200
Price:

$49 + Free Shipping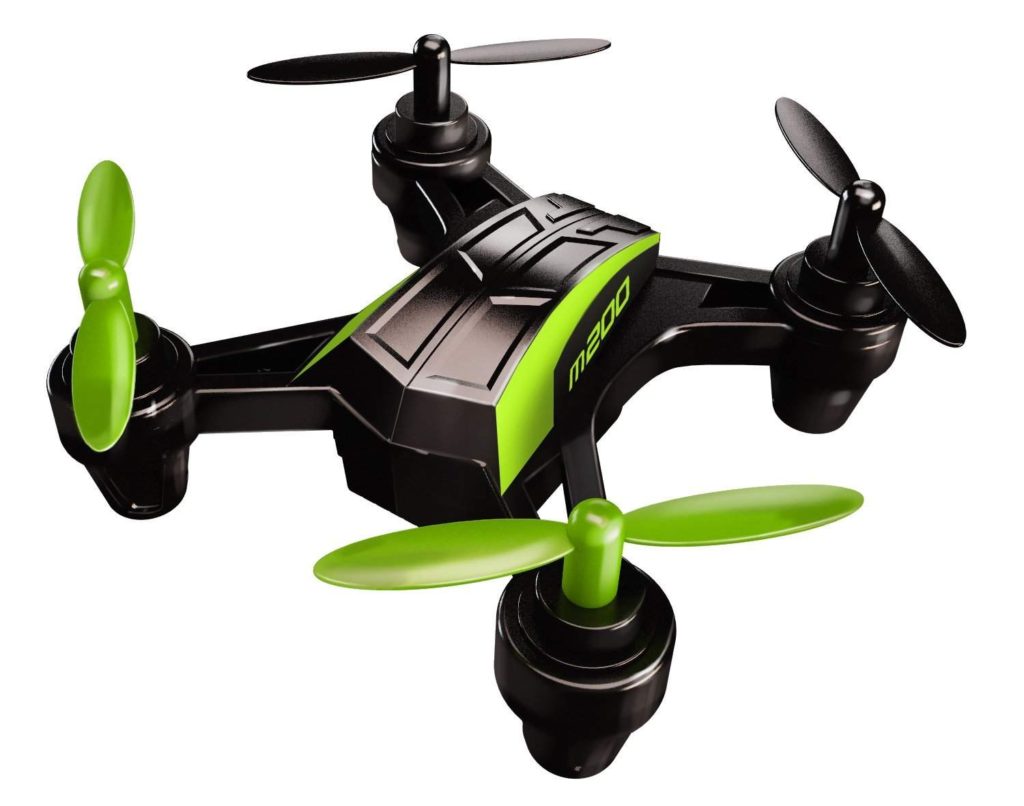 The Sky Viper Nano Drone M200 is tiny. And when we say tiny, we mean quarter sized. This is the perfect gift for a friend, boyfriend/girlfriend, child, or even a parent… who wouldn't love flying that
little guy around?
The UDI and Syma are by far the best quadcopters to prepare yourself for more advanced drones. We would have to say the Sky Viper is more for fun than it is for serious flying. That's not to say it won't help you with basic flying skills. You can be the fan favorite at work, bond with your children, or simply have some fun on your own flying around!
---
We hope you enjoyed the best drones under $100! Did we miss something? Let us know below!
Didn't quite find what you were looking for? Check out more drone reviews from our Drone Buying Guide.