Best Christmas Drone Deals 2014
It doesn't matter whether you celebrate Christmas, Hanukkah, or Kwanzaa… the deals on drones are out there this holiday season. Here at dronelifestyle.com, we've scoured the internet for the best internet deals around!
There are many types of drones around these days. So, we understand how overwhelming it can be to find the right one for your special someone. To help make things easier for you, we've paired the best deals with the right kinds of people. Keep reading to find out more about these perfect gifts!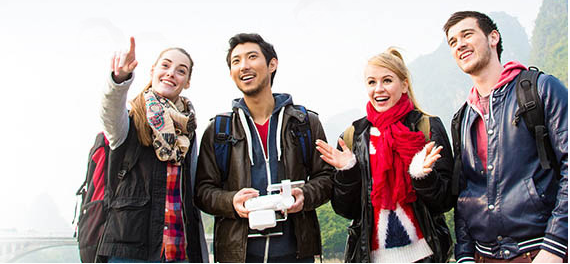 Now, the Best Christmas Drone Deals 2014!
1.)

The UDI U818A Special Edition

 ($199  $85)
BEST FIT FOR: Outdoor Flying for Beginners!
The UDI U818A is the perfect beginner drone. Literally anyone can fly this thing! And with this holiday special from Amazon, you'll receive extra batteries and spare parts, keeping you in the air longer.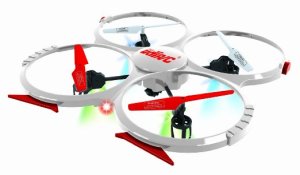 The best part about the UDI is you don't have to worry about breaking it because of the UDI's plastic main frame and thick propellers. If it falls out of the sky and smacks the concrete it will bounce right back up in the air, no problem!
The UDI U818A also comes equipped with a built-in camera that can capture photos and video. Easily upload all your footage in seconds with the included USB connector.
>>>>> PURCHASE THE UDI U818A – ON SALE NOW! <<<<<
Still unsure if this is the right drone for you? Check out our full UDI U818A review for more information.
2.) 

Hubsan H107D X4 Mini Quadcopter

 ($250 $172)
BEST FIT FOR: Indoor Flying for Beginners!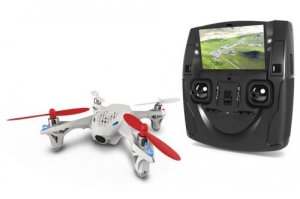 Do you want to be able to fly around the house or in the office? Then look no further than the Hubsan H107D X4. It is so small that it fits in the palm of your hand! It also comes with a propeller guard that allows the Hubsan to harmlessly bounce off the walls.
This model of the Hubsan is unique because it can also can be used as a training aid for more advanced quadcopters. It flies exactly like its bigger brothers, and simulates the first person point-of-view flight experience. The camera feed on the front of the quadcopter streams directly to the remote so you can see where you are flying!
>>>>>> PURCHASE THE HUBSAN X4 – ON SALE NOW!! <<<<<< 
Are you interested in learning more about mini-drones? Then we recommend taking a look at our favorite mini-drone stocking stuffers here.
3.) 

DJI Phantom 2 Vision+

 ($1,999 $1,099) 
BEST FIT FOR: Photography Buffs!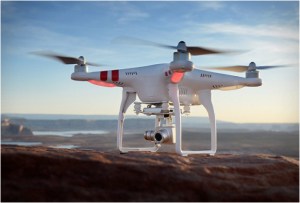 When we purchased our Phantom 2 Vision+ it was priced much higher, which is very frustrating to see, but we hope you can capitalize on this amazing deal! The price has gone up a little bit since Cyber Monday, but this temporary holiday deal is still a steal.
This is the Cadillac of Drones, fully equipped with a stunning HD camera, unreal flight time, and smooth-as-butter controls. At $1099, the DJI Phantom 2 Vision+ is an incredible value. It's the perfect gift for photographers and anyone ready to take their droning to the next level. 
Still not sure if the Phantom 2 Vision+ is right for you? Check out our review for more information.
PURCHASE THE DJI PHANTOM 2 VISION+ (ON SALE NOW!)
If you do indeed decide to go with the DJI Phantom 2 Vision+, you'll soon be impressing your friends with footage like this.


BEST FIT FOR: Everyone!
According to CNN, big companies, like Facebook and Amazon, are beginning to hire drone pilots with starting salaries of $100,000. There has never been a better time to learn to how to fly! Although this course won't leave you FAA certified, it is a solid step towards a becoming a skilled drone pilot. We recommend this course for anyone wanting to capture better photos/videos, avoid flying pitfalls, and become a safer pilot. This course comes with a 30 day money-back satisfaction guarantee*
>>> Purchase Udemy course with Dronelifestyle's discount here <<<
5.) 

Estes Proto X 

($60 $30)
BEST FIT FOR: Secret Santa Parties and Stocking Stuffers!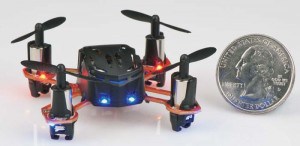 There is no doubt about it… the Estes Proto X is a crowd pleaser. People just can't seem to get enough of it. Legend has it that the Estes is the world's smallest quadcopter. How can we argue? It's barely bigger than a quarter!
This little guy takes about two minutes to learn how to fly and is a total blast. Nobody will be disappointed with you that they received the Estes instead of some cheap gag gift.
>>>> PURCHASE THE ESTES PROTO X – ON SALE NOW!! <<<<
We will continue to track Cyber Monday deals this weekend and throughout the rest of this holiday season. If you want to stay updated on these bargains, subscribe to our email list below.
Enjoy this article? You may also be interested in…
Top 5 reasons Why Drones Make the Perfect Holiday Gift
Awesome Secret Santa Gift Ideas