Snowboarder, Xavier De Le Rue, Helps Design Dream Drone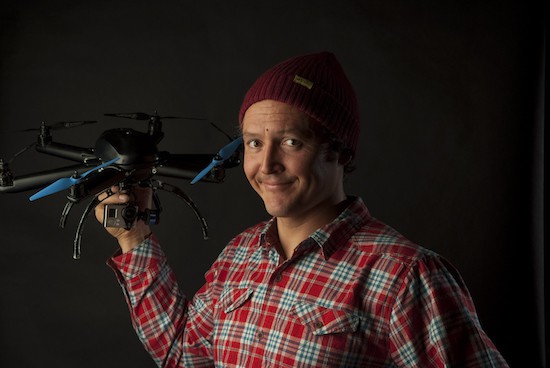 Years ago, you could find professional snowboarder, Xavier de Le Rue, in the Arctic pushing drone technology to the limit. Few had dreamed of capturing drone footage in the Arctic's inhospitable landscape. Even fewer had attempted the feat. This was uncharted territory for drone pilots.
Without sustained heat during the eight-hour snowmobile trek to camp, his drone's batteries would become useless in the -25 degree Arctic conditions. Falling back on years of experience in the French Pyrenees, the cold-weather veteran turned to some old snowboarder tricks to improve his chances. Inside a heavily insulated backpack, he wrapped the precious drone batteries in wool, and surrounded them with both hand-warmers and warm bottles of water. Then, he prayed.
"I was sure it was never going to work, but it turned out just fine. It was amazing actually. It flew just like in normal conditions," explains Hexo+ co-founder Xavier De Le Rue. Years have passed since this innovative experiment, but De Le Rue's time in the Arctic was only hinting at what he would do with drone development in the future.
Here is a sneak peak of De Le Rue's recent trip to the other side of the world, the Antarctic:

MISSION ANTARCTIC – Trailer from TimeLine Missions on Vimeo.
An Unlikely Opportunity
Little did De Le Rue know that in a few years time he would be helping design the Hexo+ self-flying camera. In the snowboarding industry where aerial footage is an integral component of daily life, he was a prime candidate to provide a vision for drone technology. So when his agent mentioned the chance to partner with Hexo+, he jumped on the opportunity.
In an unfamiliar world of drone design, De Le Rue was once again unsure about the situation he was getting himself into. "At first, I'm like 'what am I going to bring to this project?'" remembers De Le Rue. Initially he thought he would only be able to bring an image, which he sees as "bullshit in a way," but he soon discovered that his background provided valuable insights. He'd been there on the mountain, day in, day out, struggling with the same pitfalls of early drone technology that pilots around the world were dealing with. Now was his chance to make his wishful thinking a reality.
The Hexo+ is Born
Like any good product designer, De Le Rue put himself in the shoes of his target market. What would the average snowboarder want out their drone? What should it be able to do? What shouldn't people have to worry about? Armed with these questions he worked with Sébastien Varrier, system architect, to provide an easy, simple to use, hands free solution, the Hexo+ self-flying camera.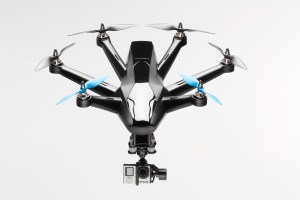 "Our objective was quite revolutionary for the drone and camera industries, allowing users to control a drone, without piloting skills, making it easy to command from a smartphone, without affecting the quality of image. Using solely a smartphone was a challenge to predict user's trajectory since we can only use the phone sensors to provide the position and are dependent of their accuracy.
We had to develop high performance algorithms that we've tested many times in the field to make sure the footage quality was maintained. Communication between the drone and the user is also restricted to few systems when you're only using a smartphone, so we had to figure out the best way to do so without affecting the user experience. We're regularly tackling new challenges to make HEXO+ a reality up to our dreams!" says Sebastien Varrier, system architect, HEXO+.
Set to release next summer, the Hexo+ features many of the capabilities that De Le Rue dreamed it might. Smart, easy to use, and fully autonomous, the Hexo+ may be turn out to be the calling card for casual storytellers everywhere wanting to experiment with drones.
"The company fulfills a dream and need for me and other people wanting to share their message. The thing I am most proud of is that, you know like all the stuff I have been doing in my films, using a helicopter, using crazy means that cost hundreds of thousands of dollars, that are inaccessible for most people, they are finally going to be accessible with the Hexo+. That's something I'm really, really stoked about."
Even with access to the expensive helicopters and camera crews that De Le Rue depended on for decades, De Le Rue plans to shed the extra weight in favor of the Hexo+. "Now on a personal level I'm not going to need a full crew to follow me. My next project is to make a full film without one single camera man using the Hexo+," says De Le Rue.

Freeride Session with De Le Rue brothers filmed… by Riders-Match
Enjoy this article? Other articles you may be interested in…