Best Drones for Real Estate Photography 2017
If you're a realtor, you know today's real estate game today is more cutthroat than ever. The Association of Real Estate License Law Officials (ARELLO) estimates there are over 2 million active real estate licenses in the United States. That's a lot of people.
The real estate market is also rapidly shifting in the way people are buying and selling homes. The traditional newspaper ads and word-of-mouth marketing of yesterday are fading into the background as digital platforms like Zillow take their place. Prospective buyers can now browse through millions of homes from the comfort of their computer and gather most of the information they need to decide whether or not a home is the right fit.
With millions of real estate agents vying for attention and millions of homes on the market, the real estate arena is loud… So how do can you make your listings stand out? How can you rise above the competition?
New strategies for a shifting landscape

It is estimated that in 2016 more than half of home buyers found their new home via the internet. Static mediums like trifold brochures and pamphlets that once ruled real estate marketing only required few simple pictures to showcase a home. The internet however is a completely different animal…
Especially when dealing with more upscale markets, high-quality pictures are the absolute minimum requirement to market a home on the internet, and realtors who want to break through the noise will need to do even more than that. Today's realtors need to get creative…
Rising above the competition with drone photography
Change is always a little nerve racking, however the shift to the internet also presents a new opportunity for showcasing homes. We are talking drone footage here. Breathtaking, awe inspiring, drone footage! While drone footage has begun to gain wider attention, we promise you'll still be just one of the few utilizing this game-changing technology. And even if the day comes where every real estate agent has a quadcopter in their hands, you certainly don't want to be the only one left empty handed.
Here are our recommendations for the best drones for real estate and realtors in 2017:
#1 Best Drones for Real Estate Photography: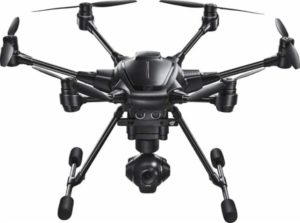 The Yuneec Typhoon H is like the Mercedes Benz C class of the drone world. It's not the ABSOLUTE best… but it's a pretty nice car and will get you where you need to go at a somewhat reasonable price.
As a realtor who will be posting your drone footage on the internet – you'll need 4K quality footage, which the Typhoon H has. The Typhoon H is also a super super easy quad to fly and beginners won't have any trouble learning to navigate this thing.
The Typhoon H doesn't have very single bell and whistle, but it has the bells and whistles that you'll need.
Features:
SAFE TO FLY WITH BUILT-IN COLLISION AVOIDANCE – FAA compliant no-fly zone, 6 rotor safety with 5 rotor fail-safe, and ultrasonic collision prevention keep you safe.
EASY TO FLY – GPS stabilized flight control, with 8 smart flight modes, automatic return to home, auto takeoff and auto land. No experience needed.
READY OUT OF THE BOX – Comes with ST16 all-in-one controller (7 inch Android touchscreen), CGO3+ 4K camera. The Typhoon H is ready to fly and record video and pictures out of the box, nothing else needed.
---
#2 Best Drones for Real Estate Photography: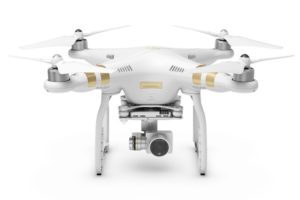 As far as real estate footage goes, the Phantom 4 PRO will put you in the big leagues. This elite drone will grab you both the spectacular overviews from hundreds of feet in the air and also the precise indoor shots that most other realtors won't have. Thanks to the Phantom 4's LiDAR capabilities, this is one of the few quads that can hover in place perfectly still indoors or outdoors.
Although the Phantom 4 PRO comes with a hefty price tag, the footage this quad is capable of producing can turn your normal every-day listing into something people will be talking about and wanting to share all over the web. Trust us — after closing a few deals because of this advanced aerial technology — you'll be thankful you made the investment.
Features:
ADVANCED CAMERA – 1″ 20MP CMOS sensor with gimbal-stabilized 4K60 / 20MP imaging.
AUTONOMOUS FLIGHT – automatic flight mapping and four directions of obstacle avoidance.
SUPERIOR FLIGHT TIME – 30 minutes of flying time and includes a remote controller with 1080p display.
---
Best Drones for Real Estate Photography not quite what you're looking for?
Click here for more drone reviews.
You may also be interested in…