Innovative Ideas, Not Products, Mark CES 2015 Drone Expo
Amidst all the new drones on site for the 2015 Consumer Electronics Show, the next game-changing advancement in drone technology was nowhere to be found. Leading manufacturers like DJI, Parrot, and Hubsan, all sported impressive displays, and a few young KickStarter companies were just happy to be there introducing themselves to the world.
Most of the mid-level consumer drones on display featured some combination of the safety protocols, follow-me modes, and camera stabilizing gimbals we have come to expect. For now, the arms race once completely dominated by DJI has morphed into a stalemate.
However, we did gain some very interesting insights during a drone discussion panel hosted on Thursday morning. Drone manufacturing heavyweights Henri Seydoux (Parrot) and Chris Anderson (3D Robotics), debated the future of drone technology with bureaucrats Thomas Wilczek (Aerospace Rep, Nevada Governor's Office) and Jim Williams (Unmanned Systems Integration Office, FAA). Oddly enough, no food fights broke out and no punches were thrown.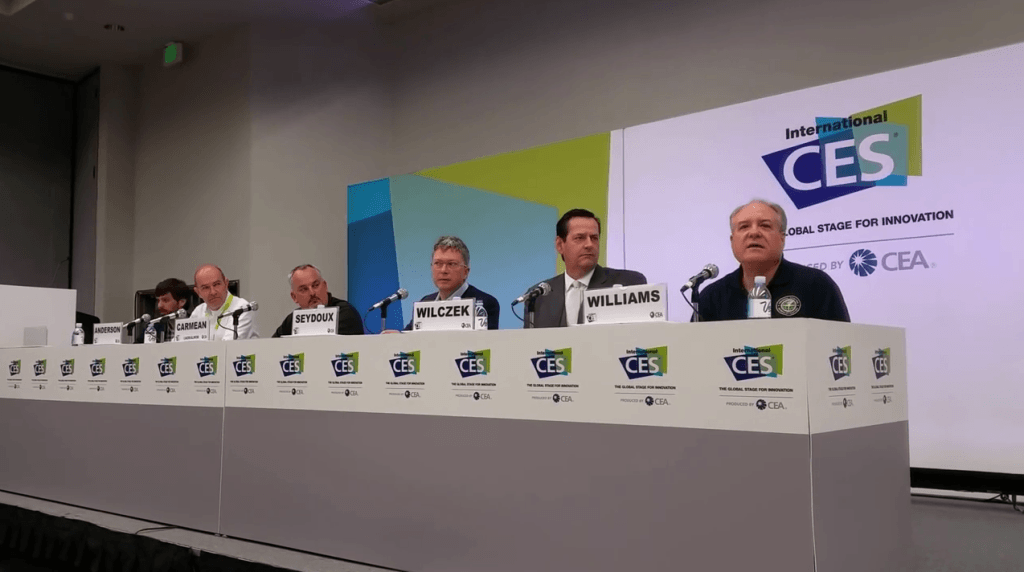 FAA Gridlock vs. Drone Technology Nimbleness
"In tech, you're most used to working in an unregulated environment. You work at an entrepreneurial light speed," illustrated Thomas Wilcznek of the Nevada Governor's office. "This is a highly regulated environment. It's a physical space, not a digital one."
No matter how impressive the technology on the showroom floor, the industry is in danger of grinding to a halt if not incorporated wisely. The entire panel seemed to understand that a harmonious meshing of this new technology with FAA regulations, event though difficult, is paramount to the industry's future.
"We desperately want this space to grow. But conversely, understand from a public perspective, people look at this technology with a sideways glance. All it takes is one bad operator crashing into a school bus to create public backlash," said Wilcnek.
The fact that the FAA is taking things slow, and being so diligent about the process, may be a saving grace for the drone industry. As Wilcnek mentioned, all it could take is one accident to turn the public against consumer drones, and give Congress a reason to shut down the whole operation.
Drone Manufactures Look to Technology for Safer Flying
While many see these FAA regulations as burdensome, Chris Anderson of 3D Robotics sees an opportunity to use technology to safely introduce drones into national airspace. "We all want the same thing, which is safe and responsible flying," said Anderson. "Part of it comes from the regulators, part of it comes from users knowing what safe and responsible flying is, and part of it comes from the manufacturers, like us."
Anderson envisions a day where new pilots open their new drones, and go through a training process implemented by the drone itself. New to flying? Maybe you're leashed to an imaginary bubble in your backyard until you get the hang of things. Is an aircraft overhead? Then your bubble shrinks. Are you near an airport? Then the motors won't event think about spinning.
"I think we as an industry can help the FAA by bringing data and intelligence to the job, to help users get better at complying with the rules. It's just too hard for the FAA to enforce alone."
Anderson believes an entire coalition of manufacturers (3D Robotics, Parrot, DJI, Google, Amazon) will soon take up the mantle to create a safe standard for flying.
FAA Wants Technology That Will Humanize Drones
A fundamental precept that pilots and the FAA rely on is called Visual Flight Rules (VSR). It is a "see and be seen" mentality that dictates the rules of the sky. As a drone pilot "you can't see the other aircraft, so you can't comply with the rule unless the FAA deems an instrument's ability to do so," said Jim Williams of the FAA. Even with FPV (first-person-view) capabilities that drones like the Phantom 2 Vision+ provide, their ability to follow this rule still isn't up to standard.
The fact that consumer drones are still missing many features of FAA qualified aircrafts prompted a discussion of an interesting feature that could be seen in next year's CES showroom, transponder technology. "We are currently experimenting with integrating those into our drones. We could inject data from ground stations to Air Traffic Control and receive instructions back from them. So we will be ready for any of those rules," said Anderson.
Optimism Prevails
It was evident from this hour long discussion that reason and understanding will take precedent in the future. All parties involved seemed to realize that they need to work with each other to make sure this all goes smoothly. We found it very impressive how hard the faster moving drone industry is working to anticipate the moves of the FAA. This makes sense because any drone equipped with the necessary bells and whistles will have a head-start introducing a product that can be universally accepted.
If interested, here is part of the session recorded by sUAS News: