Aries BlackBird X-10 First Take
DJI's Phantom line has long had a hold on a particular sector of the quadcopter market, ariel photographers. Ariel photographers needs are simple: give me an easy to use quadcopter that provides HD quality footage. The DJI Phantom line has done just that. Ready-to-fly and easy to use, all while providing great footage. But when a great product comes out, you can expect competition. Yes, the IRIS+ competes with DJI in some ways, but it is still aimed at hobbyists and tinkerers. We have yet to see another competitor also directly attack the ariel photographer market, until now… introducing the Aries Blackbird X-10, which is being sold exclusively through Adorama, one of the world's largest camera retailers.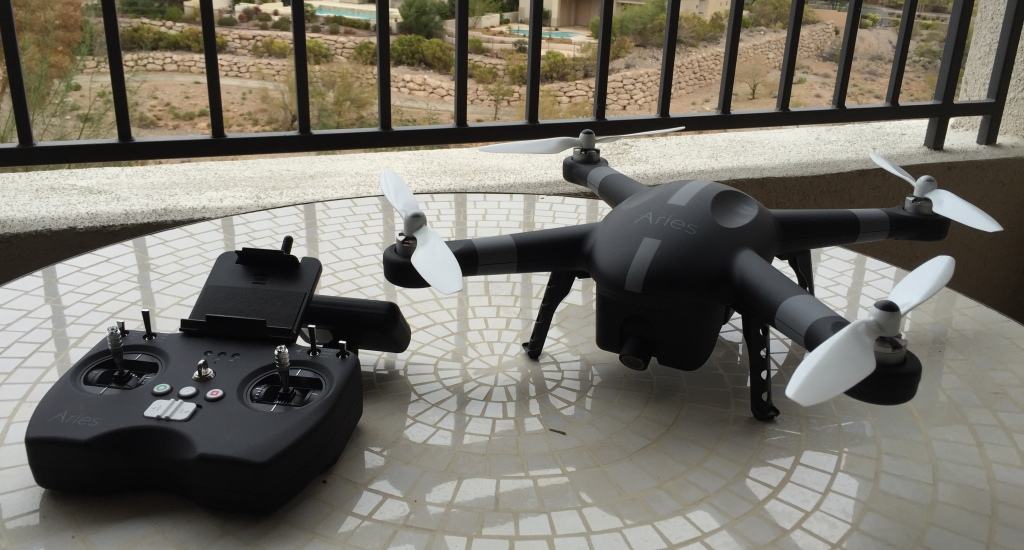 | | |
| --- | --- |
| Flight Time |         25min |
| Communication Distance |         2500ft (with range extender) |
| Video Recording |         1080p/30fps |
| Still Frame Definition  |         16 MegaPixel |
| Gimbal Type  |         None |
| Price   |         $799 |
For Photographers by Photographers
Much of the Blackbird's quadcopter flight design is similar to that of the Phantom: brushless motors, emergency safe return functions, wifi range-extender, 6 axis gyro stability, and even the directional LED lights. So where can the Blackbird set itself apart? We are hoping in the camera arena. If the Blackbird is able to provide a greater bang for your buck in this department, then the Blackbird has a good chance at giving DJI a run for its money. Capable of grabbing 16 MexaPixel stills, and 1080p/30fps video, this awesome functionality is in direct competition with the Phantom 2 Vision+, and comes in a couple hundred bucks cheaper. Our only question here is how useful is a high quality camera without a reliable gimbal?
To Gimbal or not to Gimbal? That is the question…
Unlike the DJI Phantom 2 Vision+, the Blackbird's camera is not attached to a gimbal. This is easily the biggest difference between the two. A gimbal stabilizes a camera during a quadcopter's movement. This prevents the camera from jerking around and therefore producing shaky video. When powering on the Blackbird X-10 you will notice that the camera automatically adjusts it's angel upon movement. The camera is stabilized through vibration dampening rather than a gimbal. We will see how this plays out.
Aries BlackBird X-10 Quadcopter includes: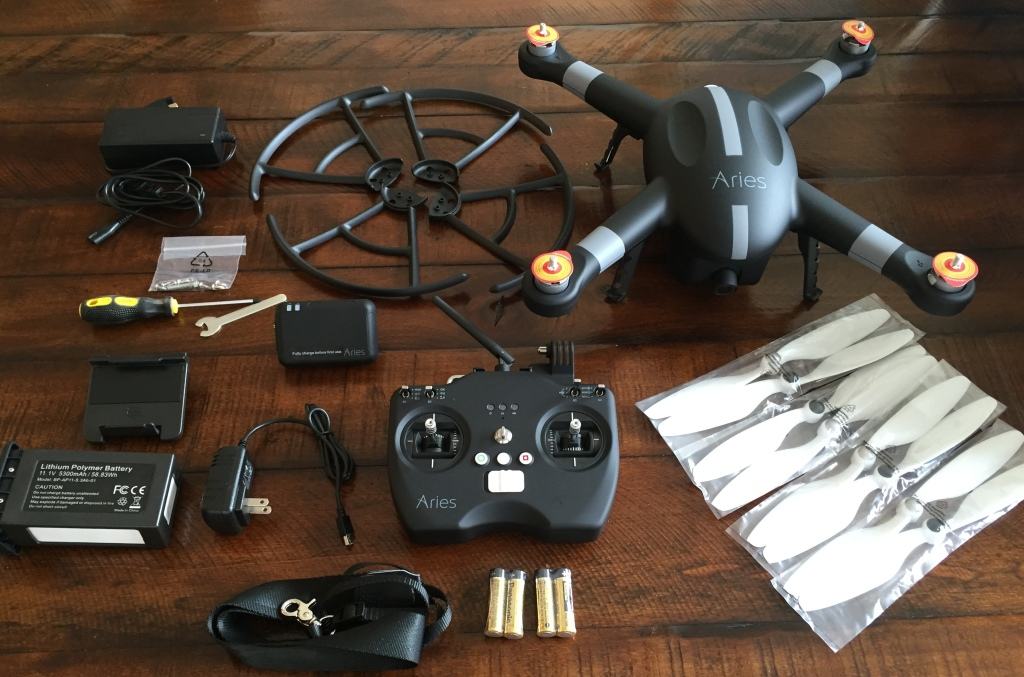 ______
Quadcopter
 Transmitter

Lanyard
4 AA batteries
Removable phone clamp

Range Extender
Two sets of propellers
Litium Polymer Battery
4 prop guards
Tool kit
The Blackbird couldn't be easier to setup. With an easy to read manual and a quick application install, you'll have your quadcopter up in the air in no time.
Questions going in:
How waterproof is this bad boy?
Aries claims that the Blackbird X-10 can withstand various weather conditions such as rain and snow. Let's see how it holds up.
Who will be able to fly the Aries Blackbird X-10 Quadcopter?
We assume this quadcopter is built for advanced flyers because of its price ($800), but we want to know exactly what skill level we would categorize it under.
How will the video turn out?
With a 1080p camera, we are expecting the video to look absolutely amazing but we do have a few concerns. Rather than stabilizing itself on a gimbal, the camera will follow the motion of the quadcopter. We will see if this makes a difference.
Will it be easy to land? 
Some quadcopters are a pain to land because you have to take your sweet time and it almost has to be perfect. This tends to stress us out. How will the blackbird hold up in this process?
Will it hover in place?
There's nothing better than seeing a quadcopter hover perfectly in place. This makes it easier to take pictures or hand off the controller to a buddy when its their turn to fly.
How will this compare to the DJI Phantom? 
With a similar price of $800, we want to know which quadcopter will give you the most bang for your buck. Although the Phantom is highly praised, we think the Blackbird has an opportunity to shock the drone community.
You may also be interested in…
* End Aries BlackBird X-10 Quadcopter First Take*