Why General George Custer Could Have Used a Drone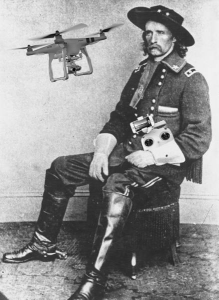 For those unfamiliar with the failed conquests of General George Custer, let's just say it didn't end well for this 'almost' war hero.
In 1876, ol' George here led 700 Union Soldiers deep into enemy territory and right into the teeth of an estimated 3,500 Native American Braves (…everything was just an 'estimate' back then because it was the 1800's).
George didn't live to retell this story himself, so historians have since dubbed this master-piece of a failure the 'Battle of the Little Bighorn'. However, this all could have been avoided if General Custer had the foresight to properly scout the enemy position with a DJI Phantom 2 Vision+ Quadcopter.
Even though DJI doesn't recommend taking this user-friendly quadcopter over 1000 ft.,  many pilots have logged altitudes of over 1,500. Equipped with a 1080p HD 14 megapixel camera, the Phantom can capture footage miles wide, giving Custer and his doomed band plenty of time to turn and run in the opposite direction.
Get it together, George.
Here's what the DJI Phantom 2 Vision+ Quadcopter is capable of… shout out Gabriel Molton for the sweet footage.