Hubsan X4 H107L Review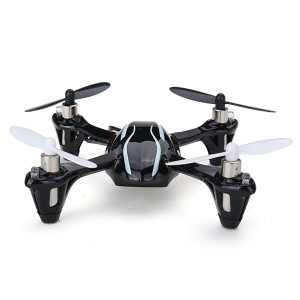 | | |
| --- | --- |
| Flight Time | 9 min |
| Charging Time | 30 min |
| Battery Type | 240mAh LiPo |
| AA Battery | 4 Required |
| Camera | None |
| Price | $60 $39 |
The UDI U818A is our favorite beginner drone but the Hubsan X4 is a close second. Many would argue that it's better but it's all a matter of opinion and it also depends on how you plan to use it.
| Click Here to Purchase the Hubsan X4 H107L |
One of the coolest features is that it can fit in your palm! Due to its small size we do not recommend flying it outdoors because wind can be a major factor. However, its the perfect indoor flying machine. You can maneuver this aircraft through small spaces such as hallways, doorways, and even windows! It's always good to prevent yourself from crashing but don't worry if you do, because this bad boy is durable! The Hubsan can take somewhat of a beating because it's main frame is made of plastic.
The Hubsan X4 is the perfect gift for just about anyone, especially kids or younger adults. Especially as its priced below $40!
Getting Started: Hubsan X4 V2 H107L
The Hubsan X4 H107L comes ready to fly straight out of the box. The kit includes a LiPo battery, a charger for the battery, and a 4-Channel 2.4Ghz transmitter.
First thing you should do is fully charge the LiPo battery and insert 4 AA batteries into the transmitter. Before you can start flying, make sure to calibrate the aircraft otherwise it won't listen to your commands . This is not found in the instructions! Use this video below.
Take some time to practice in an open room or go outside on a calm day. We recommend flying above a soft surface such as carpet or grass. Avoid tile, wood, cement, etc.
The flight time is about 9 minutes. When you consider the size and capabilities of the aircraft it's really not too bad. We prefer to fly longer than that so we got some extra batteries. If you're a patient person then you can just wait 30 min in between flights.
If you want the X4, but with a camera attached consider the Hubsan X4 H107C.