GoPro's new Karma drone unveiling on Sept. 19
Folks! The time has finally arrived. GoPro is unveiling the long awaited Karma drone on 09/19/2016 (possibly in conjunction with the GoPro HERO5). This is the first time in awhile that a major player will be going head-to-head with the unstoppable Chinese company, DJI, in the consumer drone marketplace.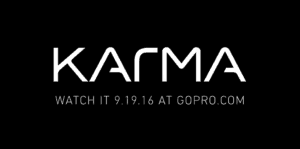 GoPro has been working on building a drone since 2013, when the action camera company decided to build its own flying machine after deals went sour to partner with industry powerhouse, DJI.
What Karma is Going to Need to Succeed
There is a strong probability that Karma will integrate with and utilize the current GoPro camera line – or at a minimum the GoPro HERO5. With GoPro HERO cameras running around $400 to $500 alone, then you'd have to assume that Karma will be costing at least $800 to buy (drone and camera included).
To that logic, GoPro will be in direct competition with the DJI Phantom line. Today, consumers can buy the DJI Phantom 3 Advanced for $800 and get:
A camera (non-detachable) with 2.7K video at 30 FPS, and 12 MP  

Around 20 minutes of flight time

Up to three miles of flying communications

Ground positioning capabilities – allowing for indoor flight and flying in areas with poor GPS reception

A reliable product with an exceptional user experience. 
At $800, the bar is set extremely high.
The GoPro name will go a long way towards getting GoPro's foot in the door, but without delivering a drone that's about as good as the Phantom 3 Advanced and showcases some innovative features of its own, it's hard to see people lining up around the block for GoPro's Karma.
GoPro's shares rose 6.5% the day Nick Woodman announced Karma, so it will be interesting to see how shares react to the actual product.
Other articles you may be interested in…