DJI Phantom Accessories
Extra Battery
Although the DJI Phantom has an amazing flight time, it's always good to have an extra battery just in case. You may end up losing or breaking the original battery and nobody likes waiting 3-5 business days for a package to arrive. Also, odds are you're going to want to fly longer than 24 minutes.
Transmitter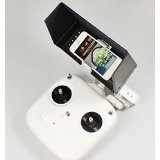 You may damage your transmitter at some point. Maybe you end up dropping it on concrete, or even in a body of water. Stuff happens! Get yourself a new one on amazon right away. There are a bunch of add-ons as well. For instance, you can purchase a sunshade hood for your smartphone or a control slide lever for gimbal tilt control.
Propellers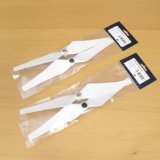 It's important to keep your propellers in great shape. If you chip off a small piece or even scratch them up, the quadcopter will not fly the same. The propellers are so easy to replace. To take them off you simply unscrew it. To put them on, you place the propeller on the shaft and spin it. It automatically locks into place.
Carrying Case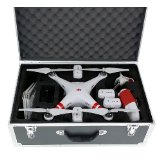 Would you get a protective case for your brand new laptop? We sure would. In our opinion, the carrying case is one of the most important DJI Phantom accessories. These drones are expensive and you're taking a huge risk every time you take it somewhere. Save yourself the stress and get one asap!
GoPro: Hero3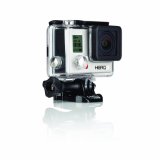 The GoPro Hero3 is the top sports camera on the market. It comes available in three different editions: White ($199), Silver ($299), and Black ($399). Attach any one of the three cameras to your DJI Phantom and record breathtaking footage. Check out the GoPro's capabilities in the video below.