What Commercial Drone Pilots Need to Know About Part 107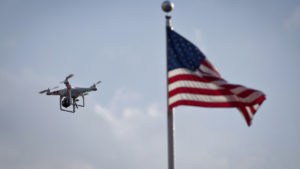 For years commercial drone pilots operated with uncertainty as the FAA gave little guidance on how to go about their business. Because for most drone pilots, operating a drone for money was illegal. Although not impossible, it was very tough for commercial drone operators to get approved by the FAA. Unless you had been cleared through Exemption 333 — a lengthy and difficult certification process usually reserved for aerial vehicles the size of helicopters — flying drones (aka quadcopters) for money was illegal. Now however, thanks to Part 107, sUAV pilots can go through a much better fitted certification process, essentially opening up the sky for commercial purposes in a regulated manner.
In order to be eligible for Part 107, you must:
Must be at least 16 years old

Must pass an initial aeronautical knowledge test at an FAA-approved knowledge testing center+

Must be vetted by the Transportation Safety Administration (TSA)
This new approval process for drones only covers quadcopters 55 lbs and under. Think of Part 107 as similar to a truck driver getting approved by the DMV to drive huge semi-trucks on the highway. The driver needs to go in and prove he/she knows how to operate the vehicle in a responsible manner. Commercial drone pilots are required to do the same.
Per the FAA, in order to get your commercial drone pilot's license, you must also:
Application Process
Schedule an appointment with a Knowledge Testing Center (KTC), which administer initial and recurrent FAA knowledge exams

View the list of Knowledge Testing Centers (PDF) to find one near you.
Applicants must bring government-issued photo ID to their test

Pass the initial aeronautical knowledge test – initial knowledge test areas include:

Applicable regulations relating to small unmanned aircraft system rating privileges, limitations, and flight operation
Airspace classification and operating requirements, and flight restrictions affecting small unmanned aircraft operation
Aviation weather sources and effects of weather on small unmanned aircraft performance
Small unmanned aircraft loading and performance
Emergency procedures
Crew resource management
Radio communication procedures
Determining the performance of small unmanned aircraft
Physiological effects of drugs and alcohol
Aeronautical decision-making and judgment
Airport operations
Maintenance and preflight inspection procedures

Complete FAA Form 8710-13 for a remote pilot certificate (FAA Airman Certificate and/or Rating Application) using the electronic FAA Integrated Airman Certificate and/or Rating Application system (IACRA)*

Register using the FAA IACRA system
Login with username and password
Click on "Start New Application" and 1) Application Type "Pilot", 2) Certifications "Remote Pilot", 3) Other Path Information, 4) Start Application
Follow application prompts
When prompted, enter the 17-digit Knowledge Test Exam ID (NOTE: it may take up to 48 hours from the test date for the knowledge test to appear in IACRA)
Sign the application electronically and submit to the Registry for processing.

A confirmation email will be sent when an applicant has completed the TSA security background check. This email will provide instructions for printing a copy of the temporary remote pilot certificate from IACRA.
A permanent remote pilot certificate will be sent via mail once all other FAA-internal processing is complete.
* Applicants who do not wish to complete FAA Form 8710-13 online may choose the paper process. Please note that the processing time will be longer if a paper application is used since it requires in-person approval and signature by a designated pilot examiner (DPE), an airman certification representative (ACR), or an FAA-certificated flight instructor (CFI), and must then be mailed to a Flight Standards District Office (FSDO) for final review and signature. Additionally, a temporary remote pilot certificate will not be provided to the applicant.
Instructions for completing the paper application process may be found in Chapter 6, Section 4 of the Part 107 Advisory Circular.