DJI Inspire 2 Quadcopter Drone Review
When the first DJI Inspire launched, the general public was awe struck at the innovative design of the new drone, the incredible camera quality, and the price. The price tag kept a lot of potential buyers at bay, but for the professional filmmaker – the DJI Inspire was a gift from heaven. Compared to what you would pay a helicopter crew, or even a pilot with custom drone rig equipped with a DSLR, the Inspire gave filmmakers independence from having to rely on these pricey crews and they were able to get comparable quality shots at a fraction of the price.
Now introducing… the DJI Inspire 2! The DJI Inspire 2 quadcopter drone uses the lessons learned from the DJI Inspire 1 and borrows from some of the newest technology developed for the Phantom 4 to create a respectable iteration on the Inspire line. The Inspire 2 is a worthy successor, and the perfect quad for professional photographers and videographers!
"Professional filmmakers and photographers always push to create images that have never been seen before, and DJI never stops trying to give them the tools to achieve their vision," said DJI CEO and Founder Frank Wang. "Our newest flight platforms and stabilized aerial cameras are smarter, faster and more powerful than ever before."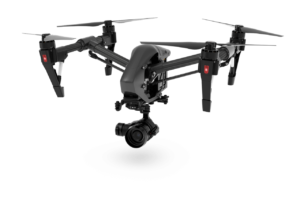 DJI Inspire 2 Quadcopter Specifications
| | |
| --- | --- |
| Flight Time | 27 Minutes |
| Camera | Video: 5K (30FPS), 4K (60FPS) |
| Flight Speed | Up to 58 mph |
| Range | 100m |
| Features | Tap Fly, Obstacle Avoidance, Active Trak, Precision Hovering |
| Controller | DJI Transmitter or Smart Phone Compatible |
DJI Inspire 2 Quadcopter Drone Review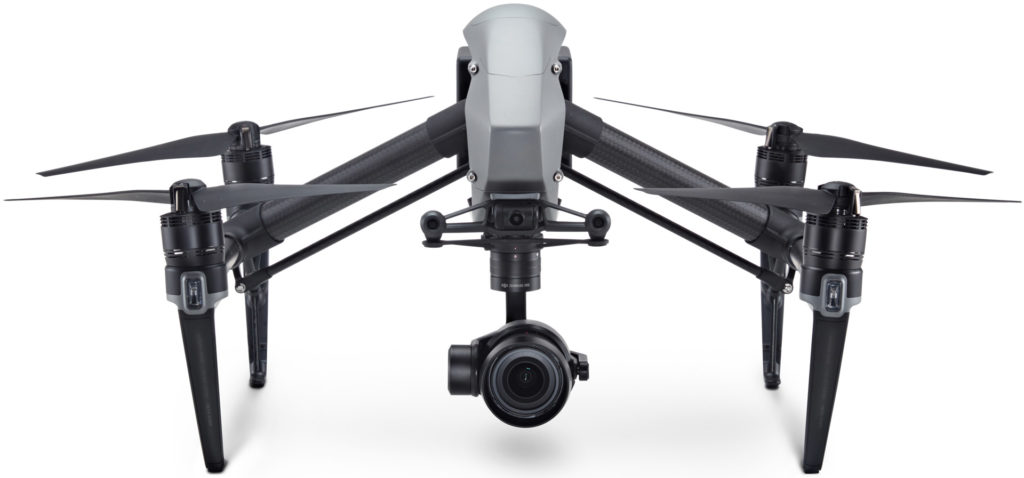 Photography
---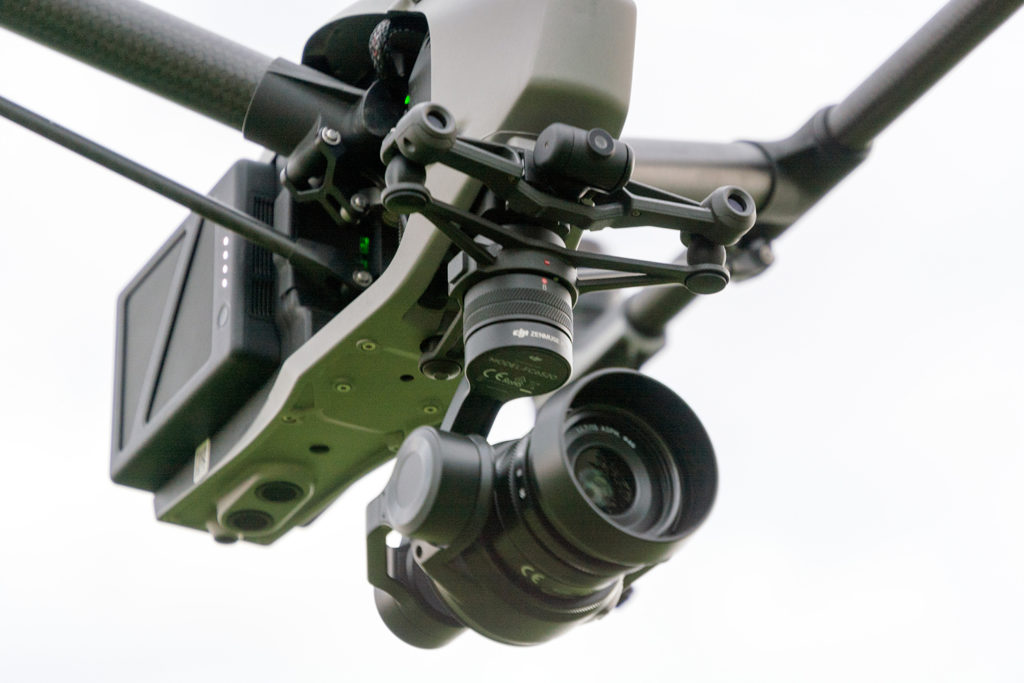 5K Camera Quality
The DJI Inspire 2 arguably sports the single best camera for an integrated drone on the market. Yes, you may be able to find a guy with a custom hexacopter rig that has a nicer DSLR setup than the Inspire 2, but as far as an out-of-the-box photography experience goes… you will not find a higher-quality camera than on the DJI Inspire 2.
Since the DJI Inspire 2 quadcopter drone bundles have an X5S camera, you will have the ability to record in 5.2K with this camera at 30 frames per second and 4K at 60 FPS. Not too shabby, and you can easily change the desired resolution if you want. Pictures are also shot at a very high quality, so the camera does its job extremely well here.
A new forward-facing camera offers the pilot an ideal flight view and a 360 degree perspective when operating the new and improved transmitter. The pilot receives a separate FPV feed from the professional Zenmuse camera mounted on the main 360 degree gimbal. The Inspire 2 supports the brand-new Zenmuse X4S and X5S cameras, and will support additional cameras in the future.
Swap Lenses
The DJI Inspire 2 gives pilots the ability to swap between 8 different lens types depending on the situation. However, keep in mind that all these different lenses may not be included in the particular Inspire 2 bundle that you buy. If you are buying a bare-bones bundles, you will have to purchase them separately. However, it is very nice to have a camera that supports this creativity, and the overall result is certainly going to be worth it because of it.
Performance
---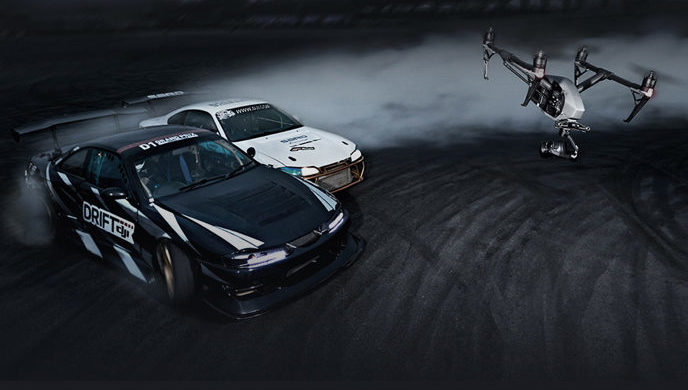 When you spend so much money on a drone, you want it to have the best performance, and you want to be confident that your new expensive piece of filmmaking equipment won't come crashing out of the sky. That's why DJI has equipped the Inspire 2 with redundant fail-safe communication systems and obstacle avoidance technology so that fly-aways and unfortunate crashes are minimized.
DJI's Smartphone App
The lack of a screen on the transmitter can be limiting for some, but you can easily use your phone or tablet's screen, so there's no issue here. If you are going to use a smartphone or tablet, you'll need to download DJI's new app. The app allows you to calibrate the camera and toggle the flying mode as you see fit. Here you can also access the automated flight tools too, which are a pleasure to use and deliver consistent shots time after time.
Advanced Flight Modes
Inspire 2's new intelligent flight modes expand DJI's computer vision technology to safely fly routes that give creators new ways to capture their vision. Spotlight Pro Mode locks onto a subject during flight while the aircraft flies freely in another direction. It then automatically rotates the aircraft to stay on the shot if the gimbal reaches its rotational limit.
The forward-facing camera offers TapFly, which directs Inspire 2 to any point on the screen while avoiding obstacles along the way. ActiveTrack recognizes common subjects such as people, cars and animals, sending Inspire 2 to follow behind, lead in front, circle above or track alongside while always flying forward, ensuring the forward-facing obstacle sensing system keeps the aircraft safe.
Obstacle Avoidance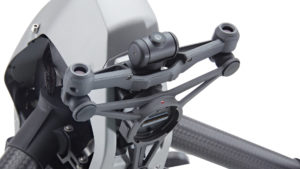 DJI also included a stereo vision sensor in the front and back, as well as an upward and downward facing infrared sensors. This allows for obstacle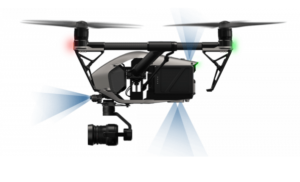 detection, adding another layer of protection, especially when flying in enclosed spaces. Similar to the Inspire 1, the Inspire 2's systems provide reliability for the barometer, IMU, satellite navigation modules, and electronic speed controller communication. The master and slave transmitter (controller) range now extends to 328 feet. You can also switch between 2.4 GHz and 5.8 GHz frequencies. This allows you to cut through any noise for greater signal stability.
Design and Quality
---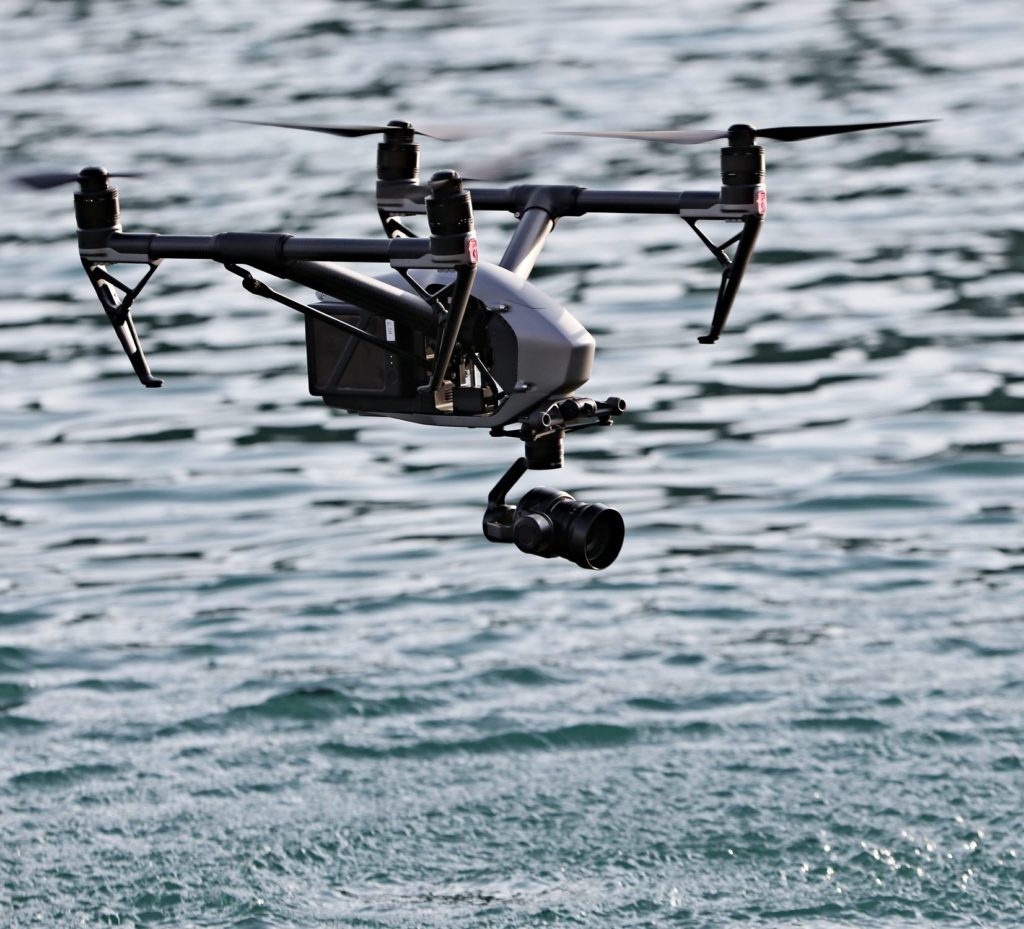 The DJI Inspire 2 Quadcopter Drone is an incredibly stable drone. It may be heavier when compared to the other models out there, but it's surprisingly nimble. The Inspire 2 works extremely well in just about any situation.
Power and Strength
You have the standard quadcopter prop layout as the predecessor, but more advanced. We love the fact that they added a new locking system. It ensures that the props won't become loose or face similar issues in flight.
The DJI Inspire 2 retains the same elegant body design of the Inspire 1 with a few intelligent upgrades. The landing gear is still made of carbon fiber. However, unlike the white plastic body coating on the Inspire 1, we now have magnesium-aluminum composite. This increases the durability, protecting the outer-frame from unnecessary damage. The nimble new magnesium-aluminum alloy body lowers weight while also increasing stiffness.
As you can imagine, this helps take the strength of the unit to a whole new level. For example, the Inspire 2 has a top speed of 58 mph… It can also accelerate to 50 mph in 5 seconds. The Inspire 2's redesigned propulsion system can safely carry the quadcopter. The system allows the quad to reach great heights. With DJI's new model, you can now climb at almost 20 feet per second and descend at about 30 feet per second.
Battery
The Inspire 2 also comes equipped with a dual-battery to prevent crashes if the battery dies while in flight. The second battery will come in and provide enough power for a safe return. With the new dual battery system, flight time is up to 27 minutes compared to the original Inspire's 15 minutes.
Even with longer flight time, we recommend extra batteries (as always). A half hour seems like a long time. But once you get this baby in the air, 30 minutes can feel a lot shorter than that. In the case you use Active Track or obstacle avoidance, the Inspire 2's battery will drain a little bit faster. Luckily, the DJI Inspire 2 Quadcopter Drone dock conveniently allows 4 batteries to charge simultaneously. With a single battery, it usually takes about an hour of charging before you can use the device. So in our eyes, it's a really good investment!
Pricing
---
Right off the bat, you will note that the DJI Inspire 2 Quadcopter Drone is a premium top-of-the-line product. It costs around $3,000, and if you use the X5S camera from Zenmuse, the overall price can be even higher.
Is it worth the money?
If the Inspire 2 sounds like it may be the drone for you, you are probably wondering if it is actually worth $3,000+. Are you set on trying to get the best drone footage with the best possible flight experience out there? If you are, then the Inspire 2 might be right up your alley. You will be hard pressed to find a solution that is of higher quality and more impressive than DJI's Inspire 2.
DJI Inspire 2 Quadcopter – Advanced Professional Results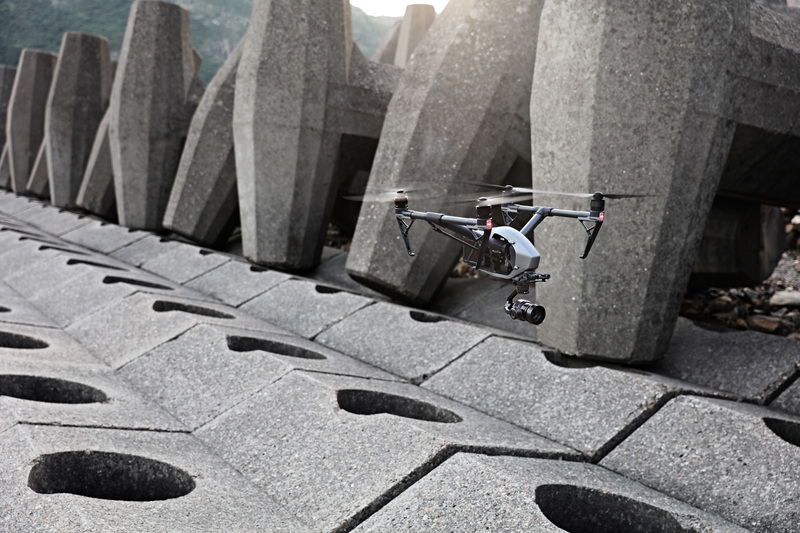 Specs
An entirely new image processing system, called CineCore 2.0, is embedded into the airframe. This allows processing large files faster than ever before. Inspire 2 captures 5.2K video at 4.2 Gbps for Adobe CinemaDNG RAW videos and leverages a newly-designed, fast CINESSD storage for a smooth work experience. A variety of video compression formats are supported by CineCore 2.0. These include Adobe CinemaDNG, Apple ProRes 422 HQ (5.2K, 4K) and ProRes 4444 XQ (4K), H.264, and H.265. When recording 4K video in H.264 and H.265, the bitrate is up to 100Mbps.
Inspire 2 offers professional capability and control suitable for many scenarios. With optional high-altitude propellers, Inspire 2 can reach a maximum service ceiling of 16,404 feet above sea level, and the self-heating dual battery redundancy system maintains good performance of the battery to -4 degrees Fahrenheit. Through an optimized mode, Inspire 2 streams smooth video at the widely used 1080i50/720p60 broadcast standard. Enhanced Lightbridge video transmission makes smoother HDMI video possible.
New Zenmuse Cameras
DJI is enhancing the imaging potential of the Inspire 2 by expanding its line of interchangeable Zenmuse cameras, which are designed for aerial imaging and communicate directly with the aircraft's gimbal and flight controllers. For situations that require a balance between weight and image quality, the new Zenmuse X4S has a 1-inch, 20-megapixel sensor with 11.6 stops of dynamic range and a 24 mm equivalent focal length.
The Zenmuse X4S offers aperture control (f2.8-11) and a mechanical shutter that cancels rolling shutter distortion. The new Zenmuse X5S has a larger Micro Four Thirds sensor with 20.8 megapixels and an incredible 12.8 stops of dynamic range. The Zenmuse X5S camera now supports 8 lenses from wide angles to zooms. It shoots 20fps continuous burst DNG RAW (20.8 MP). In the future, a handheld mount will be available for the Zenmuse X4S and X5S cameras, bringing those cameras down to the ground for more flexible filmmaking.
Professional Accessories to Enhance Performance
A series of powerful DJI accessories will meet the needs of operators under various filming conditions. DJI Focus, a battery charging station, DJI CINESSD, CINESSD station and other optional accessories are available.
An optional DJI Crystalsky high-brightness IPS monitor features an ultra-bright screen that is clearly visible in direct sunlight and ideal for outdoor shooting. It comes in 5.5-inch and 7.85-inch sizes, with the highest brightness up to 1000 cd/m² and 2000 cd/m² respectively. Its dedicated system reduces video transmission latency.
Finally, dual Micro-SD Card slots within the screen make it easy to back up footage and transfer and play back files. It operates in extreme temperature conditions from -4 degrees to 104 degrees Fahrenheit.
---
You may also be interested in…