Best Drone Ideas of 2016 (Year of the Drone)
[huge_it_share]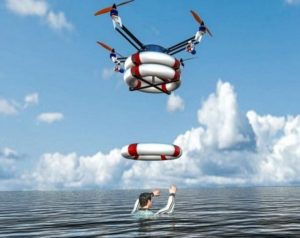 The idea of what a drone is and what drones are capable of has come a long way since we started this blog back in 2014. It was the same year that South Park introduced the DJI Phantom as a way to spy on your friends. And for a long time, many people thought it was one of the best "drone ideas" ever. It seemed as if that's all commercial drones were good for!
Then the inevitable happened: people discovered that can do much more.
In the year 2016, giants are beginning to stand on top of giants and the results are pretty amazing. This year we have seen the invention of drones built out of Legos, 4K drones that can fit in your backpack, and even drones capable of sweeping minefields! It is once again the year of the drone. Let's check out the best drone ideas of 2016:
Best Drone Ideas of 2016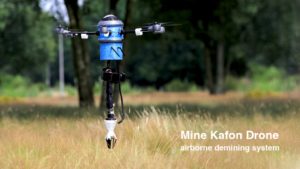 This is a new take on an old issue. According to the United Nations, over 15,000 to 20,000 people from landmines each year. The team behind the Mine Kafon Drone — a drone capable of clearing mines over 20 times faster than people — hopes to rid the world of most mines in 10 years.
How does the Mine Kafone Drone plan to do this exactly? First, the Mine Kafon Drone flies over an area and creates a 3D map. Then, with this elevation map in hand, the drone completes another pass to scan for mines and places a detonator on each mine it comes across. Once the area has been scanned the drone will detonate the mines from a safe distance.
The Mine Kafon Drone exceeded its fundraising goal on Kickstarter and raised $200,000 to pursue this awesome project.
Well this is perhaps the best idea ever and why did we never think of this? FlyBrix combines everything a kid worth his salt would love: Legos, flying stuff, and tinkering with circuits. Soon these little buggers will be interested in aerodynamics, geometry, and electrical engineering. Yikes.
FlyBrix has taken all the right steps to make sure their Lego drones are youngster friendly. FyBrix drones don't require any soldering so parents don't have to worry about the house burning down and they are also designed to be crash friendly.
FlyBrix is perfect for beginners: "Snap On, Plug In, Take Off" is the Flybix motto. Yet, FlyBrix is also great for those looking to take their skills to the next level with access to sensor data and an open-source Arduino platform.
Karma isn't just another drone…it's a suite of individual products (a drone, a gimbal, and a camera) that can can combine into a single drone. The beauty of Karma is that you can use any one of these by themselves. Want to hop on your skateboard and film with just the camera and gimbal? Great! Simply unlatch these from the Karma drone and you are good to go.
We have been waiting for a solution like this for so long; it's crazy that it took until 2016 to get here. But we are stoked that the versatility of something like the Karma is finally here.
Drone racing has been around for years, but it's taken until 2016 for the Drone Racing League (DRL) to make to the big leagues: ESPN. The monster cable network will be airing the first of its 10 episode season on Nov 20. We couldn't be more excited to see what ESPN  and the DRL come up with.
DRL will feature elite pilots flying highly customized souped up quadcopters racing at speeds up to 120mph. Pilots race their flying vehicles from controllers that streams first-person video from the front of their quadcopters. If you're unfamiliar with new up-and-coming sport, check out our beginner's guide to drone racing for a great primer.