Enter to Win a DJI Phantom 3!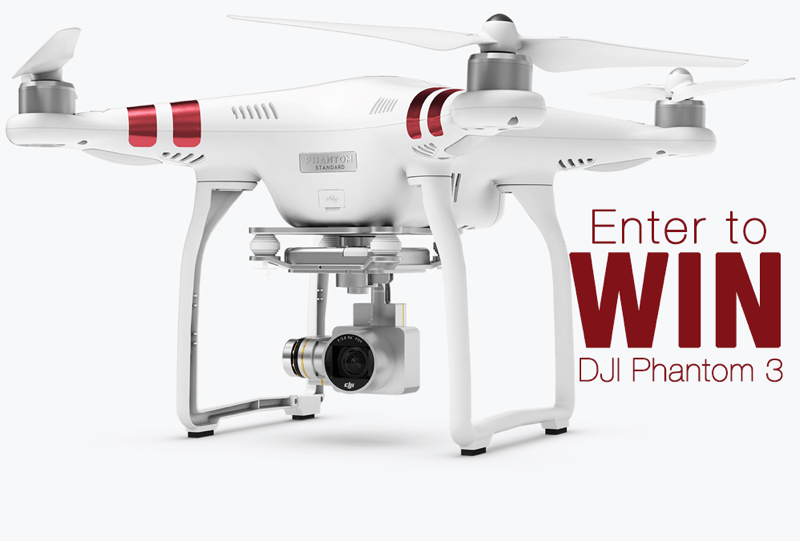 Update: Submit your entry by Cyber Monday (November 28th) and stay tuned for the grand prize announcement on our Facebook page!
DJI Phantom 3 Giveaway:
Thanksgiving is just around the corner and we would love to show our appreciation for all of you! As many of you may have noticed, 2016 has been a huge year for drones. We've put together some of our favorite ideas, but there are so many more out there. We are challenging all of you out there to submit your favorite drone idea, product, or accessory of 2016. Think about everything that has happened surrounding drones this year. It can be something on the market or something you created in your garage. It doesn't matter! Please share your most creative ideas with us in the comments of this page. Winner takes home a brand new DJI Phantom 3 and your idea will be published on our website!
Submit your big idea and then share it on Facebook. You'll then be entered to win a DJI Phantom 3 Standard. Please see rules and requirements below for more information. On November 25 (Black Friday), the week of Thanksgiving, we will announce the winner on our Facebook page and website.
Rules:
One submission per person
Your comment submission must be between 100-200 words
The idea, accessory, or product must be from the year 2016 to be eligible

It can be something on the market or something you created yourself!
The idea, accessory, or product must exist already.

First come first serve on any submitted idea

Please check the comments prior to submitting to avoid duplicate ideas
Requirement
1.) Submit your best drone idea of 2016 in the comments of: https://dronelifestyle.com/best-drone-ideas-of-2016/
Provide your contact email in comment form (email will remain private – used for contact purposes only).
2.) Then share your submission on Facebook and mention your friend in a comment!
In order to complete your contest entry, click the "Share This on Facebook" button at the top of this page to share your submission and mention a friend in the comment.
Win, and:
Have any questions? Feel free to reach out to us at info@dronelifestyle.com 🙂