GoPro Karma Drone Review
Update: the GoPro Karma has been recalled and purchasing is suspended for the foreseeable future.. read more about Karma's recall here.
GoPro Karma Drone Review
For starters, let's just say the Karma design is revolutionary. Most high-end photography drones are made up three things: a drone that can fly, a gimbal to keep the camera steady, and the camera itself. Traditionally these three components have been fused into a single product, but not the GoPro Karma. This drone can break down and separate into any of those tools to be used on an individual basis, and then can be put right back together to become the high-end photography drone known as Karma.
Karma offers a level of flexibility and freedom that no other drone can compete with.
Before you keep reading, we want to help you get an idea of what the Karma is and what the Karma is not. Think of Karma as the Jeep of the drone world, where as a drone like the DJI Mavic Pro may be more like a Ferrari. Karma is flexible in ways that other drones are not, but the Mavic Pro and other drones may have more cutting edge specs. So it really comes down to what you want and what you value in a drone.
Pros:
Works with both the new HERO 5 line and older GoPro models like the HERO4 and HERO3s.
Both the camera and gimbal can be detached for use on their own. Basically three products in one that can be used in tons of combinations.
Sleek controller that doesn't rely on a smartphone. Comes with a built-in video screen for first-person viewing.
Cons:
Still a very new product for a company who has never released a drone before.
Doesn't have obstacle avoidance or Follow Me mode.
Not the best flight time (20 minutes).
GoPro Karma Bundle Pricing
$799 just for the Karma quadcopter + a gimbal
$999 for the Karma quadcopter + GoPro Session camera + a gimbal
$1099 for the Karma quadcopter + GoPro HERO5 + a gimbal
Key Features:
Detachable gimbal: The Karma is the only drone on the market that comes with a gimbal that can attach to the drone or be used as a handheld stabilizer for an infinite amount of possibilities.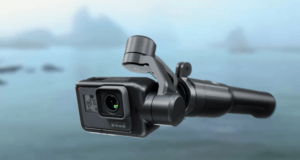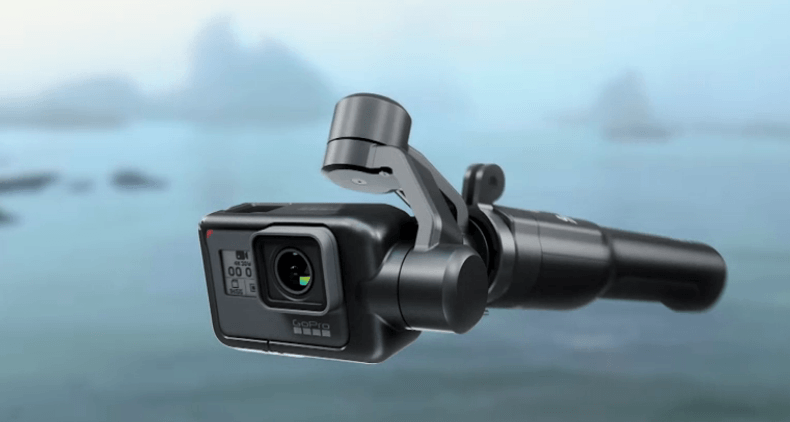 Passenger mode (sharing a live view): lets a friend watch the live stream of the Karma quadcopter from their own device. This is great for having a spotter help you keep track of the drone and where you are flying.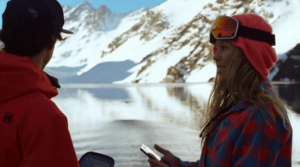 Autonomous flying modes: Karma comes with Orbit mode (orbits an object), Cable Cam (flies in a straight line), and Reveal (basically an automatic selfie)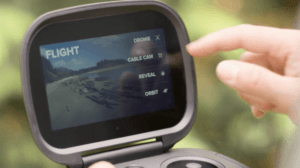 Folds up into a compact backpack: How awesome is that???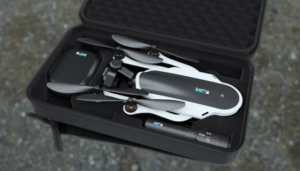 ---
Cameras
The GoPro Karma is compatible with the HERO5 black, the HERO5 Session, and the HERO4 line. You basically have your pick of what kind of camera quality you want attached to your Karma drone.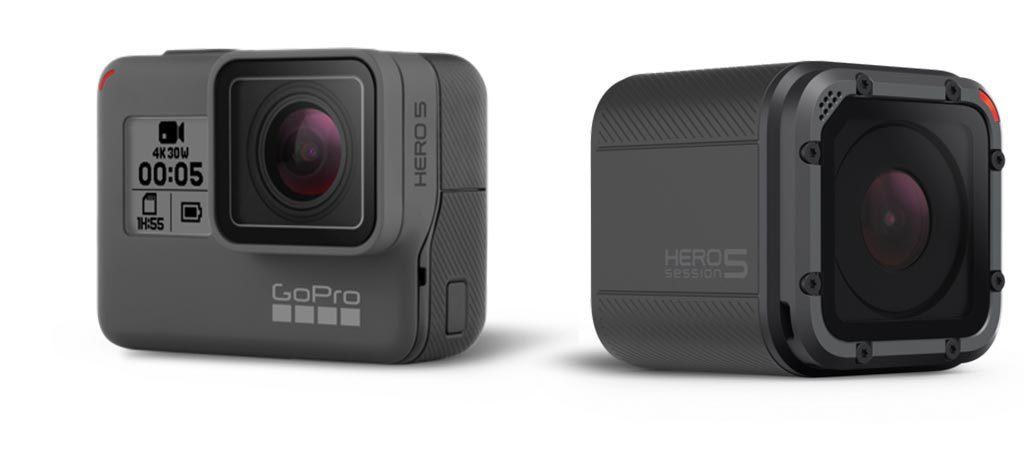 | Specs | Hero 5 Black | Hero 5 Session |
| --- | --- | --- |
| Dimensions | 44.6×32.7 mm | 38x38x38 mm |
| Weight/+Housing | 117g | 74g |
| Video | 4K 30fps | 4K 30fps |
| Still Shots | 12 MP | 10MP |
| Waterproof | 10m | 10m |
| Sound | 4-speaker Stereo | 4-speaker Stereo |
| GPS | Yes | Yes |
| Voice Control | Yes | No |
| Differentiator | Touch Screen Display | Built in battery |

| Specs | Hero 4 Black | Hero 4 Silver |
| --- | --- | --- |
| Dimensions | 41x59x30 mm | 41x59x30 mm |
| Weight/+Housing | 488g/ 152g | 83g/147g |
| Video | 4K 30fps | 4K 30fps |
| Still Shots | 12 MP | 12 MP |
| Waterproof | Housing required | Housing required |
| Sound | 48 KHz with AAC | 4-speaker Stereo |
| GPS | Yes | No |
| Voice Control | Yes | No |
| Differentiator | Price | Touch Screen Display |
---
The GoPro Grip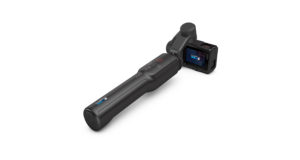 Picture this: there you are jetting along on your boat or cruising along on your skateboard, and you race home to look at all that awesome footy you just grabbed and guess what… everything is shaky as hell and basically ruined.
But with the GoPro Grip that can be detached from the GoPro Karma setup, those fears are a thing of the past. Just as a gimble does for a drone, the handheld stabilizer keeps the camera in place even when moving side to side. Film exactly what you want to film without having to worry if you are keeping the camera steady. Don't be afraid to move around. You will come up with incredibly smooth video. It's a must have for photography enthusiasts. That's the beauty of the Karma. It's more than just a drone…
Fold to Go
Similar to the DJI Mavic Pro, the Karma folds allowing it to fit in a backpack or gym bag. You'll continue to see these elite drone manufacturers, such as DJI, push out smaller and smaller quadcopters. This is a great thing. One of the biggest pains of flying is transporting your quad from one place to another. It's nice to have something you can slide in a bag to get to your flying site. In fact, they include a small case for you to transport your quad around.
The four propellers on top of the aircraft fold inward, and the landing gear folds upwards towards the body of the drone. To get even more compact, just take of the propellers. As if it wasn't portable enough already…
Capabilities
The Karma is a GoPro product, so you know it's built for action and thrills. That being said, it can reach speed of 35 mph. That is extremely fast. We don't recommend reaching these speeds unless you have prior experience or are in an open field with nobody or anything around. It can fly as high as 3,280ft (1,000m). Again, be careful how high you're flying, the height limit for drones in the United States is 400 ft.
Controller
The controller has a video game feel to it. Most pilots who try flying it the first time have no problem operating it. The controller has a built-in 5 inch screen. You no longer need a smartphone or tablet to see real-time footage.
Battery life
Just like more other drones, you can swap the battery in and out as you please. The case included in the package holds several batteries. This is important because the flight time is about 20 min, the control lasts about 4 hours, and the grip lasts about an hour and 45 minutes. Charge whenever you're not flying! The battery takes about an hour to charge, the controller takes about 2 and a half hours to charge, and the grip takes about 2 hours to charge. You don't want to go out for flight and find out your controller only has 15 minutes worth of battery left.
2 year warranty on quadcopter – $149
2 year warranty on quadcopter and camera – $199
Conclusion
It is hard to argue with the flexibility that the GoPro Karma fives camera aficionados and anyone trying to capture the moment from as many angles as possible. You aren't going to get all the bells and whistles that other drones and quadcopters can offer, but you are going to get the ability to use the Karma as a toolkit and not just a single tool. If you are comfortable with forgoing some of the more cutting edge features in favor the GoPro Karma's versatility, then this may just be the drone for you.
________________________________________________
_____________________________
Specs:
Maximum Speed: 35 mph (15 m/s)
Maximum Distance: 3280ft (1000m)
Maximum Flight Altitude: 14,500ft (4,500m)
Maximum Wind Resistance: 22mph (10m/s)
Operating Frequency: 2.4GHz
Dimensions (Opened/No Propellers):
Length: 12in (303mm)
Width: 16.2in (411mm)
Height: 4.6in (117mm)
Dimensions (Folded/Transport)
Length: 14.4in (365.2mm)
Width: 8.8in (224.3mm)
Height: 3.5in (89.9mm)
Propeller Length
10in (25.4cm)
Weight: 35.5oz (1006g)