Quadcopter Reviews & The Best Drones For Sale of 2017
Updated: 01/19/2017
Looking for drone reviews and the best drones for sale? You've come to the right site! Whether you are looking for a cheap and inexpensive drone to learn on, or a higher-end quadcopter for professional aerial photography, we can help find the drone that's right for you. With so many options out there it can be tough to find the best drone… leave it to us!
With years of experience flying and reviewing drones, we take pride in helping people find the right RC drone or quadcopter. The article below describes how to pick a drone that fits your budget and meets your needs.
– DroneLifestyle
Have a smaller budget in mind? Check out the top drones under $100. Also, be sure to note that the DJI Mavic Pro and the GoPro Karma will not be available until next year (2017).
Table of Best Drones for Sale
Rank
Drone Model
Consensus
Current Price
Drone Review

Top Photography Drones

#1
DJI Phantom 4
One of the best consumer drones available. Unparalleled flight time, camera quality, and user experience.
$999
Review
#2
DJI Phantom 3 Standard
Great camera quality with solid flight time/range. Best bang for your buck.
$559
Review
#3
Autel X-Star

Reliable quadcopter with a 1.2 mile range and a 4K camera.
$699
Coming soon!
#4
Yuneec Q500 4K

Transmitter with built in LCD screen, 4K video, and detachable camera .
$697
Coming soon!
#5
3DR Solo
Ideal for the hobbyist. Easily customizable and good for tinkering.
$349
Review
#6
DJI Inspire
The go-to for professionals.
$1,899
Review
Rank
Drone Model
Consensus
Current Price
Drone Review

Top Toy Drones

 #1
UDI U818A
Durable and lightweight. Great option for beginners just learning.
$52
Review
#2
Syma X5C
Small and fun, delivers a good flying experience and decent videos.
$49
Review
#3
Hubsan X4 (H107L)
Great training vehicle, especially for those looking to get into FPV racing.
$39
Review
 #4
Hubsan X4 (H107D)
Also great for learning to fly. Comes with a remote for FPV flying.
$83
Review
#5
Estes Proto X Nano
Great for the office! About the size of a quarter.
$29
Review
Rank
Drone Model
Consensus
Current Price
Drone Review

FPV Racing Drones

#1

Walkera F210 Professional
Great for beginners. Extremely sturdy with carbon fiber materials.
$389
Coming Soon
#2

Walkera Runner 250 RTF
Great for beginners. Can race in various environments at high speeds. Designed for easy repair and duability.
$299
Coming Soon
#3

ARRIS X-Speed FPV250
Great for beginners: Light weight sport quadcopter. Integrates all electronic components in one frame.
$289
Coming Soon
---
Drone Reviews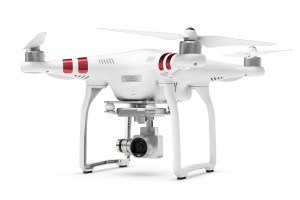 Specifications
Flight Time
25 min
Camera
2.7K Video / 12 MP Camera
Communication Distance
1000m
Max Flight Speed
15 m/s
Skill Level
Beginner
Battery Type
4S 4480mAh Li-Po
Price

$999

 $559.99
Overview
The third descendent of the Phantom line, the DJI Phantom 3 Standard showcases the culmination of DJI's hard work over the past decade. DJI has learned a lot in the past few generations of Phantom, and it all comes together here with the Phantom 3 at an affordable price. This is our favorite drone under $600. For the quality and the money, there isn't a better choice for your dollar than the Phantom 3 Standard. The camera, the flight time, the superb user experience… everything in this drone's suite of features will please most users.
This is a great beginner quadcopter with incredibly smooth controls and a very simple setup. This drone lets you focus on the important things like flying and framing your shots. If effortlessly hovering in place to frame and capture your footage sounds intriguing, then the DJI Phantom 3 may be quadcopter for you.
Pros

Smooth controls
Real-time video feed
Integrated gimbal for stabilized video
2.7K high quality video recording
Automatic failsafes for safer flying

Cons

Non-interchangeable camera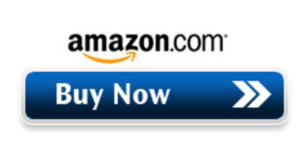 ---
Top rated drone for kids: UDI 818A-1-P
Specifications
Flight Time
7-9 min
Camera
1280 x 720 pixels
Communication Distance
91m
Battery Type
3.7V 500mAh Li-Po
Skill Level
Beginner
Charging Time
1½ hours
Price

$129.99

 $59.99
Overview
Don't be surprised if one of your kids asks you for a drone sometime soon (if they haven't already). This trend is catching on in every age group. For children, the UDI 818A-1-P is a perfect quadcopter to learn on. There are a lot of beginner drones out there but this one is best for a number of reasons. It's light, durable, and easy to fly. You don't have to worry about breaking it because of it's main frame and thick propellers. If it falls out of the sky and smacks the concrete it will bounce right back up in the air, no problem! Durable, fun, and affordable, this is one of our favorites among many quality drones under $100.
The UDI 818A-1-P also comes equipped with a built-in camera that can capture photos and video. Easily upload all your footage in seconds with the included USB connector!
Pros

Price
Durability
Easy to fly
Suitable for indoor and outdoor use
Easy to travel with
720p HD camera
1GB Micro SD card included
Extra battery included

Cons

Light weight (greatly affected by wind)
Flight time

---
Most recommended for beginners: Syma X5C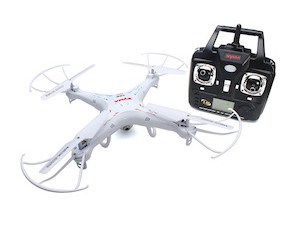 Specifications
Flight Time
7 min
Video recording quality
1280 x 720 pixels
Still frame quality
2 MP
Charging time
1½ hours (USB)
Skill Level
Beginner
Battery Type
3.7V 500mAh Li-Po
Price

$63.99

$49.99
Overview
It makes sense that the Syma X5C is the top selling quadcopter on Amazon. The Syma X5C is the perfect drone for learning how to fly.
The Syma X5C is a great beginner quadcopter! You don't even have take our word for it… just look at how this beginner drone has flourished from word of mouth alone. People are unusually eager to share their excitement about the Syma X5C on places like Amazon and other community forums. This is our favorite drone under $50.
Pros

Moderately priced
Durable
Easy to fly in calm conditions

Cons

Lacks first-person-view
Difficult to fly outdoors and at night
Low camera quality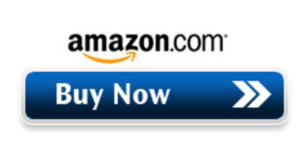 ---
Specifications
| | |
| --- | --- |
| Flight Time | 7 min |
| Camera | 0.3 MegaPixels |
| Battery Type | 3.7V 380mAh |
| AA Battery | 4 Required |
| Charging Time | 40 min |
| Price | $38.99 |
Overview
Sometimes you just don't want to go outside. Maybe the weather is bad. Maybe you live on the 50th floor. Or maybe you're just feeling lazy that day. Whatever the case may be, you can fly inside if you want to! The Hubsan X4 is perfect for indoor flying. You can attach the indoor hull for propeller protection.
The Hubsan X4 is one of the only minidrones with a camera under $100 that you should consider purchasing. With two modes: basic and advanced, this minidrone is perfect for beginners looking to develop and hone their skills.
The Hubsan X4 is so small it fits in the palm of your hand and comes with a propeller guard that allows the X4 to literally bounce off the walls. Even though this little guy is small, it is surprisingly heavy, making it a suitable enough outdoor quadcopter as well. Equipped with flashy LED lights, it's also a blast to take the X4 for a night fly. This is our favorite drone under $40.
Pros

Price
Indoor/Outdoor
Can perform tricks
Size (allows for flying in tight spaces)

Cons

Fragile
A little out of control at times
Size – limited distance
Flight time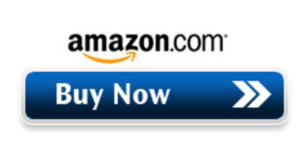 ---
Factors to Consider
We feel that the six most important factors to consider before buying a drone for sale are wingspan, camera specs, battery life, flight time, skill level, and price. Below, in our drone buying guide, we go into more detail on each metric. Reading over this information will allow you to make an informed decision. As it's important to find the perfect combination of features for your specific needs. You obviously want to start with an inexpensive drone like the UDI U818A-1-P that is built for first time flyers. After you become comfortable you can then work your way up to the more advanced drones. Don't take a huge leap! We don't want you to end up trashing your expensive product.
Wingspan
The wingspan measures blade tip to blade tip along one of the quadcopter's sides. This metric is used to give the user an idea of how large the copter is. This is a very important feature to focus on because the size can determine what the machine is capable of. You have to ask the question, "What will I be using this for?" If you want to fly indoors then a smaller aircraft will suit your needs. Wind and other factors have a big effect on smaller vehicles. Larger aircraft will likely cause damage to itself or other objects when flying inside. If you want to fly outdoors and capture footage then the larger aircraft is a good buy. The wingspan is often measured in millimeters. A smaller quadcopter measures out to about 100mm, while a larger quadcopter measures out to about 300mm – 400mm.
Flight Time

The flight time of a quadcopter is the amount of time the vehicle can stay in the air on a single battery charge. Several factors such as weight, flying maneuvers, and battery size can affect this. For someone who wants to mess around flying a small aircraft inside, this isn't as big of a deal. But if you're someone who wants to drive out to a cool location to capture aerial footage then it's a different story. It's safe to say that pretty much all quadcopters have a short flight time. It's usually anywhere from 10-20 minutes. Save yourself from this frustration you should buy an extra battery, or even several. That's what we always do. The recharging times range from 45-90 minutes. Keep in mind that doing tricks and flips or changing altitude drains the battery because of the increase in power used on the motors.
Camera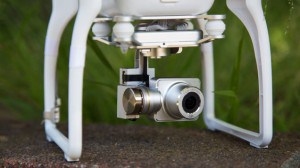 Most quadcopters come equipped with a camera. Even the UDI U818A-1-P comes with an HD quality camera and it's priced fairly cheap. It all depends on what you plan on using your copter for, but we feel that it's always necessary to have. A camera will add so much more to the experience. This attachment is great for a bird's-eye view. You can capture all the right moments and use the footage to create awesome videos or slideshows. Lower resolution cameras are typically used to save space and weight. The best quadcopters are often used for cinematography.
Controller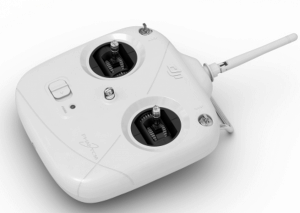 The controller, often referred to as a transmitter, sends your input commands to the copter. This allows you to maneuver the vehicle. Most controllers are 2.4GHz and come with two analog sticks (refer to the Getting Started guide on how to fly). Some come with an LCD screen, which provides you with real time diagnostics while the copter is flying. Remember, every drone for sale is different, so make sure you check out the features before purchasing. For example, some have buttons that allow you to do cool flips and other tricks.
Skill Level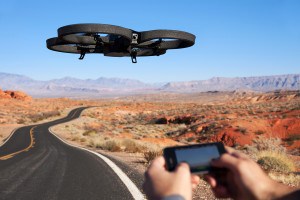 Skill level is a very important factor to consider before flying. You could end up wasting hundreds of dollars if you aren't careful. If it's your first time flying make sure to pick an inexpensive quadcopter for beginners. Personally, we would recommend the UDI U818A-1-P. It's perfect for starters because of its ease to use and its durability. This baby can take a beating! Start with a cheap quadcopter for sale and slowly work your way up to the more advanced aircraft.
Sensors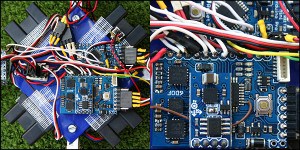 Sensors are typically found on the more expensive quadcopters. The most popular, GPS, allows for a lot of different functions. Some drones will fly to specific waypoints. You can program the latitude/longitude point and the copter will automatically fly to that spot. Some of the advanced quads, such as the DJI Phantom, come with a "return home" feature. When you press this button the drone will return to its starting point.
About Us
We are a couple of guys who really had no idea what we were getting into when we first started flying a few years ago. Back then, just getting off the ground and in the air was something to be proud of. And since then, our interest in these flying vehicles has taken off. In our pursuit of becoming better pilots, photographers, and repairmen, our eyes have widened to the potential of these revolutionary machines. It is incredible how fast recreational and commercial drones are advancing, and many cutting edge industries are taking notice.
What kind of droner are you?
If you have found yourself on this page, chances are you are intrigued by the idea of buying a drone. These flying vehicles are like any other product. There are advanced ones and beginner ones, fancy ones and trusty ones. So to find the right copter for you… ask yourself, what kind of droner do you want to be?
Do you just want to fly around the living room and harass the cat? Then you'll probably want the harmless palm-sized Hubsan X4.
Do you want to get awesome photography and let the drone worry about the flying? Drone review: DJI Mavic Pro.
Interested in learning more about drones by building your own? You'll probably want a DIY quad kit that will teach you how to build your own, from the ground up.
Who would want a drone/quadcopter?
---

You might ask yourself who would want to buy a drone? You might be surprised to learn that the number of drone pilots taking to the skies is growing at an exponential rate. If you have been to your local park lately, odds are likely that one of these flying robots has captured your eye. Drones have the power to draw crowds and and make people 'oooo' and 'ahhh' with wonder and astonishment. Drones aren't just a blast fun to fly, but the entrepreneurial applications that civilian drones provide are endless. Everyone from movie studios to real-estate agents are eager to utilize drones because of the stunning and inexpensive footage they provide. Companies like Amazon are beginning to experiment with drone delivery, journalists are safely gaining access to dangerous natural disaster zones, and soccer moms are capturing little league games like never before… all because of drones!
The drone market is evolving at a rapid pace. It seems like every day a new type of copter is announcing itself to the world. You've worked hard for your money, so like any buying decision, you want the best for what you're paying for. Below we will lay out important specifications to look for in your new drone, and what drones for sale are right for who. After taking a quick walk-through this article containing our drone reviews, we are confident you will be informed and prepared to make a decision about which is the best quadcopter.
Conclusion
---
Due to the fact that drone technology is evolving every day, this article is far from finished… but we welcome that and are constantly adding more drone reviews! As long as drone manufactures are inventing new ways to provide better and safer flying experiences, we will be here letting you know what to be on the look out for. It is easy to get caught up in all the choices available of drones for sale, but at first just go with your gut and whatever drone review seems to speak to you the most. Once you get outside and flying, you will learn more about what you want out of your drone. We hope that you enjoyed our quadcopter reviews and remember that the first step is just getting in the air!