DJI Mavic Pro Drone Review
Update 01/19/2017 (read this before proceeding!): In the Fall of 2016, we received a Mavic from DJI to put to the test… and as as you'll read below, we fell in love and walked away feeling that the Mavic is an incredible product. But in November, DJI made an unusual announcement for the ultra-reliable drone manufacturer: the Mavic is delayed. DJI first announced a 2 month delay, and now some people are seeing delays as long as 3 months. Amidst this haphazard delivery process, we decided to put ourselves in the shoes of an eager customer and find out for ourselves what was going on…
A few days before Christmas, we put in two orders from two different accounts to see if there was a difference in shipping time. DJI's website let us know up front that orders would process and ship within 4-6 weeks, and in just a little over a month both Mavics arrived just as promised. However, this is where things get interesting:
Mavic #1 would not pair with the controller and was therefore unflyable. We tried every single troubleshooting step in the book with no success. For a drone that costs $1000, this simply should not happen. It should just work! This really surprised us because with every other DJI quadcopter we've ever flown everything has worked flawlessly right out of the box. A little frustrated, we decided to return the Mavic Pro. First we called DJI's North American 800 number and were placed online for over an hour only to be told that we could only make a return through their online customer support. We followed the DJI representative's instructions and opened a support ticket through their virtual chat room, but here the virtual representative told us that they only process returns by contacting 'onlinesales@dji.com'. YOU'VE GOT TO BE KIDDING ME. We talked to three different people at DJI only to be told to go somewhere else to return their broken product. We have now emailed this DJI email address and are awaiting further instructions.
tl;dr: DJI's Mavic and DJI's customer support is not yet ready for primetime.This feels like a rush job. Give them a few more months to get their act together if you are thinking about ordering a Mavic.
While bigger may sometimes be better, when it comes to drones — bigger isn't always better. Smaller drones (also known as quadcopters) are more maneuverable, easier to travel with, and have longer flight timees. That's why we are seeing a flood of high-end smaller drones like GoPro's Karma, the Yuneec Breeze, and the DJI Mavic.
It's hard to build a drone that's compact and also capable of professional drone photography. We aren't talking about mini-drones like the Hubsan X4 or the UDI U818a, basically toys that can fit in your hand… we are talking high-end quadcopters that are capable of grabbing 4K video, 20+ minutes of flight time, and autonomous flight features. Think of it like a cell phone. Once big and bulky in the earliest days of development, the race is on for the sleekest and most compact designs.
As quadcopter fans, we are lucky to find ourselves in such an awesome position that DJI, GoPro, and Yuneec were each able to make it to market this year with a compact drone of their own. So before going out to buy one of these drones, we highly recommend reading all three reviews. Each model has its own pros and cons.
So let's get started! Now introducing… the Mavic Pro from DJI!
Update: DJI pushed shipping of the Mavic Pro to 03/20/17 due to high demand.
DJI Mavic Pro Drone Review
Mavic is a culmination of 10 years of technological development crammed into the smallest frame ever produced by DJI. There is no doubt about it, Mavic is a sleek and impressive quadcopter. I mean just look at the thing! It looks like a scientific gizmo you'd find in a high-tech lab. And funny enough, that's exactly what the Mavic is.
The DJI Mavic Pro is not a toy that's meant to be learned on and bashed around… this is a precise technical instrument meant for serious business. So if you're looking for a drone with training wheels head over to our Hubsan 107D review for a good beginner's drone and save yourself a cool $1000.
But if you're looking for the top-of-the-line technical gadget, then this is your stop. The DJI Mavic Pro is the cutting edge of drone technology with all the bells and whistles, and guess what? It all fits in your pocket.
The DJI Mavic Pro clocks in at 4+ mile transmission range and 27 minutes of flight time, all giving wings to 4K video and the precision hovering technology from DJI that we have come to know and love.
| DJI Mavic Pro Specs | |
| --- | --- |
| Flight Time | 27 Minutes |
| Camera | Video: 4K (30FPS), 2.7K (90FPS |
| Flight Speed | Up to 40 mph in Sport Mode |
| Range | Up to 4.3mi |
| Features | Tap Fly, Obstacle Avoidance, Active Trak, Precision Hovering |
| Controller | DJI Transmitter or Smart Phone Compatible |
|Click Here to Preorder the DJI Mavic Pro from Amazon |
Small but durable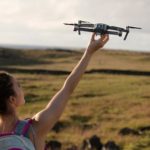 That all being said, DJI is bringing you the most intelligent quadcopter for it's size. Think of the DJI Mavic Pro as a Macbook air. You can fold that sucker into a water bottle sized box, but it's fully capable of many of the same thing most drones two to three times it's size. For instance, the Phantom 4 is 2x bigger in mass and 2x heavier in weight. So you can now just throw it in a backpack or gym bag. You can now forget about the large boxes filled with padding.
Fold It Up
The Mavic Pro comes equipped with two front arms that swing back and a rear limb that turns down towards the body. Even though it has the ability to essentially shape shit, it's made with quality parts. It feels so sturdy. It takes some force to move everything around, but that's a good thing. That's what makes it feel so solid. Don't let that worry you though. There is nothing crazy about getting ready for takeoff or folding it up to go home. You'll have the ability to set it up immediately. No problem. When you hold it your hand, you pretty much forget it has the feature to fold up.
4K Video
With Mavic, you'll be recording 4K video at 30fps or even 1080p at 96 fps. You can take 12MP still image shots in DNG Raw format and two second exposures.  It can focus up to 19 inches and capture 78.8 degree field of view.
The gimbal is well designed to provide stable video recording, but were also seriously impressed by the ability to turn 90 degrees. This allows for portrait shots. People are beginning to live stream on social media. With the Mavic, you can participate. It streams at a lower rate of 30fps, but we think it's going to become a huge part of the internet. Especially with news.
Different from the GoPro Karma, the Mavic Pro comes has a built-in camera. The gimbal cannot be taken off. So if you're really into photography or want to use your camera on the go as well, then maybe consider the GoPro Karma.
Features
We think it's fair to say that a lot of people would expect a smaller drone to cut features. That's a fair assumption to make, but DJI had other plans. It's still equipped with some of the most important features a pilot could ask for:
Object tracking

Obstacle Avoidance

Sensors located in the front and on bottom

Automatic return to pilot

GeoFencing (Help stay out of restricted air zones)

Flight time – 27 minutes

Distance from drone – 4.3 miles

Can fly steadily in winds up to 24 mph or 39kph
The DJI Mavic Pro is priced at $999. It's a fair price seeing as how it has all the smart features of DJI's other models. The Phantom 4 is going for $1,199. So when you compare the two, it makes sense.
|Click Here to Preorder the DJI Mavic Pro from Amazon |
Fold-able Transmitter (controller)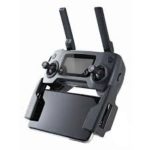 You can use the app like all other DJI drones, but they also offer an optional foldable controller making it simpler and pocket friendly. It's great to have because you're literally always on the go. It folds open revealing a smartphone clamp while two antennas flip up on top. There is a built in screen on that displays data such as altitude and speed, but in order to fly in first person, you must connect to a smartphone.
AR (DJI Goggles Headset)
DJI introduced DJI Goggles headset. When wearing you can view 85- degrees of the drones sigh on a 1080p display.
DJI Mavic Pro – Specifications
 ________________________________________________________________
AIRCRAFT
Folded
H83mm x W83mm x L198mm
Diagonal Size (Excluding Propellers)
335 mm
Weight (including battery and propellers)
1.62 lbs (734 g) (exclude gimbal cover)
1.64 lbs (743 g) (include gimbal cover)
Max Ascent Speed
16.4 ft/s (5 m/s) in Sport mode
Max Descent Speed
9.8 ft/s (3 m/s)
Max Speed
40 mph (65 kph) in Sport mode without wind
Max Service Ceiling Above Sea Level
16404 feet (5000 m)
Max Flight Time
27 minutes (0 wind at a consistent 15.5 mph (25 kph))
Max Hovering Time
24 minutes (0 wind)
Overall flight time
21 minutes ( In normal flight, 15% remaining battery level )
Max Flight Distance
8 mi (13 km, 0 wind)
Operating Temperature
32° to 104° F (0° to 40° C)
GPS Mode
GPS / GLONASS
Hover Accuracy
Vertical:
+/- 0.1 m (when Vision Positioning is active) or +/-0.5 m
Horizontal:
+/- 0.3 m (when Vision Positioning is active) or +/-1.5 m
 ________________________________________________________________
CAMERA
Sensor
1/2.3" (CMOS), Effective pixels:12.35 M (Total pixels:12.71M)
Lens
FOV 78.8° 28 mm (35 mm format equivalent) f/2.2
Distortion < 1.5% Focus from 0.5 m to ∞
ISO Range
100-3200 (video)
100-1600 (photo)
Shutter Speed
8s -1/8000s
Image Max Size
4000×3000
Still Photography Modes
Single shot
Burst shooting: 3/5/7 frames
Auto Exposure Bracketing (AEB): 3/5 bracketed frames at 0.7 EV Bias
Interval
Video Recording Modes
C4K: 4096×2160 24p
4K: 3840×2160 24/25/30p
2.7K: 2704×1520 24/25/30p
FHD: 1920×1080 24/25/30/48/50/60/96p
HD: 1280×720 24/25/30/48/50/60/120p
Max Video Bitrate
60 Mbps
Supported File Formats
FAT32 ( ≤ 32 GB ); exFAT ( > 32 GB )
Photo
JPEG, DNG
Video
MP4, MOV (MPEG-4 AVC/H.264)
Supported SD Card Types
Micro SD™
Max capacity: 64 GB. Class 10 or UHS-1 rating required
Operating Temperature
32° to 104° F ( 0° to 40° C )
 ________________________________________________________________
REMOTE CONTROLLER
Operating Frequency
2.4 GHz to 2.483 GHz
Max Transmission Distance
FCC Compliant: 4.3 mi (7 km);
CE Compliant: 2.5 mi (4 km) (Unobstructed, free of interference)
Operating Temperature
32° to 104° F ( 0° to 40° C )
Battery
2970mAh
Transmitter Power (EIRP)
FCC:≤26 dBm
CE:≤20 dBm
Operating Voltage
950mA @ 3.7V
Supported Mobile Device Size
Thickness Supported:6.5-8.5mm
Max length: 160mm
Supported USB port types: Lightning, Micro USB(Type-B),USB(Type-C)™
 ________________________________________________________________
WI-FI
| | |
| --- | --- |
| Operating Frequency | 2.4G/5G |
| Max Transmission Distance | 80m(Distance),50m(Height) (Unobstructed, free of interference) |
| Max Speed | 14 km/h (9 mph) |
| Max Ascent Speed | 6.6 ft/s(2 m/s) |
| Max Descent Speed | 3.3 ft/s(1 m/s) |
 ________________________________________________________________
GIMBAL
Controllable Range
Pitch: -90° to +30°
Roll: 0° or 90° (Horizontally and vertically)
Stabilization
3-axis (pitch, roll, yaw)
 ________________________________________________________________
INTELLIGENT FLIGHT BATTERY
| | |
| --- | --- |
| Capacity | 3830 mAh |
| Voltage | 11.4 V |
| Battery Type | LiPo 3S |
| Energy | 43.6 Wh |
| Net Weight | Approx.0.5 lbs(240 g) |
| Operating Temperature | 41° to 104° F ( 5° to 40° C ) |
 ________________________________________________________________
CHARGER
| | |
| --- | --- |
| Voltage | 13.05 V |
| Rated Power | 50 W |
 ________________________________________________________________
FORWARD VISION SYSTEM
Obstacle Sensory Range
Precision measurement range: 2 ft (0.7 m) to 49 ft (15 m)
Detectable range: 49 ft (15 m) to 98 ft (30 m)
Operating Environment
Surface with clear pattern and adequate lighting (lux > 15)
 ________________________________________________________________
DOWNWARD VISION SYSTEM
| | |
| --- | --- |
| Velocity Range | ≤22.4 mph (36 kph) at 6.6 ft (2 m) above ground |
| Altitude Range | 1 – 43 feet (0.3 – 13 m) |
| Operating Range | 1 – 43 feet (0.3 – 13 m) |
| Operating Environment | Surface with clear pattern and adequate lighting (lux > 15) |
 ________________________________________________________________
APP / LIVE VIEW
Mobile App
DJI GO
Live View Quality
720p@30fps、1080p@30fps(Remote Controller)
720p@30fps(Wi-Fi)
720p@60fps、1080p@30fps(DJI Goggles)
Latency
160-170ms (depending on conditions and mobile device)
Required Operating Systems

iOS 8.0 or later
Android 4.1.2 or later

Recommended Devices

ios: iPhone 5s, iPhone 6, iPhone 6 Plus, iPhone 6s, iPhone 6s Plus, iPhone 7, iPhone 7s, iPod touch 6, iPad Pro, iPad Air, iPad Air Wi-Fi + Cellular, iPad mini 2, iPad mini 2 Wi-Fi + Cellular, iPad Air 2, iPad Air 2 Wi-Fi + Cellular, iPad mini 3, iPad mini 3 Wi-Fi + Cellular, iPad mini 4, and iPad mini 4 Wi-Fi + Cellular. This app is optimized for iPhone 5s, iPhone 6, iPhone 6 Plus, iPhone 6s, iPhone 6s Plus, iPhone 7 and iPhone 7 Plus.
Android: Samsung tabs 705c, Samsung S6, Samsung S5, Samsung NOTE4, Samsung NOTE3, Google Nexus 9, Google Nexus 7 II, Ascend Mate7, Huawei P8 Max, Huawei Mate 8, Nubia Z7 mini, SONY Xperia Z3, MI 3, MI PAD, Smartisan T1.

*Support for additional Android devices available as testing and development continues.